Gasoline generator set(powered by HONDA, YAMAHA , Chinese engine)

Part 1 : Gasoline generator set Description:
Power range from 450W-12000W
Powered by Honda Yamaha Jet, Robin air cooled engine
Competition price and good quality, global warranty.
Neat and economical for classical design.
Advanced AVR offers over-voltage, overheated and overload protection for the generator.
Frame designed for better protection.
Oil alert system with automatic engine shut-off.
HONDA 4-stroke, OHV (overhead valve), single cylinder, air-cooled engine. Cast iron cylinder lining
Hydraulic-Magnetic circuit breaker.
Bigger fuel tank enables 13-hour running.
Large muffler for quiet operation.
CE,EC-II,EPA,CARB,EMC approved


Our mainly gasoline products picture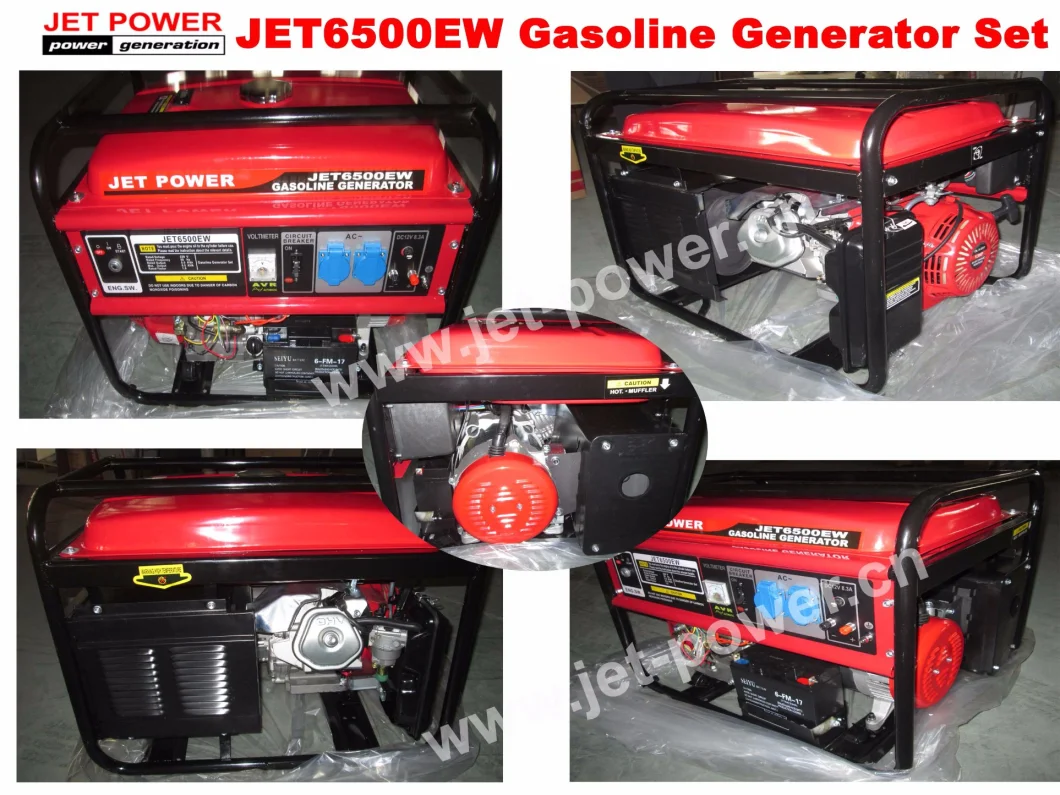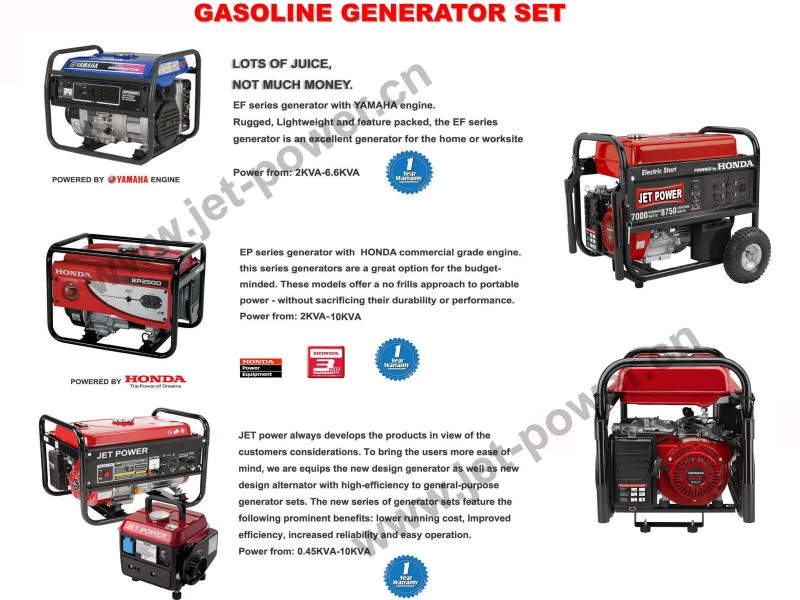 Genset Model:

JET1500

JET2500

JET3500

JET3800

JET4500

Genset

AC Frequency (Hz)

50HZ

50HZ

50HZ

50HZ

50HZ

AC Output voltage(V)

120;220;230;240;

120;220;230;240;

120;220;230;240;

120;220;230;240;

120;220;230;240;

Rated AC Output

1500W

1800W

2000W

2500W

2800W

Max.AC Output

1600W

2000W

2200W

2800W

3100W

Power Factor

1

1

1

1

1

DC Output ( If choose)

12V/8.3A

12V/8.3A

12V/8.3A

12V/8.3A

12V/8.3A

Engine

Engine

GX160

GX160

GX200

GX200

GX210

Type

4-stroke OHV; Air-cooled; Gasoline Engine, (HONDA Technology)

Displacement(cc)

163

163

196

196

212

Starting System

Recoil or Electric

Recoil or Electric

Recoil or Electric

Recoil or Electric

Recoil or Electric

Lubrication oil

SAE 10W/30

SAE 10W/30

SAE 10W/30

SAE 10W/30

SAE 10W/30

Oil capacity (L)

0.6L

0.6L

0.6L

0.6L

0.6L

Compression ratio

8.5:1

8.5:1

8.5:1

8.5:1

8.5:1

Bore×Stroke

68mm×45mm

68mm×45mm

68mm×54mm

68mm×54mm

70mm×54mm

Max.Output(hp/rpm)

5.5/3600

5.5/3600

6.5/3600

6.5/3600

7.0/3600

Fuel Consumption (g/hp.h)

≤290

≤290

≤320

≤320

≤360

Ignition System

Non-contact transistorized ignition (T.C.I)

Spark Plug

F6TC

F6TC

F6TC

F6TC

F6TC

Fuel Tank Capacity(l)

15

15

15

15

15

Continuous Work(h)

12

12

11

11

11

Noise Level LwA dB(A)

67

67

67

67

67

Standard Features

Oil Alarm

With

With

With

With

With

Fuel indicator

With

With

With

With

With

AC Voltmeter

With

With

With

With

With

Standard Socket

With

With

With

With

With

AC Circuit Breaker

With

With

With

With

With

Large-capacity air filter

With

With

With

With

With

Large-capacity fuel tank

With

With

With

With

With

Auto voltage adjuster (AVR)

With

With

With

With

With

DC Output

With

With

With

With

With

Packing

Dim(mm)

610X440X440

610X440X440

610X440X440

610X440X440

610X440X440

Gross Weight(kg)

38

40

41

42

44

20ft Container Qty

245

245

245

245

245

40ft HQ Container Qty

590

590

590

590

590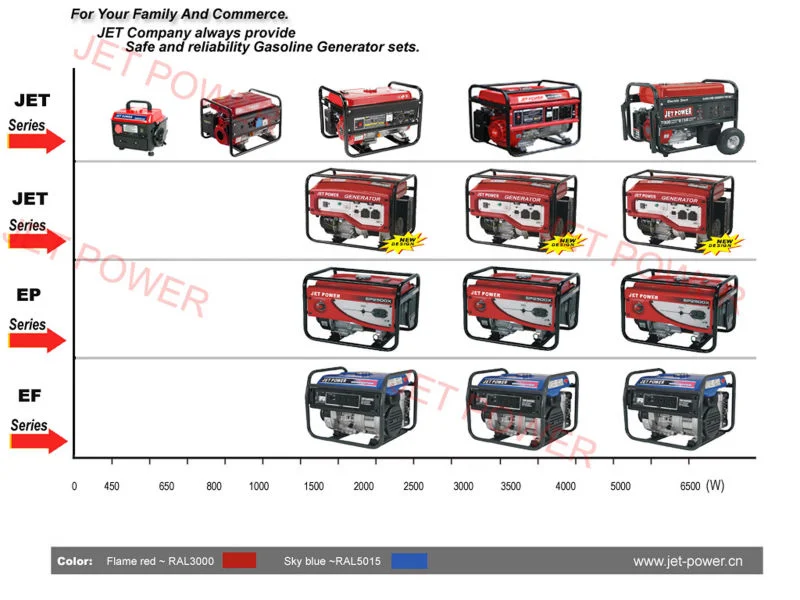 Generator Set Powered by HONDA, YAMAHA optional

Part 2 : Gasoline generator set Features
Gasoline generator set Features:
• With GX series, Honda, Yamaha original JET Series strong commercial engine.
• Generator set with AVR, Voltage adjust.
• Low Oil sensor protection.
• Cradle, Overall protection, easy move and storage.
• Widely option for control panel, EU, US and AU receptacle for choice.
• Self-start and remoter start as an optional.
• Frequency, 50/60 Hz. Voltage, including, 110/150/120/220/230/240V to be optional.
• Wheels and handle optional
• Start, Recoil or E-start.
• Single Phase or Three Phase, (380/400/415V) different voltage as optional.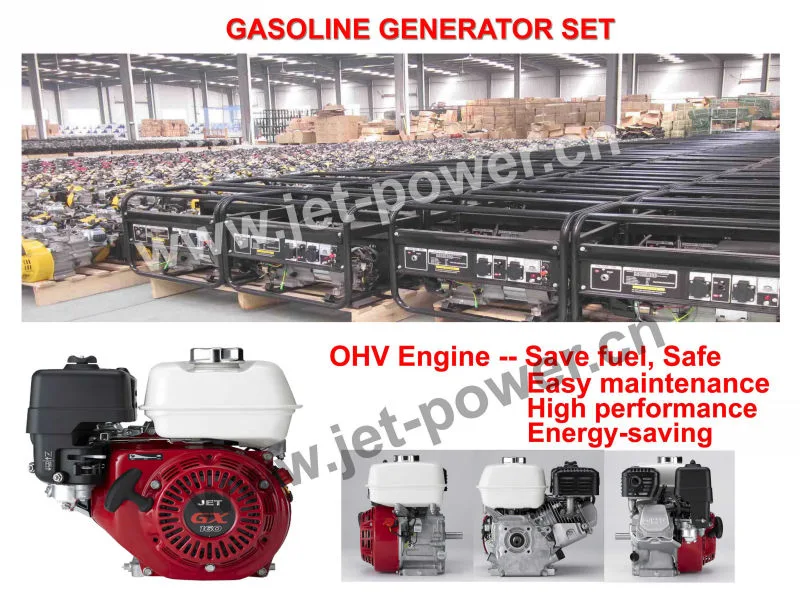 Engine Features
• Overhead valve (OHV) design, lower operation temperature, powerful drive and reliability and durability, and it save more oil.
• Cast iron casing does not only effectively improve lubrication, but also makes engine more wear-resistant and prolongs engine life.
• Automatic alarm and stop at low oil level, which prevents the engine to work at low oil level and gives more protection to engine.
• Metal cam and forged crankshaft makes engine more reliable and durable.

Alternator Features
• Alternator full power design
• Alternator brushless type design, free maintenance cost
• Alternator IP23 protect
• Alternator F class insulation
• Alternator single bearing design
• Alternator with aluminums cooled fan
• Multiform voltage choose including, 110/150/120/220/230/240V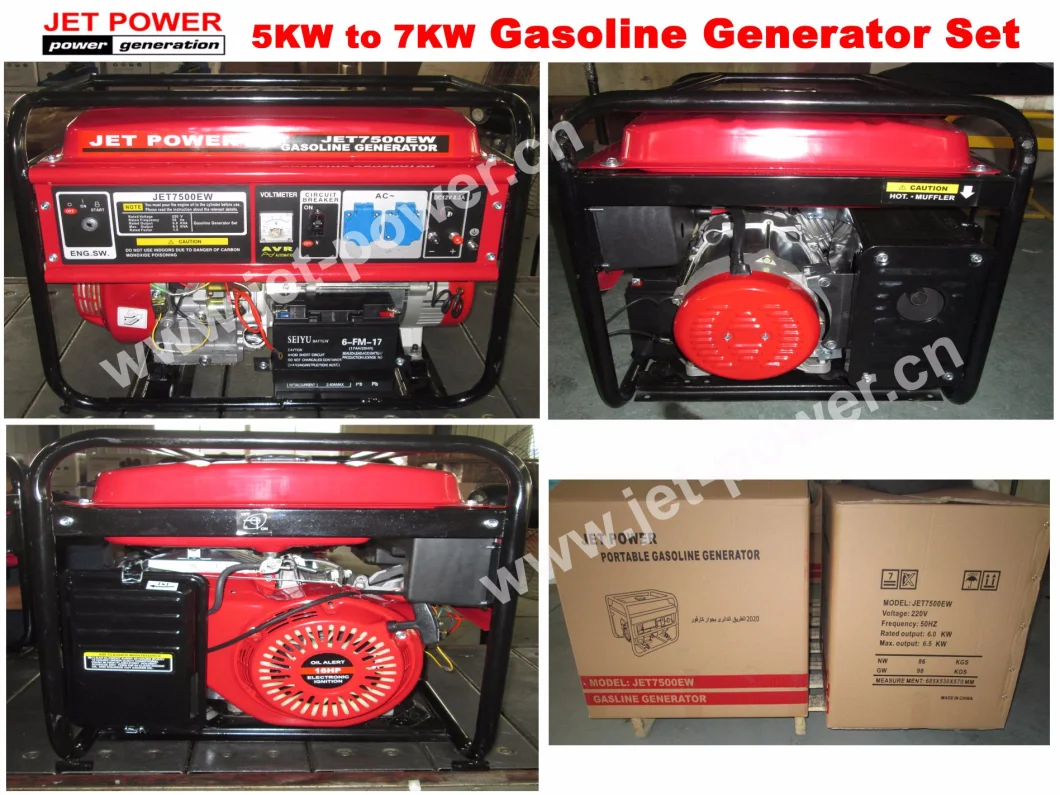 Part 3.Why Choose us
The air cooled engines play an important role like hearts in small power generator products. The rapid development of the engines of
JET generator benefits from its research on thermal power since 2003, valuable experience and technological accumulation on related industry.

We are insisting on "quality first", JET products are easy to start, powerful, reliable and durable, complying with environmental protection standard
and having perfect after-sale service. In recent years, we has cooperate to world famous brands such as HONDA, YAMAHA. Therefore,
choosing our power products will enable you to have full confidence in your generator power product.

Part 4.Our factory
JET electric Machinery Co., ltd since 2002; we are a leading manufacturers and exporter focus on Gasoline generator, Gasoline water pump , Diesel generator and gas generator set . We are the global professional power solution manufacturer in China.
Can supply different design projects for customer's demand As 15 years of export experience and high quality & service, JET CO. devoted itself to manufacturing and assembling all kind of generator set, main power range from 0.45KVA-2500KVA. We have achieved accreditation to ISO 9001:2008 Systems certification and CE certification. JET POWER has built a good reputation in the world. Our products are exported to over 40 countries and regions to Europe, North America, South America, Middle East, Asia and Africa.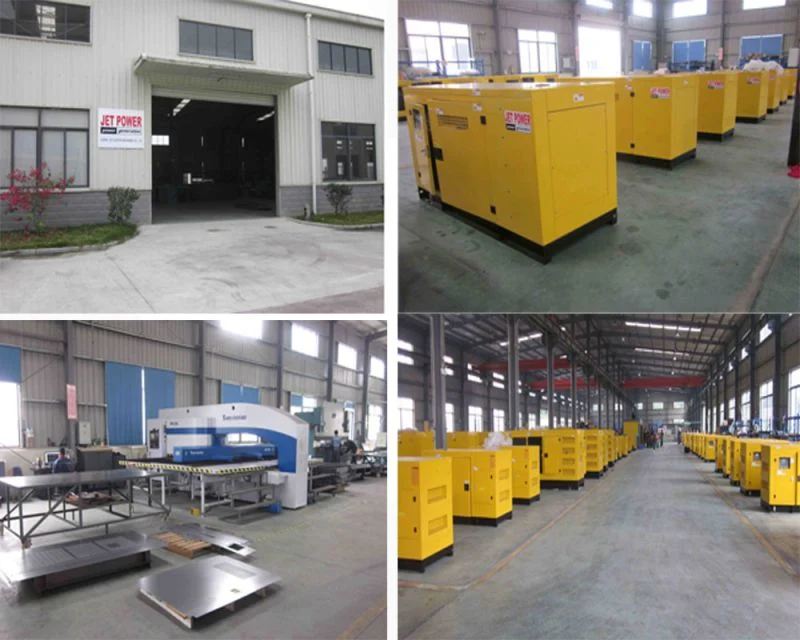 For Gasoline generator, we cooperation with famous brand company, such as: HONDA, YAMAHA.

We own the ability of manufacturer, research and development of Stamford series & ST/STC Series and Leroy-Somer, Marathon alternator.
• Multiform voltage choose including, 110/150/120/220/230/240V