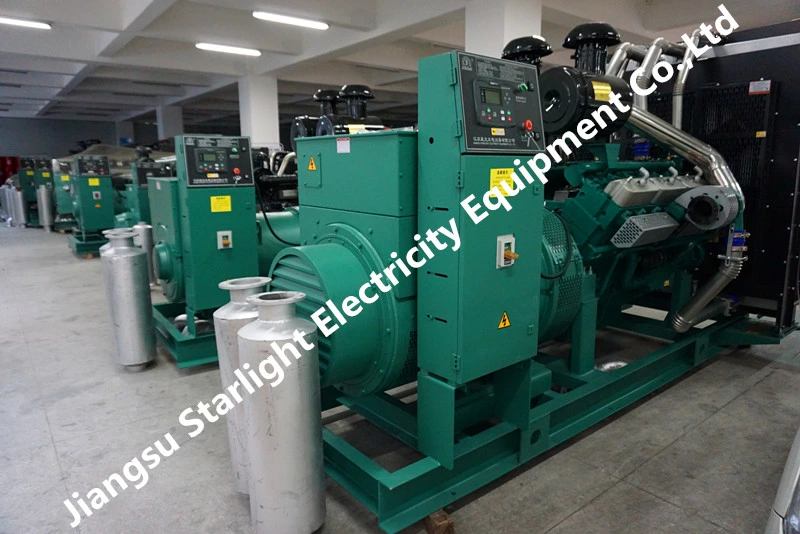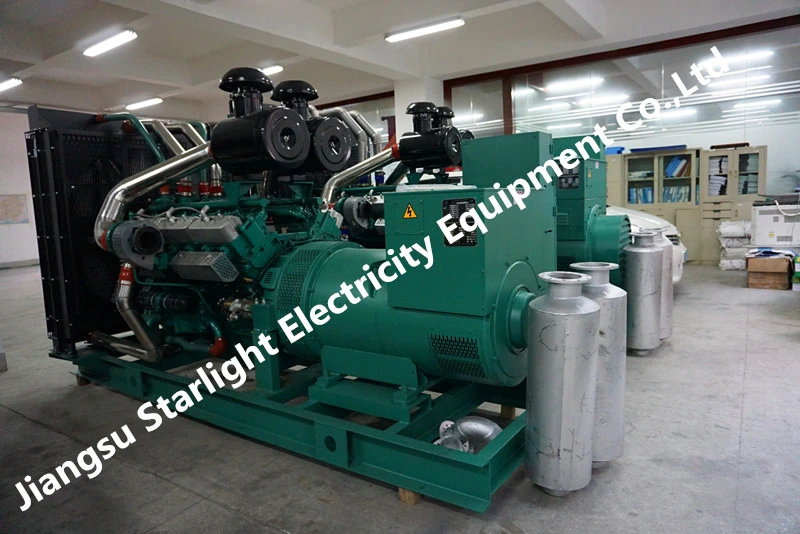 700KW 875KVA Ricardo Diesel Generator Set Data

Manufacturer:

Jiangsu Starlight Electricity Equipment Co.,Ltd

Set Type:

XG-700GF

Standby Power:

700KW/875KVA

Rated Current:

1260(A)

Rated Frequency:

50(Hz)

Start-up time:

5~6(s)

Power Factor:

0.8(Lag)

Rated Voltage:

400/230(V)

Standard Features

Engine: RICARDO TAD700GE

Radiator 50ºC max

Fans are driven by belt, with safety guard

24V charge alternator

Dry type air filter, fuel filter, oil filter

Alternator: single bearing alternator

IP22, insulation class H/H

Main line circuit breaker

Standard control panel

Absorber

Muffler

User manual









Diesel Engine Data

Manufacturer:

RICARDO Engine Co

Model:

TAD70

Prime /Standby Power:

660KW

/720KW

Rated Speed:

1500(r/min)

Cycle:

4 stroke

Cylinder Arrangement:

12"V"

Displacement:

40.2L

Bore and Stroke:

138*158(mm)

Compression Ratio:

17:1

Governor Type:

Mechanical

Start battery voltage:

24V DC

Air Intake System

Air Intake System:

Turbo

Max Intake Restriction:

6kPa

Burning Capacity:

58m3/min

Air Flow:

498m3/min

Exhaust System

Exhaust Gas Flow:

128m3/min

Exhaust Temperature:

≤650ºC

Max Back Pressure:

6kpa

Fuel System

Fuel System:

Direct Injection

100%( Prime Power) Load:

220g/kwh

Oil System

Total Oil Capacity:

73L

Oil Consumption:

≤2.04g/kwh

Oil Pressure at Rated RPM:

0.30-0.50MPa
Cooling System

Cooling Way:

Water-cooled

Total Coolant Capacity:

94L

Max Water Temperature:

95ºC

Alternator

Data

Manufacturer:

STARLIGHT/




STAMFORD /




SIEMENS /




MARATHON /




ENGGA/




KEPU

Excitation Mode:

Brushless self-excitation

Number of phase and Access Act:

3-phase 4-wire

Connecting Type:

"Y" type connecting

Alternator Capacity:

875KVA

Alternator Efficiencies:

95%

Overload:

(PRP)110% load can run 1h

Protection Level:

IP22-IP23

Insulation Class, Temperature Rise:

H/H

Telephone Influence Factor (TIF):

<50

THF:

<2%

Voltage Regulation, Steady State:

≤±1%

Altitude:

≤1000m
Genset Electrical Performance

Voltage Regulation:

≥±5%

Voltage Regulation, Stead State:

≤±1%

Sudden Voltage Warp (100% Sudden Reduce):

≤+25%

Sudden Voltage Warp (Sudden Increase):

≤-20%

Voltage Stable Time (100% Sudden Reduce):

≤6S

Voltage Stable Time (Sudden Increase):

≤6S

Frequency Regulation, Stead State:

≤5%

Frequency Waving:

≤1.5%

Sudden Frequency Warp (100% SuddenReduce):

≤+12%

Sudden Frequency Warp (Sudden Increase):

≤-10%

FrequencyRecoveryTime(100%SuddenReduce):

≤5S

FrequencyRecoveryTime(Sudden Increase):

≤5S

Options

Engine

Alternator

Heater 2KW & 4KW

Anti Condensation Heater

Battery Charger 3.5A & 7A

Permanent Magnet Generator(PMG)

Water Separator

Drop CT(For Paralleling)

Daily Fuel Tank

Fuel Level Sensor

Control System

Others

Remote Control Panel

Rainproof Type

Auto Transfer Switch (ATS)

Soundproof Type

Paralleling System

Trailer Type
Open Type

Overall Size

Weight

4000(mm)*1420(mm)*2100(mm)

6000(kg)

Soundproof Type

Overall Size

Weight

6600(mm)*2200(mm)*2680(mm)

7700(kg)
Standard Control Panel

Starlight Standard Control Panel uses micro processing technique integrating digital, intelligent and network techniques which can carry out functions including auto start/stop, data measure, alarming. The controller uses LCD display, optional Chinese and English display interface with operation easy and reliable. It can be widely used in all types of generator automatic control system for compact structure, advanced circuits, simple connections and high reliability
Auto Module Control Panel
Auto Module Control Panel is the configuration for nobody on duty controlling generators. This kind of panel adopts auto module control system, with large LCD display to show the menu. Features: 6110 can receive remote output signal from ATS and realize auto start and stop of generators. 6310 can realize all functions of 6110, add RS232 interface which can communicate with PC to realize remote operation. 6410 Auto Mains Failure controller, can realize all functions of 6310, furthermore can detect ATS and control directly.
Auto Parallel Control Panel

This new automatic parallel system adopts intelligent modules, inserted and folded installed, no need the peripheral relay and logic circuit. The main switch adopts electronic breaker or frame breaker, combined together with the generator, which is very reliable. One generator, one panel. The panel can be used both for singly and parallel. It is only need to parallel generator with such panel when the capability needs to be enlarged in the future.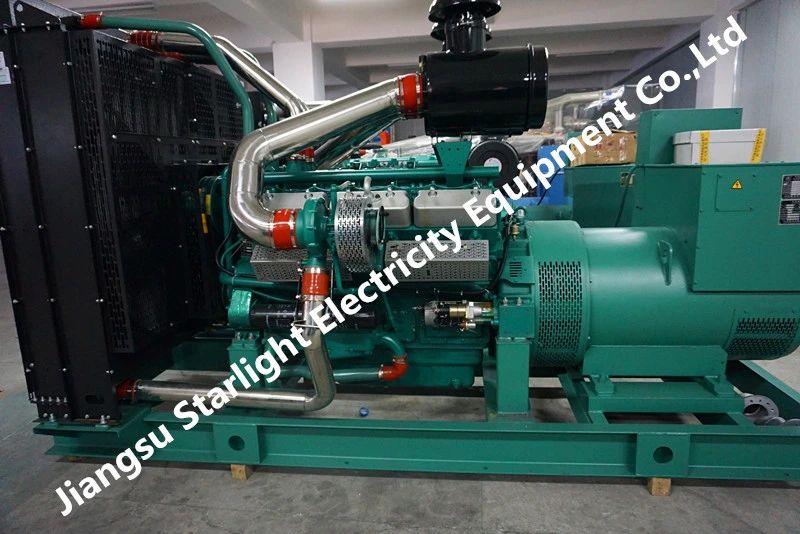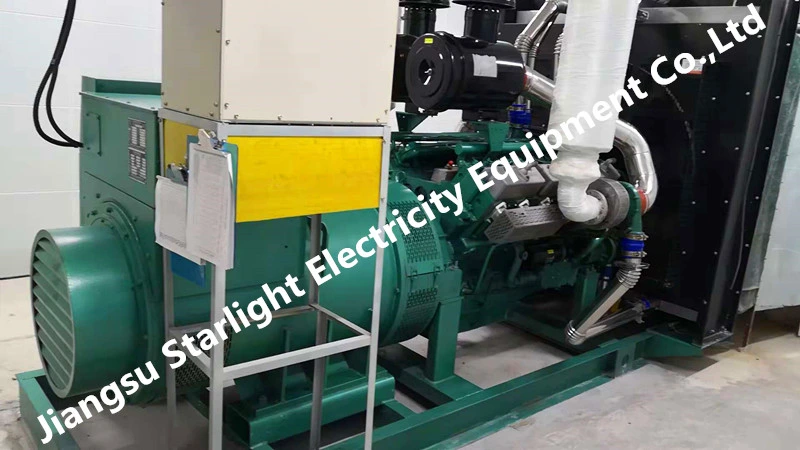 Jiangsu Starlight Electricity Equipment Co.,Ltd. as the leading manufacturer of diesel genset, we specialize in producing, assembly, testing, installation, commissioning, sale and maintenance of diesel genset.
We supply multiple brands of generator set, such as: Cummins, Volvo, Deutz, Doosan Daewoo, MTU, Ricardo, Shangchai, Weichai, Yuchai etc. The style of genset is varied, such as: container genset, trailer genset, portable trailer genset, soundproof genset, low noise genset, and silent genset, etc. Besides, we also supply design and construction of the noise reduction project up to the customer's requirements.
Our company was established in 1974, covering an area of 86,000 square meters and an construction area of 45000 square meters, with the registered capital 218.88 million yuan, and the fixed assets of more than 26 million yuan, with the existing staff of more than 660 people, including 456 professional technical personnel and 106 senior technical personnel. It has 6 subsidiaries (plants) and has set up 64 sales service department all over the country. It provides users with design, supply, commissioning and maintenance of one-stop service for power demand at any time.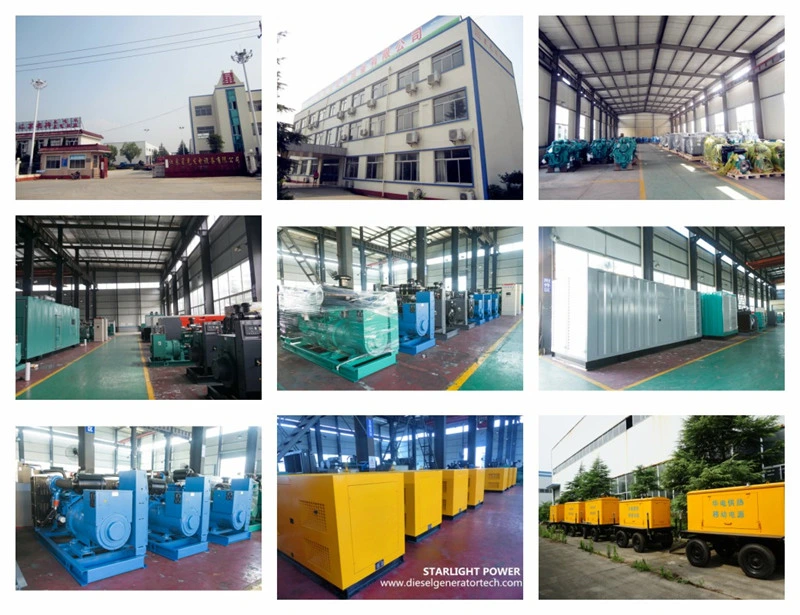 Certificates
We have CE,ISO,CQC certificate, and also have independent import and export right.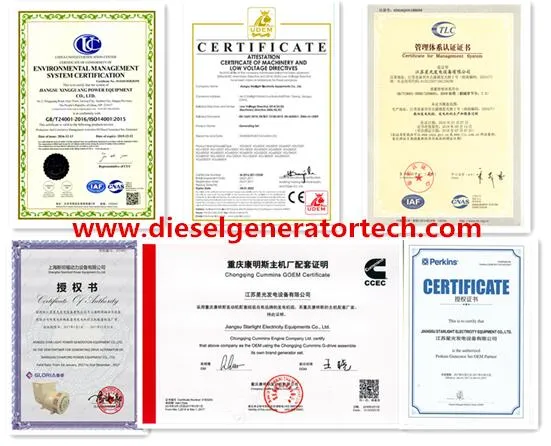 Our company depends upon high quality product, good service and good prestige, and we will continue spirit of developing "solidify, work hard, expand, innovation". we will run flexible sales strategy and create new brilliancy together with you. Relying on the company's advantage and strength, our company gradually move towards economies of scale and expand global market.

Our company has a consciousness in advance, in the prime of life, service familiarity management troop, they establish one modern enterprise's goal to embark, in line with "high beginning, high tech, service pursue goal superiority", collects positively absorbs the domestic and foreign vanguard technologies, advanced product, unceasingly to product renewal. Our company has built broad cooperation with Sweden Volvo, USA/Chongqing Cummins, German Deutz, South Korea Daewoo, German MTU and so many other companies and become (OEM) component supplier and the technology center which lays the solid foundation for the development international market.

The tenet of our company's business is "Pursuing super excellence, Continuous Innovation". Our goal is to create the world-famous brand. We will try our best to achieve it with co-partners all over the world.


Why Us?

At present, thousands of Startlight generator sets are being reliably operated in fields like telecommunications, banking, security industry, airports, hospital, transportation, oil fields, military industry and the clients have been distributed around the globe. All staff in Startlight are sparing no efforts to make the Startlight brand a symbol for reliable quality, advanced technology, first-class performance, an environment friend, and long operating life.

We believe that the consideration is as important as innovative technology. The leading product is always based on the leading supporting services. We shall follow the philosophy to meet customer's demands and offer customers the genuine spare parts, technical consulting and installation guide, make equipment commissioning free of charge, rebuild generation set and train the person.

Services:
Before service
Our professional engineer will give you some consultation of technology and related planning before sale, such as selection of equipment, supporting facilities, the design of equipment room. We can also answer and solve the using problem you faced.

After sale service
free guide to install and debugging

Free training and consult

Guiding how to protect your equipment

We will set up clients' document, tracking service, regular inspection, maintenance for life

We offers pure perennial spare parts and maintenance engineers will be ready to provide.
★ FAQ


1.
Q.:What is your warranty period?

A.:Our warranty is 1 year or 1000 running hours whichever comes first. But based on some special project, we can extended our warranty period.

2.
Q.:Does your generator have global warranty?

A.:Yes, We supply the warranty.Also most of our products like Deutz,Cummins, Doosan,Yuchai,Weichai etc.power generator enjoy the global warranty service. And the alternator we use like Stamford and marathon also enjoy the global warranty service, so you do not need to worry about the after-sales service.

3.
Q.:Can you accept OEM?

A.:Yes, we can accept OEM.

4.
Q.:What is your payment terms?

A.:We can accept T/T 30% in advance, and the balance 70% shall be paid before shipment or L/C at sight. But based on some special project and special order,we can do something on payment item.

5.
Q.:What is your delivery time?

A.:Our normal delivery time is 2 to 3 weeks. But if your order is using special engine and alternator, then the delivery time is longer.