Chinese Silent Generators 10kw 20kw 25kw 30kw 40kw Weifang Diesel Generator for Sale
detailed product description:
1) Rated output: 8 - 50kW / 10kVA - 60kVA
2) Rated voltage: 400 / 230V, 380 / 220, 220 / 120
3) Rated frequency: 50 / 60Hz
4) Power factor: 0.8.
Engine: Yangdong generator engine
1)Cooling method: closed water cooling or air force cooled
2)Starting method: electric start.
3)Rated speed: 1,500 / 1,800rpm
4) Noise level: 65dB to 75dB 7 meter away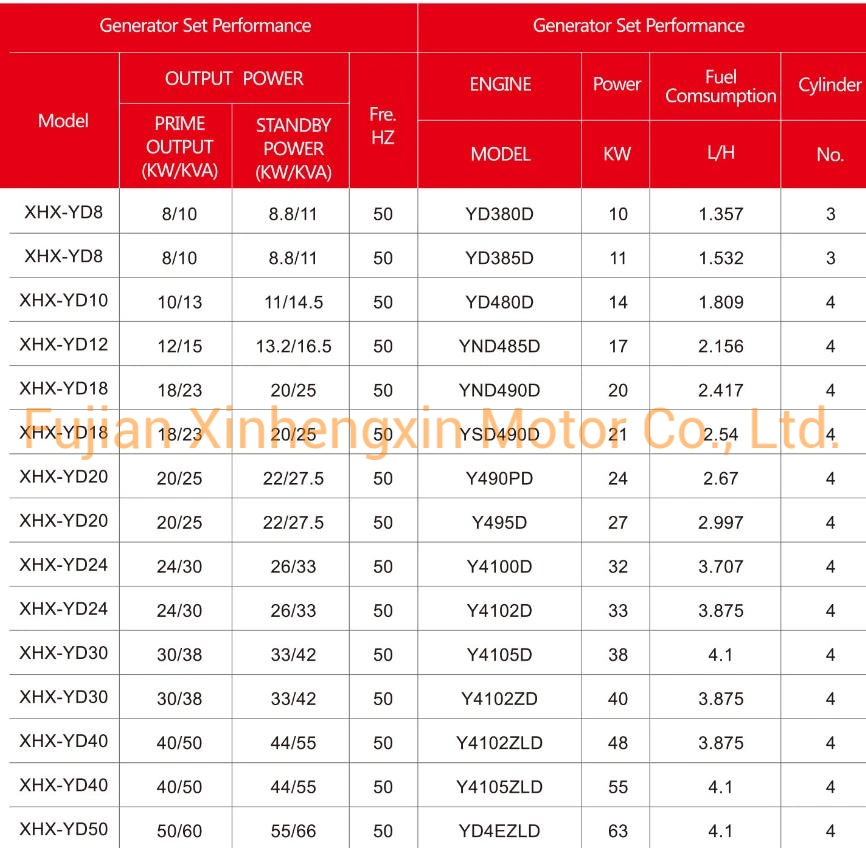 Alternator:
1) Brand: Stamford or Leroysomer or Our Hensing brand(ST/STCseries,TFW)
2) Rated output: 8 -150kW / 10kVA -60kVA
3) Rated voltage: 400 / 230V according to your requested
4) Rated Frequency: 50 / 60Hz
5) Power factor: 0.8
6) Phase: 3-phase, 4-wire
7) Connection: Y or other type connection
8) Rated speed: 1,500rpm / 1,800rpm
9) Excitation: harmonic excitation or phase compound or brushless
11) Voltage regulation: automatic
12) 1.0% voltage regulation (max.) in static conditions
13) Protection class: IP 22 or IP23
14)Connect with engine:Direct coupled with flywheel
Control panel:
1
) The generator control panel is manufactured locally by
2) The panel is provided with:
a) Standard engine instrumentation
b) Voltmeter with selector switch
c) Ammeter with selector switch
d) Frequency meter
e) Current transformers
f) Instrument fuses duly wired and ferruled
g) Mcb of suitable rating with overload and short circuit protection
h) With AMF control panel or with ATS (automatic transfer system)
i) With EPA certification
Accessories
1) Standard accessories
Standard 40 radiator mounted on skid, Common steel frame, circuit breaker, Non-return valve,Shock Pad,exhaust silencer, battery and connecting wires, Standard tools kit, operation manual and document.
2) Optional accessories
Engine coolant and oil heater, cooling for heat exchanger, communication interface, battery charger by main supply, ATS and paralleling system, soundproof canopy
Warranty:
Guarantee for one year or 1000 hours whichever reach first from ex-factory date. During the guarantee period, Hensing Power will provide the free easy-damageable spare parts of diesel engine caused by our quality of production or raw material. After expiration, Hensing provides cost spare parts maintenance of gensets
Our Advantages
1. High pressure pipes for diesel input-outlet
2. Stronger heavy duty rubber anti-vibration mountings
3. All base fuel tank Baking paint
4. All canopy powder coating (Powder type - 3 years durable, longer service life and less color fading)
5. Maintenance free battery and high quality battery charger
6. High standard wiring and brands (Chint/Delixi) relays, indicators, fuse breaker, meters etc.
7. Non-return Valve equipped
8. Turbo charger protection, moving parts protected and other CE standards (depends on required)
9. ONE Hour Testing for all genset (0%-25%-50%-75%-100%-110% loading)
10. Make sure the Fastest Delivery Time
11. Reliable Quality and Aftersale Services as committed
12. Excellent Quality Control and Pre-shipment Inspection
(All base frame, fuel tank, canopy, ATS cabinets etc are produced in Hensing factory zone to avoid any out-off-controlled quality problems.