FUJIAN KENT MECHANICAL AND ELECTRICAL CO.,LTD (KENTPOWER for short), founded in 2005 with a registered capital of USD$ 15 million, design and manufacture diesel generator sets, natural gas generator sets, solar power system, integrating assembling, sales and maintenance service. The company located in Fuzhou city, Fujian province, with an area of 100000 square meters, over 100 employees. Its products are mainly used as backup power or emergency power in many important fields, including highways, mansions, hotels, mines, schools, hospitals, hotels, factories and telecomunication and financial system, etc. Refer to our website for more details:

Prime Power 16kva Yangdong Diesel Engine 13kw Generator with Denyo Silent Type
Yangdong Co.,Ltd is a subsidiary of YTO Group.The company increased R & D efforts, relying on YTO Group National Technical Center's technical superiority and cooperate with the Southwest Research Institute, Austria AVL, FEV, Germany FEV and Japan YAMAHA, many of the world-renowned agencies, using electronically controlled fuel system EGR system, DPF system, and other international scientific and technological achievements, for a full range of technological transformation, have successfully completed to make diesel product research and development meet Euro III,IV emission standard, and have complete independent intellectual property rights. Company is currently working on product development which can meet Euro V emission standards. It has become the largest multi-cylinder diesel production base of small, multi-cylinder diesel engine, with an annual output 300 000 capacity diesel engine ,we have 18 kinds of basic types of multi-cylinder diesel engine, bore from 80-110mm, displacement from 1.3-4.5L, power cover 10-105kW. Products are suitable for passenger cars, commercial vehicles, low-speed trucks, tractors, generator set,fire fighting pump, water pump,combines, construction machinery, marine units, air conditioning units and other supporting bus.

Generator set parameters
Output range:
20kVA to 2500kVA with brand new diesel engine generator set
Voltage available:
380 -400-415V/220-230-240V for 50HZ;220-380-416-440-480V/110-208-220-240V for 60HZ
Generator set type:
Open-type, soundproof type or mobile type for optional
Controller:
Smartgen, Deepsea, ComAp, or Deif for optional
Phase:
Three phase, Single phase
Engine brand:
Cummins,Deutz,Lovol,Doosan,Volvo,MTU,Mitsubishi,Shangchai,Yuchai,Weichai,Yangdong,ect.
Alternator Brand:
Stamford,Leroy-Somer,Marathon,Mecc,Engga and Kwise
Application Field:
They are widely used in national defense, telecommunications, field construction, commercial buildings, industrial and mining enterprises, oil fields, highways, ports, rural areas and other places.
We can design the diesel generator set as clients' requirement!
Prime Power 16kva Yangdong Diesel Engine 13kw Generator with Denyo Silent Type
KT-YD YANGDONG SERIES SPECIFICATION 60HZ @ 1800RPM

Genset Model

60HZ PF=0.8 440/220V 3Phase 4Wire

Engine specification

Genset canopy data

Genset open data

Standby Power

Prime Power

Cons 100%

(

L/H

)

Engine Model

Cyl.

Gov.

Displacement

(

L

)

Dimention

(

MM

)

weight

(

KG

)

Dimention

(

MM

)

Weight

(

KG

)

KVA/KW

KVA/KW

KT-YD12

12/10

11/9

3

YD380D

3L

M

1.357

1900*730*1130

625

1550*760*1250

460

KT-YD14

14/11

13/10

3.4

YD385D

3L

M

1.532

1900*730*1130

660

1550*760*1250

460

KT-YD18

18/14

16/13

4.1

YD480D

4L

M

1.809

2100*730*1130

700

1650*760*1250

491

KT-YD22

22/18

20/16

5.1

YND485D

4L

M

2.156

2100*730*1130

720

1650*760*1250

512

KT-YD28

28/22

25/20

6.4

YSD490D

4L

M

2.54

2250*850*1140

835

1760*760*1250

570

KT-YD33

33/26

30/24

9.3

Y4100D

4L

M

3.707

2250*850*1280

835

1880*760*1300

693

KT-YD44

44/35

40/32

9.9

Y4102D

4L

M

3.857

2250*850*1280

990

1880*760*1300

795

KT-YD50

50/40

45/36

10.6

Y4105D

4L

M

4.1

2400*850*1280

1055

1880*760*1300

803

KT-YD55

55/44

50/40

12.4

Y4102ZD

4L

M

3.857

2400*850*1280

1050

1880*760*1300

795

KT-YD60

60/48

55/44

14.7

Y4102ZLD

4L

M

3.857

2400*850*1280

1090

1880*760*1300

890

KT-YD66

66/53

60/48

14.7

Y4105ZLD

4L

M

4.1

2400*850*1280

1090

1880*760*1300

890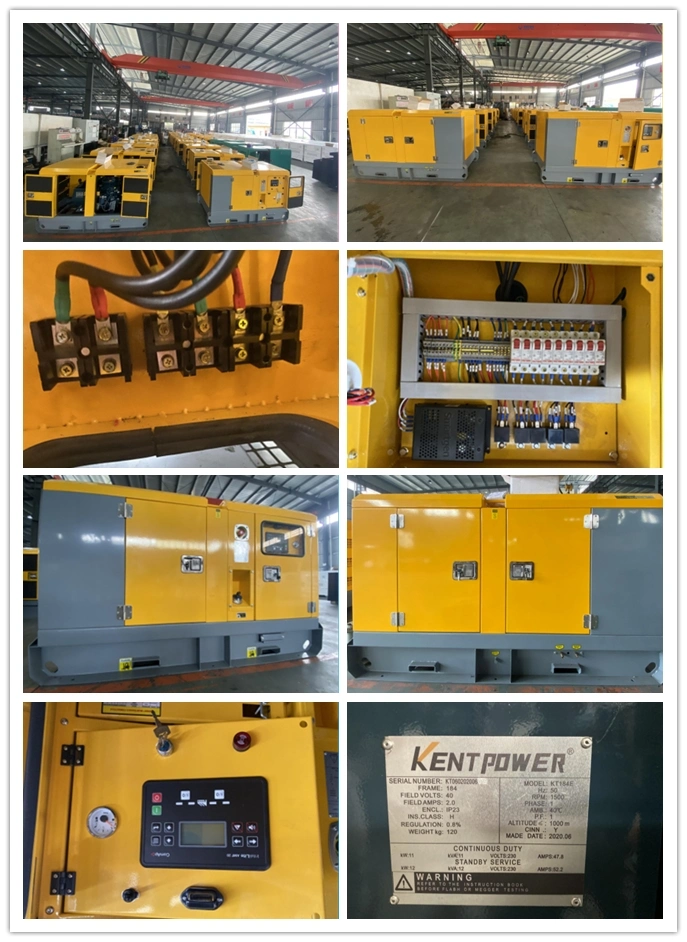 Kentpower diesel generator Sets are reliable, safe, environmental, whose human design made them easy to operation and maintance.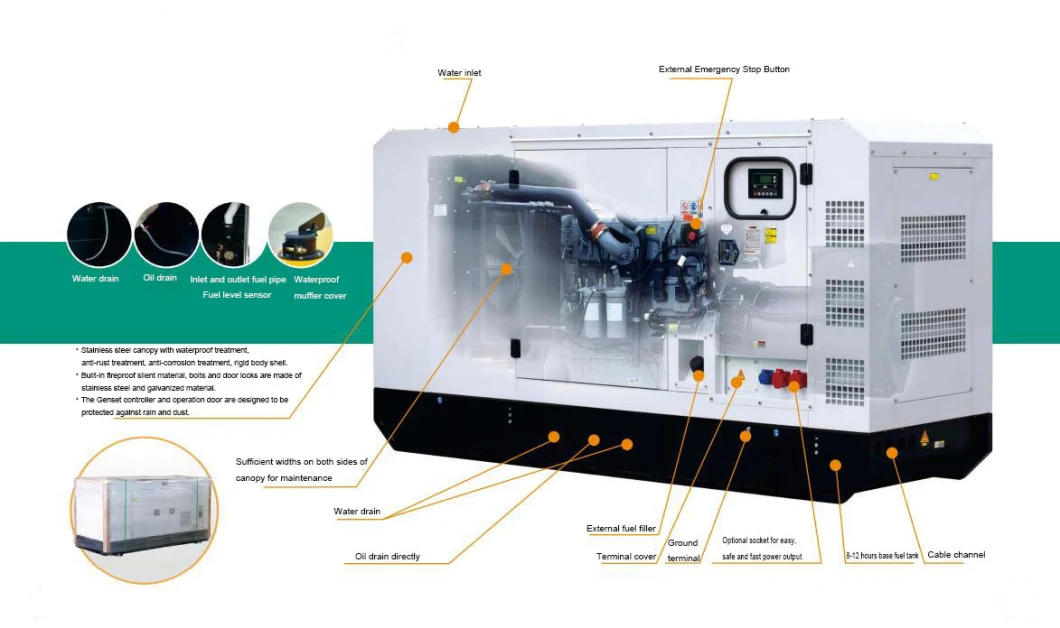 Our Genset Types - Meet the needs of different customers: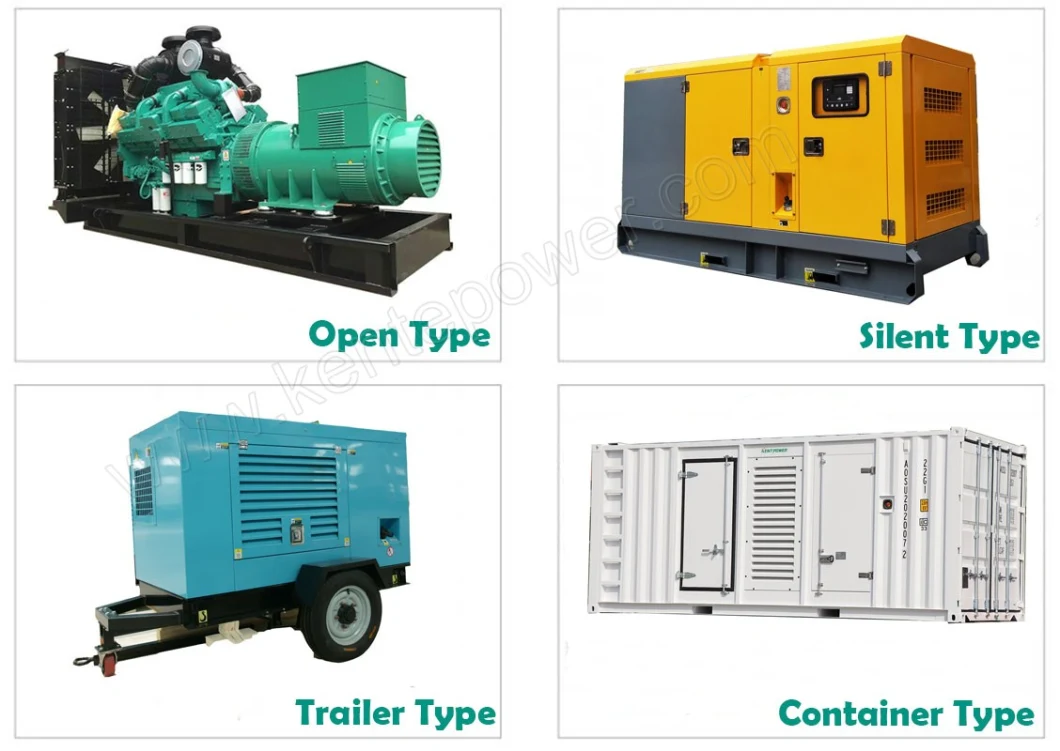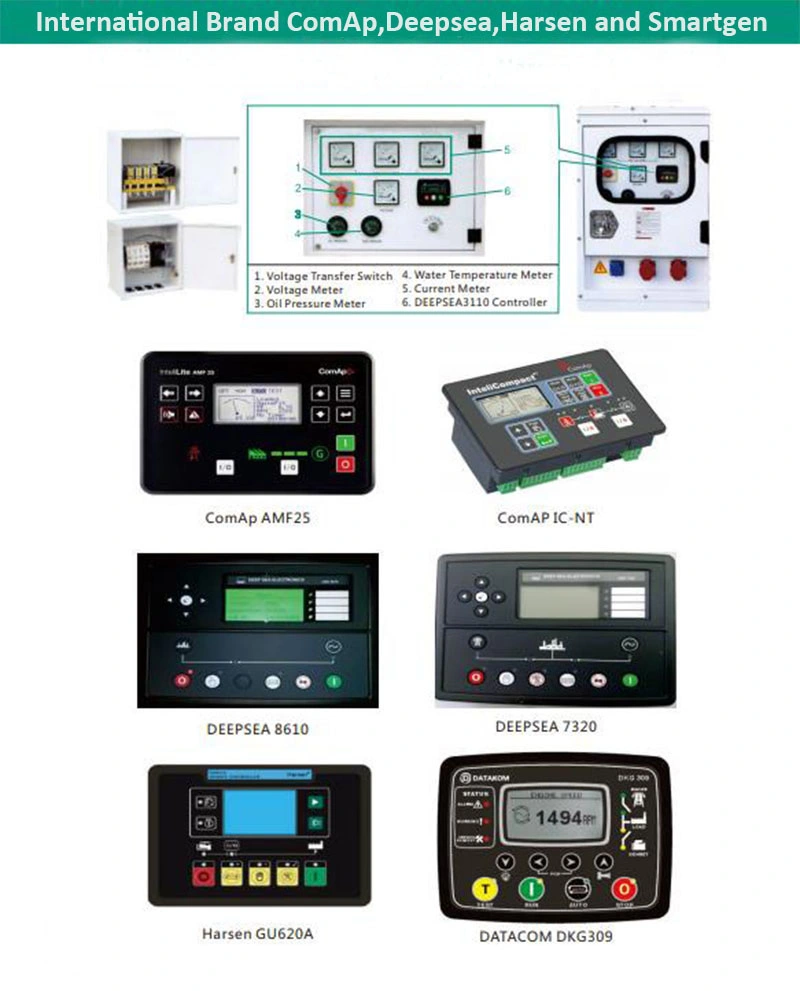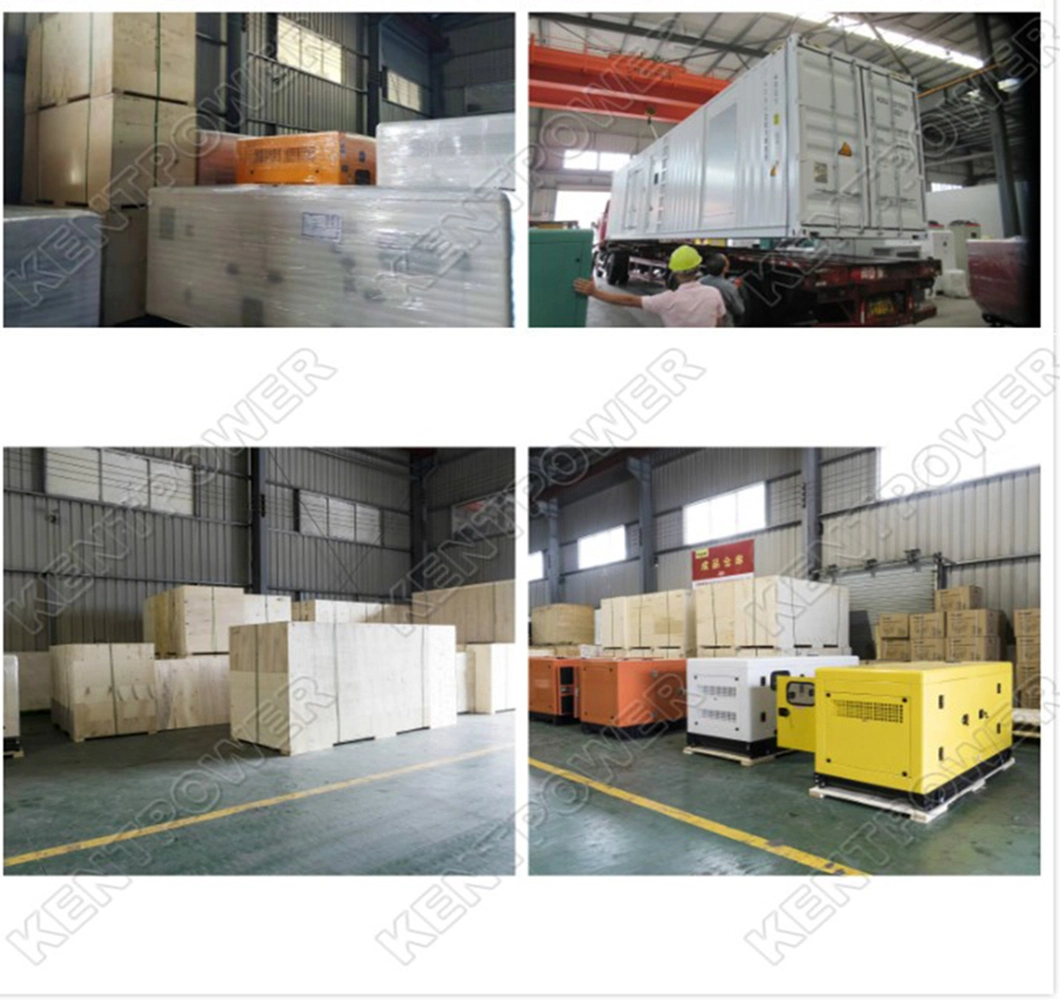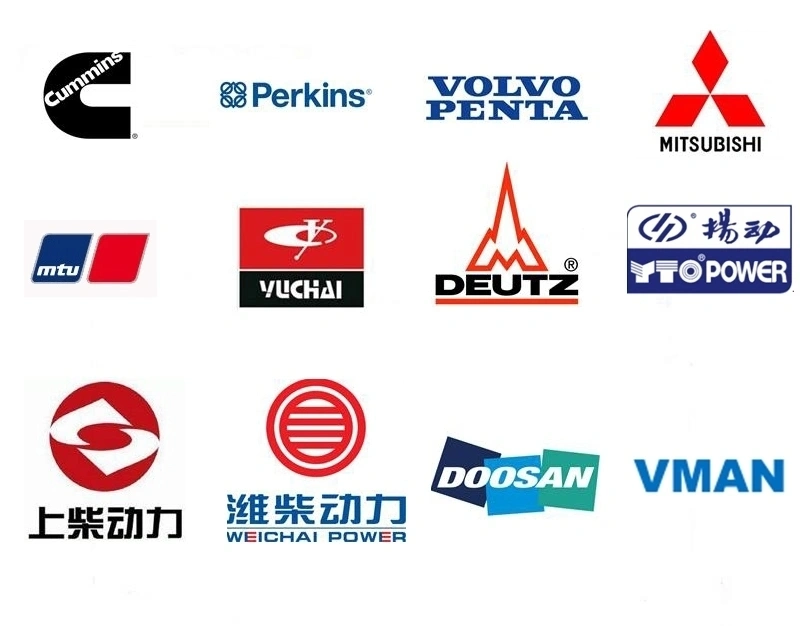 | | | | |
| --- | --- | --- | --- |
| PRIME POWER | ENGINE | ALTERNATOR | CONTROLLER |
| 25KVA - 1500KVA | CUMMINS | STAMFORD | DEEPSEA |
| 9KVA - 2500KVA | | KENTPOWER (COPY STAMFORD) | COMAP |
| 20KVA - 560KVA | DEUTZ | LEROY SOMER | SMARTGEN |
| 250KVA - 3000KVA | MTU | MECC ALTE | |
| 288KVA - 2500KVA | MITSUBISHI | ENGGA | |
| 20KVA - 180KVA | LOVOL | MARATHON | |
| 8KVA - 825KVA | DOOSAN | | |
| 85KVA - 730KVA | VOLVO | | |
| 8KVA - 100KVA | YANGDONG | | |
| 113KVA - 1000KVA | WUDONG | | |
| 10KVA - 250KVA | RICARDO | | |
| 10KVA - 2500KVA | OTHER CHINESE BRAND | | |
Δ
Why Choose US?
1.We select quality and famous diesel engine
brand:Cummins/Mitsubishi/Deutz/LovoL/Doosan/Shangchai/Yarman/Isuzu/FAW/SDEC/Weichai/
MTU/Ricardo/Jichai/QuanChai/Yangdong
2.Equipped with famous Brushless alternator - Optional Stamford, Leroy Somer, Marathon, Kwise, Kentpower
3. Equipped with 50°C radiator with fan, enough engine cooling system guarantee long time working
4. Equipped with advanced generator set control system, ATS system, remote control
system, parallel operation system, optional control model, Deep sea, Smartgen , ComAp
5. Generator set use High-quality steel are thickness canopy -- 2MM to 4MM
6. Equipped with high density sound-absorbing material, sound insulation, fireproofing
7. Generator equipped with 12V/ 24V DC battery with charger, battery connects wire.
8. Generator equipped with 8-24 hours fuel tank with fuel indicator, long time for working.
9. High protect class control box and power output box. IP55, Waterproof, Electric
leakage protect, Breaker
10. New design of turn-back type for air inflow & air outlet which can reduce the noise
and improve engine efficiency.
11. Beautiful & practicably design, Bottom hole for forklift, Water outlet & oil outlet for
easy maintenance
12. Double open door on both sides of the Gensets. Spacious doors can check for every
part of the engine and alternator.
13. All new design for diesel generator set of Silent, Supper silent, Soundproof, Trailer type, Container type..
14.Free maintenance battery with floating charger.
15. Our generator set compliance with all main standards, such as : GB/T2820, ISO9001,
IEC34, CE, EPA standard

Δ Factory Inspection: the test items before delivery are mainly as follows:
√Each genset shall be put into commission more than 1 hours totally. They are tested on idle (loading testing range 25% 50% 75% 100% 110% 75% 50% 25% 0%)
√ Voltage bearing and insulation testing
√The noise level is tested by requested
√All of the meters on the control panel shall be tested
√The appearance of the genset and all of the label and nameplate shall be checked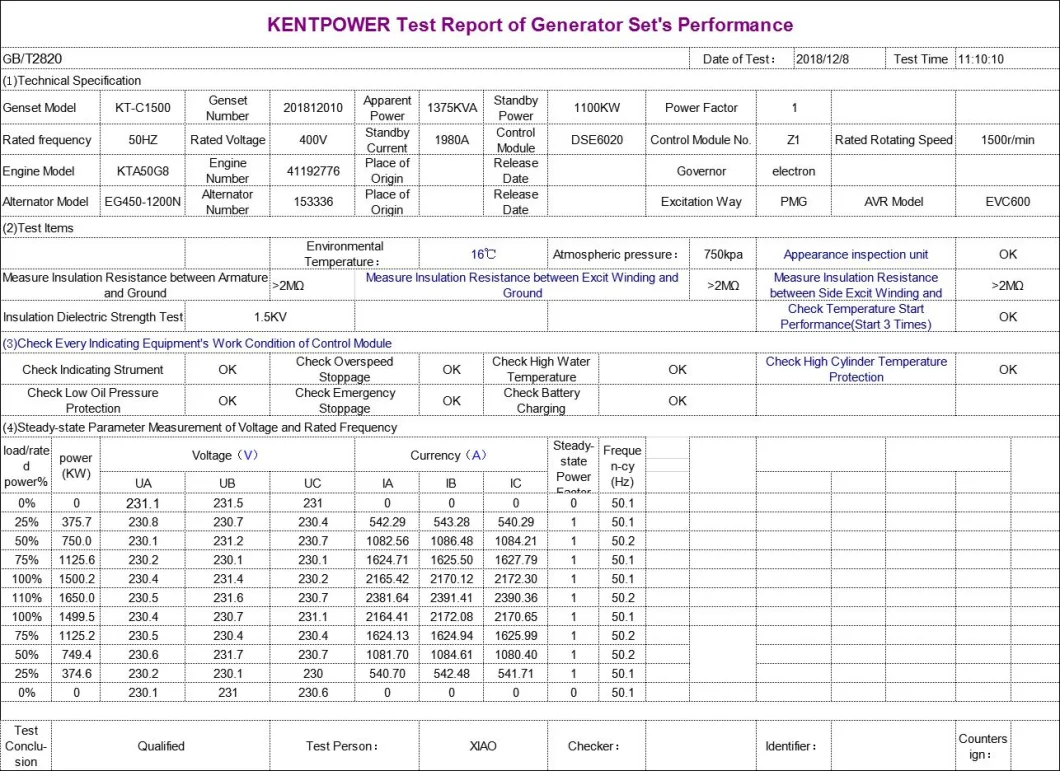 Δ Our Factory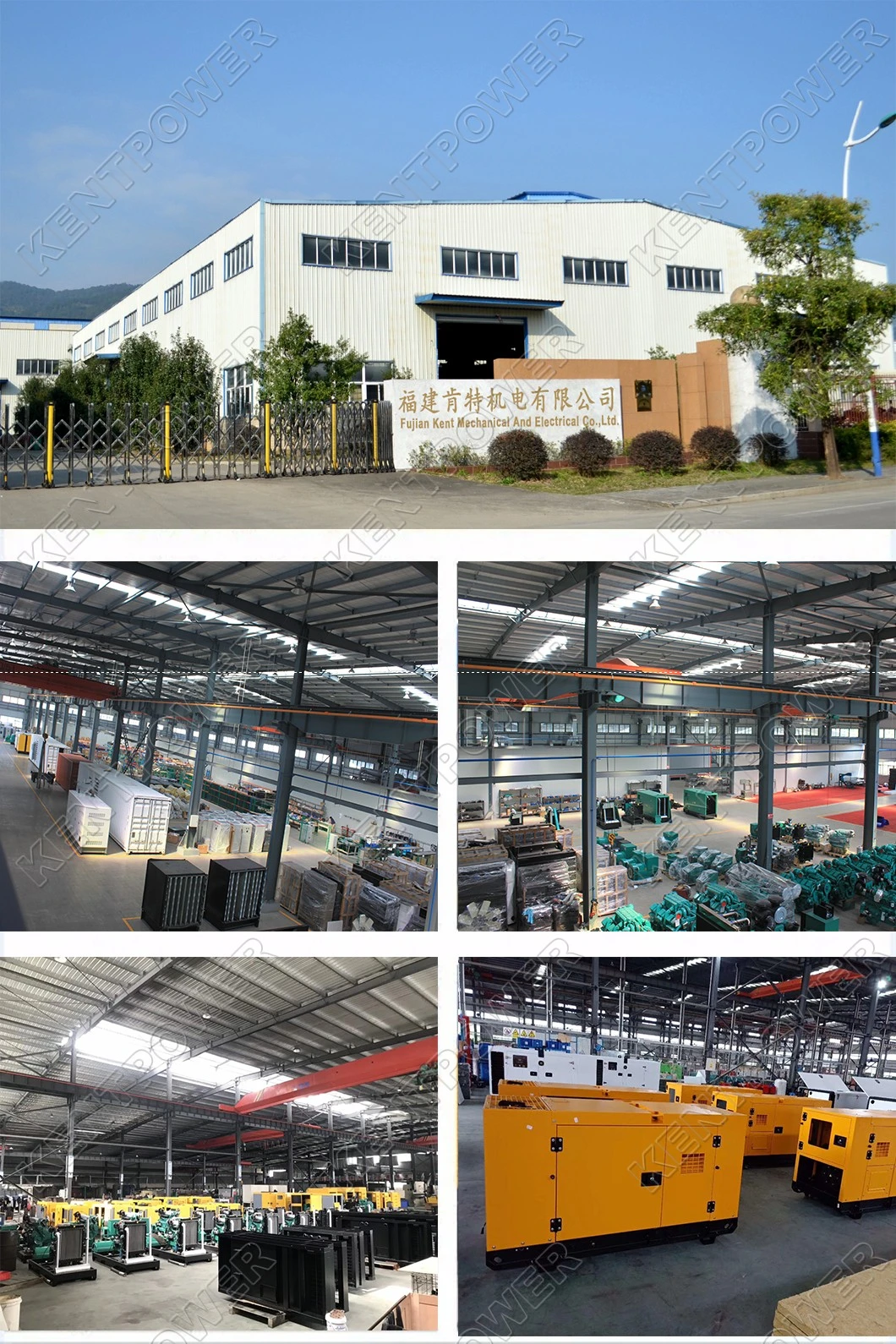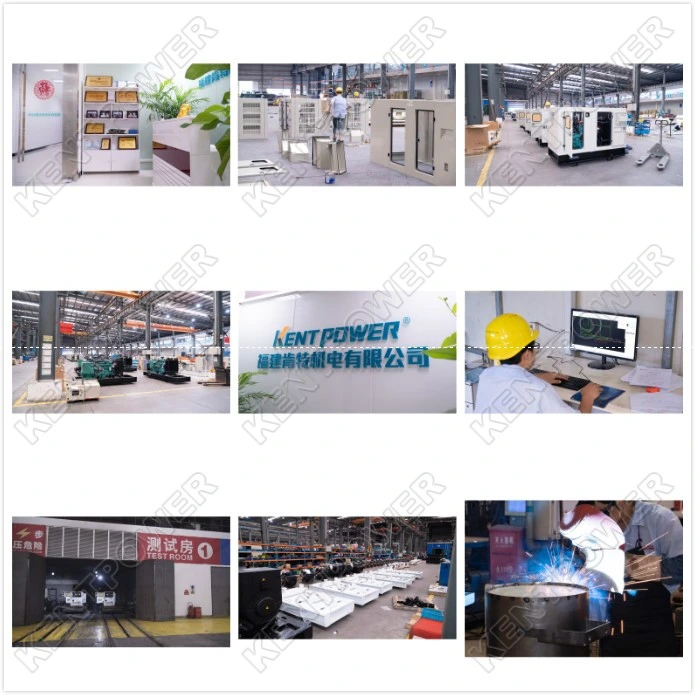 Δ Cetificate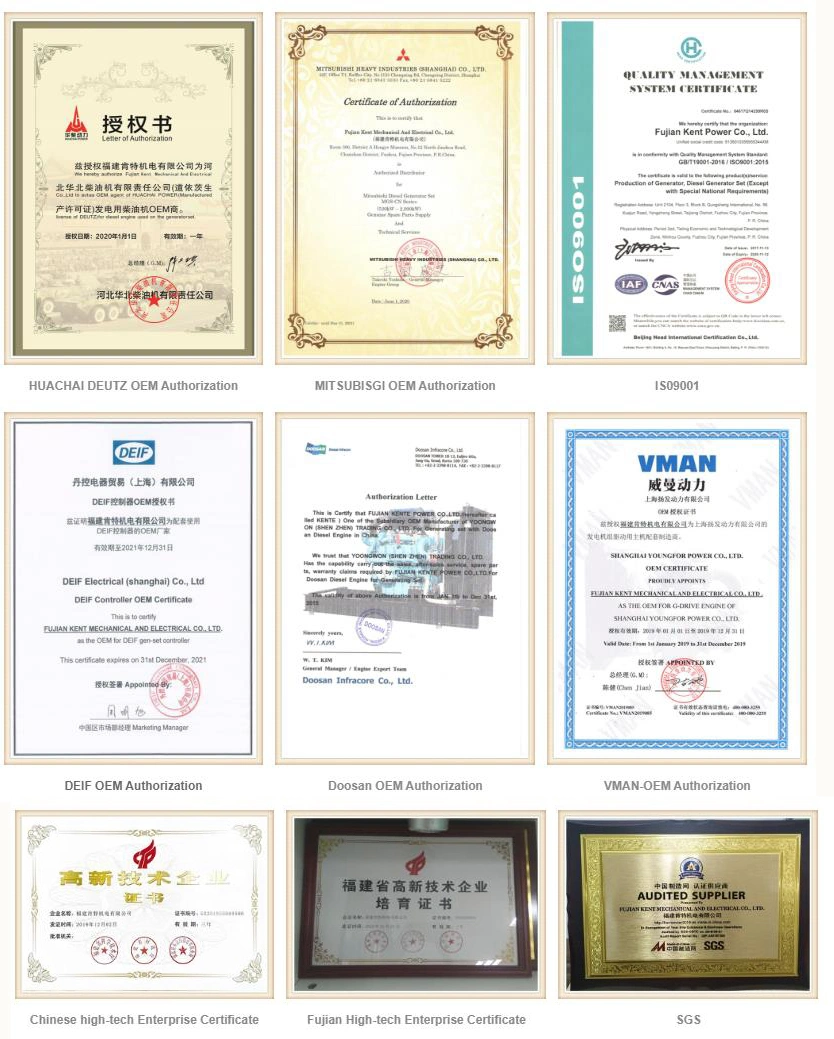 ΔFAQ
1.What's your power range of Generators?
Answer: Kentpower provides the range from 5kva~3000kva.
2.What's your delivery time?
Answer: Usually,Kentpower company can deliver the order in 15-30 working days after we get the deposit.
3.What's your payment?
Answer: We can accept T/T 30% in advance, and the balance 70% shall be paid before shipment
or L/C at sight. But based on some special project and special order,we can adjust payment item.
4.What's your warranty?
Answer: Kentpower offer one year or 1000hours (accord to whichever reach first) from Ex-Factory date. However, the warranty for some special projects will be extended.
5.What's your MOQ?
Answer: We accept small power generator MOQ for 10 or 20 sets .Others for 1 set.

6.Can you offer an exclusive distributor agreement if we want to be your products distributor in our country?

Answer: Yes, welcome everybody join us and distribute products worldwide. After we start our business, we could set up your company as our exclusive distributor, this is what buensess model we are looking for.

7.How does your factory take the quality control?

We have strict quality system. Before shipment, our products are 100% inspection on appearance,function and dimension, including every spare parts and whole machine.


ΔContact us
Fujian Kent Mechanical And Electrical Co., Ltd.
Intl.Expo.Dept.Marketing&Sales Manager
Web:kentpower2019.en.made-in-china.com


Power solution Solver / Generator professional manufacturer !




Cummins|Mitsubishi|Deutz|Doosan|Isuzu|Ricardo Generators|Spare Parts
Office add: No.12, Jinzhou North Road, Chanshan District, Fuzhou City, Fujian province
Factory add: Tieling Industrial Zone, Ganzhe Town, Minhou System, Fuzhou City, Fujian, China