CHINA WEATHERPROOF DIESEL GENERATOR SET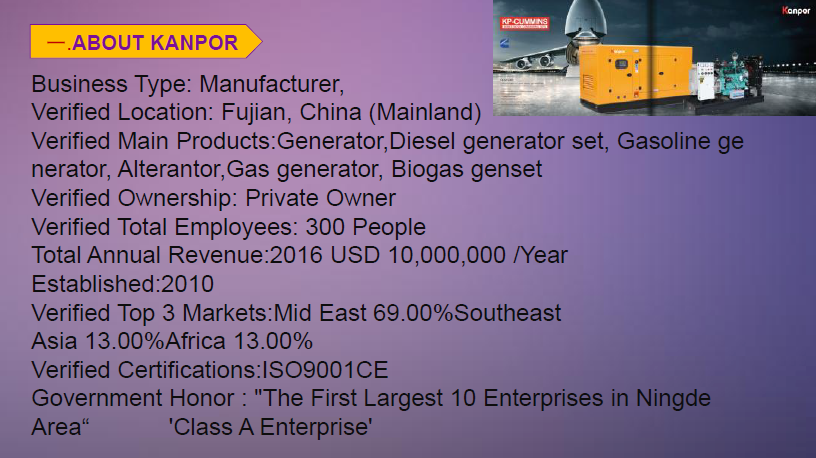 1.★ GENERATOR DATA/SPECIFICATION
FAW Jiefang Automotive Company Ltd. Wuxi Diesel Engine Works (FAWDE), Short for FAW-Xichai. It is a professional diesel engine provider in China, doing business since 1943,FAW (The leading company of china auto industry). Diesel engines are very reliable, and easily adapt to damp environments, for they have no high-tension electrical ignition system to attend to. They also have more solid parts and better lubrication properties, so they have a longer service life.
FAW-Xichai can provide them with lower emission, higher reliability, lower noise, and lower consumption, as well as lower price. The high product quality is guaranteed by producing facilities, which include an internationally advanced CNC processing department, FMS (Flexible Manufacturing System), and advanced testing equipment introduced from America, Japan and Germany. They supply diesel engines to customers from all over the world, including South America, Middle East, and Africa, as well as many other parts of the world.

Voltage Available:

50Hz: 380V/220V 400V/230V 415V/240V 480V/277V

60Hz: 220V/127V 230V/132V 220V/440V 240V/480V

Any special voltage is also available as client's request

Prime Power:

Comply with GB/T2820-97(eqv.ISO8528).

Genset can run unlimitedly under certain power range.

One hour 10% over load in every 12 running hours is allowed;

Standby Power:

standby power is the limit value of maximum output for emergency use.

It is off-oil power,overloading is prohibited

★ PRODUCT FEATURES

(1).Full control panel with power indicator light and oil light.

(2).Emergency shutdown for low oil pressure and high water temperature.

(3).Large fuel tank ensure continuous running.

(4).Low noise & vibration.

(5).Compact structure.

(6).Reliable performance.

(7).Easy for installation and maintenance.

(8).50Hz and 60Hz both are available for choice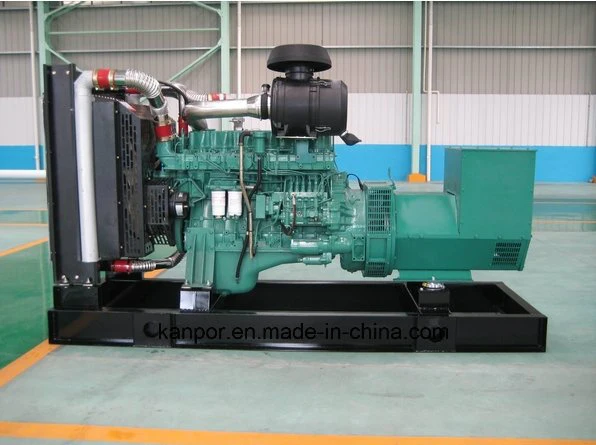 2.★MAIN SPECIFICATION

50HZ 1500RPM

60HZ 1800RPM

PRIME OUTPUT
DIESEL ENGINE MODEL
FAW
ALTERNATOR MODEL
Kanpor
PRIME OUTPUT
DIESEL ENGINE MODEL
FAW
ALTERNATOR MODEL
Kanpor
KW
KVA
KW
KVA
12.8
16
4DW81-23/19
STF164D-12.8KW
16
20
4DW81-28D/22
BC164D/16
16
20
4DW81-23/19
STF184E-18KW
22
27.5
4DW91-38D/31
BC184E/22
18
22.5
4DW91-29/23
STF184E-18KW
24
30
4DW91-38D/31
BC184F/26
22
27.5
4DW92-35D/29
STF184F-22KW
26
27.5
4DW92-42D/34
BC184F/26
24
30
4DW93-42D/34
STF184G-25KW
30
38
4DW93-50D/41
BC184G/30
30
37.5
4DX21-45D/36
STF184H-30KW
34
42.5
4DW93-50D/41
BC184H/34
34
42.5
4DX22-50D/41
STF224C-34KW
34
42.5
4DX21-53D/43
BC184H/34
40
50
4DX23-65D/53
STF224D-40KW
40
50
4DX22-60D/50
UC224C/44
48
60
4110/125Z-09D/72
STF224E-48KW
40
50
4DX23-82D/66
UC224D/50
58
72.5
4110/125Z-09D/72
STF224F-58KW
48
60
4110/125Z-11D/88
UC224E/56
68
85
CA4DF2-12D/92
STF224G-68KW
58
72.5
4110/125Z-11D/88
UC224F/68
80
100
CA4DF2-12D/92
STF274C-80KW
68
85
CA4DF2-14D/110
UC224G/80
80
100
CA6DF2D-14D/105
STF274C-80KW
80
100
CA4DF2-14D/110
UC274C/96
96
120
CA6DF2-17D/138
STF274D-96KW
80
100
CA6DF2D-16D/128
UC274C/96
112
140
CA6DF2-17D/138
STF274E-112KW
96
120
CA6DF2-18D/145
UC274D/106
160
CA6DF2-19D/154
STF274F-128KW
112
140
CA6DF2-18D/145
UC274E/128
180
CA6DL1-24D/194
STF274G-145KW
160
CA6DF2-21D/170
UC274F/144
160
200
CA6DL1-24D/194
STF274H-160KW
144
180
CA6DL1-27D/215
UC274G/160
225
CA6DL1-24D/194
STF274J-180KW
160
200
CA6DL1-27D/215
UC274H/190
180
225
CA6DL2-27D/226
STF274J-180KW
180
225
CA6DL1-27D/215
UC274J/200
200
250
CA6DL2-27D/226
STF274K-200KW
180
225
CA6DL2-32D/259
UC274J/200
220
275
CA6DL2-30D/251
STF314C-200KW
200
250
CA6DL2-32D/259
UC274K/240
236
295
CA6DM2J-39D/316
STF314D-236KW
304
380
CA6DM2J-42D/336
HC314D/280
260
325
CA6DM2J-39D/316
STF314ES-260KW
320
400
CA6DN1J-46D/369
HC314E/312
304
380
CA6DM2J-41D/330
STF314FS-304KW
320
400
CA6DN1J-45D/365
STF314F-320KW
OPEN TYPE: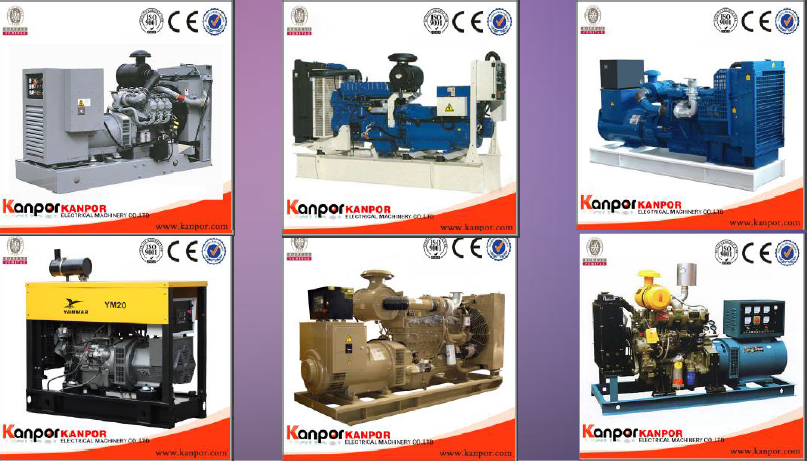 SOUNDPROOF CANOPY SILENT TYPE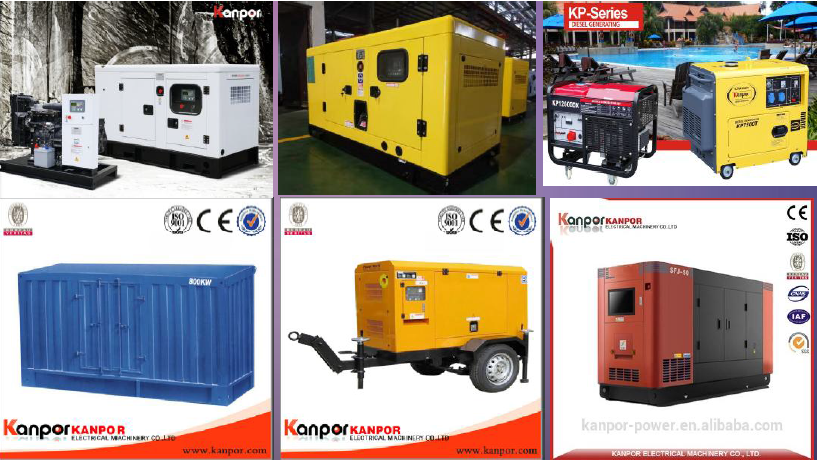 ★
Why Choose Us
Kanpor generator
1)The
structure is more compact, the big built-in muffler makes the noise lower;
2) Give up the traditional bottom air intake design, which can avoid dusts and other impurities inhalation and enlarge the area of air intake and discharge.
3)Separated output cable box, easy for cable connections (this kind of generator with soundproof canopy especially suitable for field construction and power tenancy);
4)The performances of weatherproof and soundproof are higher.
5)
Material & thickness
of canopy and frame,and others important business contents pls only email.
6)Guarantee:
Diesel generator set/Gas generator set/Alternator: 12 months from shipment date.
Gasoline generator set:6 months from shipment date.
Spare parts:3 months from shipment date.
Based on some special project, we can extended our warranty period.
7)
Factory Inspection
: the test items before delivery are mainly as follows:
1/.Each genset shall be put into commission more than 4 hours totally. They are tested on idle load, fully
load and 10% overload;
2/.The noise level is tested
3/.All of the meters on the control panel shall be
tested
The appearance of the genset and all of the label and nameplate shall be checked.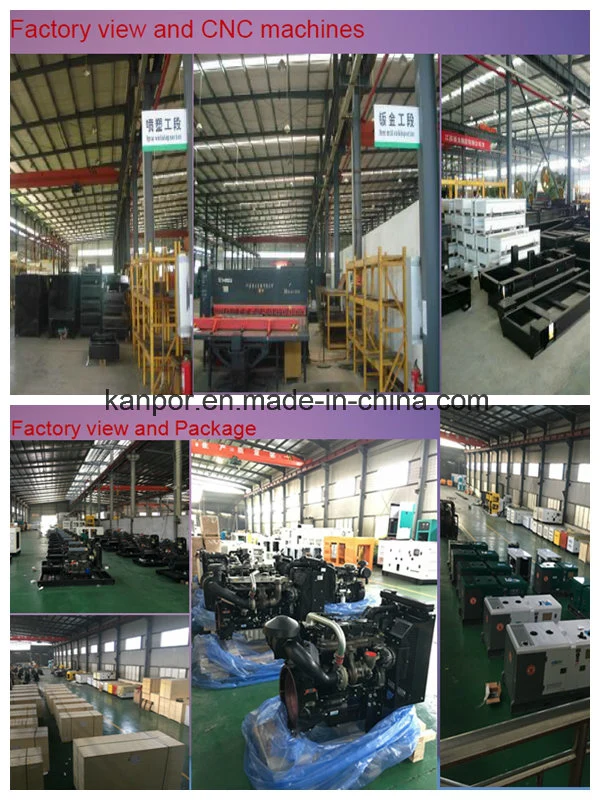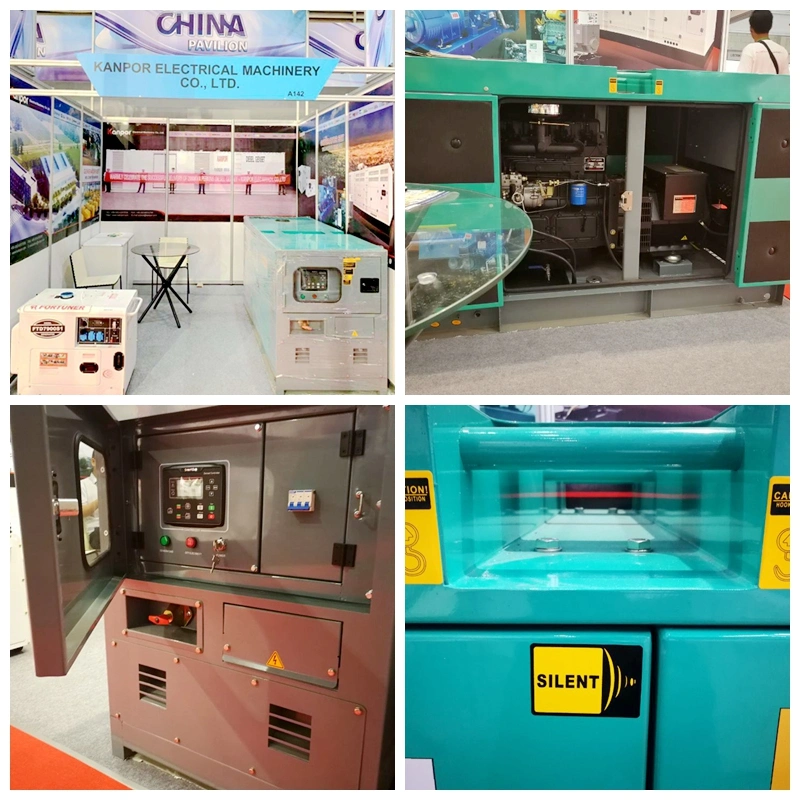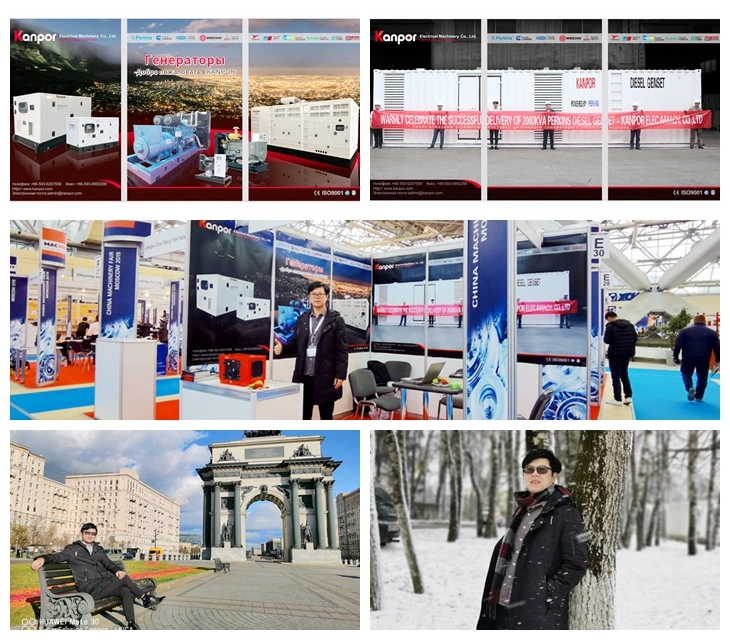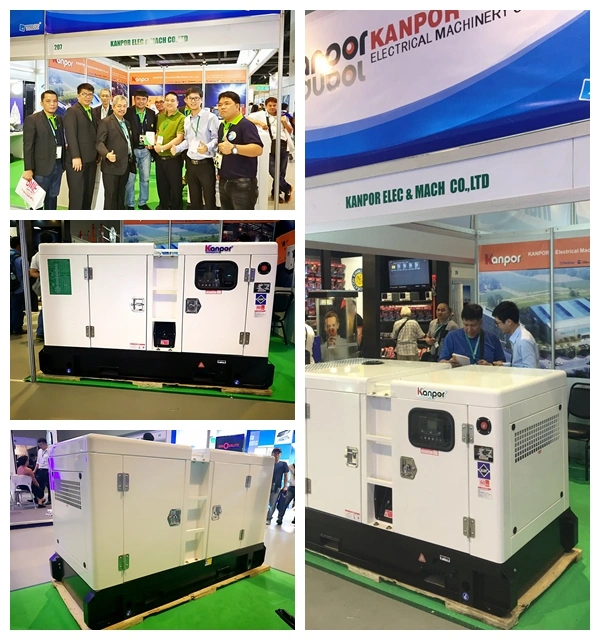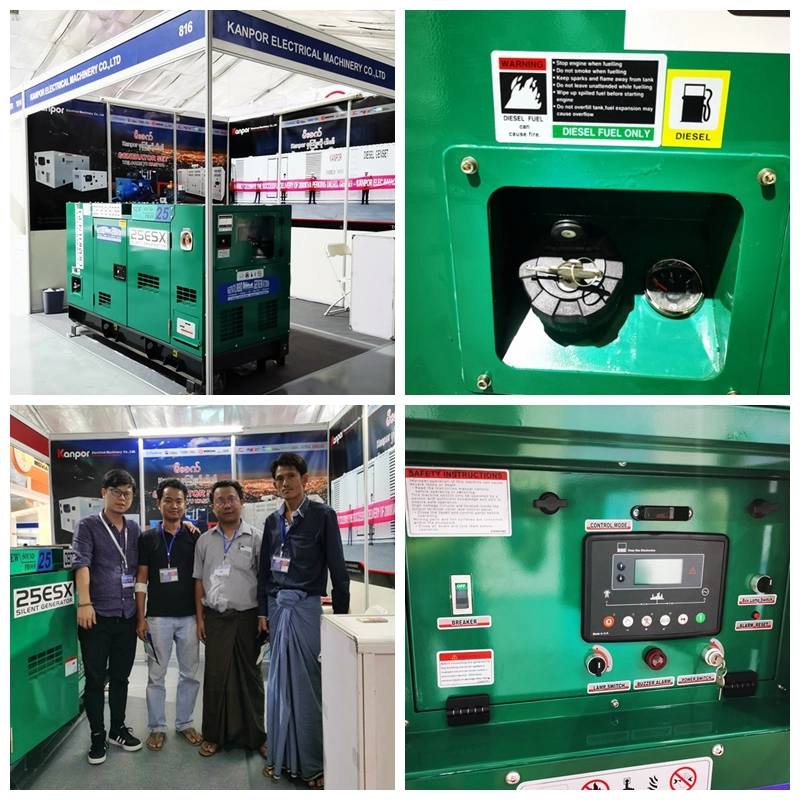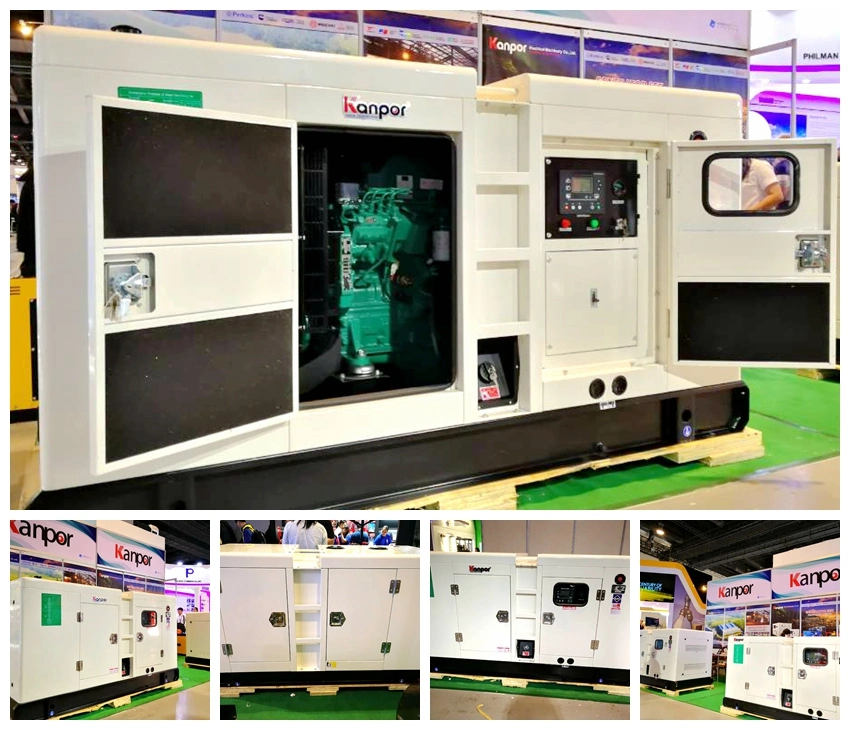 WE ARE RELIABLE FACTORY!
1.We cooperate with famous diesel engine -Powered by Cummins, Perkins Deutz , LovoL , Lister Petter, Doosan, Shangchai, Yarman, Foton-Isuzu, FAW, SDEC, Weichai, MTU, Ricardo, Jichai,ETC
2. Equipped with famous Brushless alternator - Optional Stamford, Leroy Somer, Marathon, Kwise,Kanpor, Mecc alte.
3. Equipped with 50°C radiator with fan, enough engine cooling system guarantee long time working
4. Equipped with advanced generator set control system, ATS system, remote control system, parallel operation system, optional control model, Deep sea, Smartgen , ComAp ,
5. Generator set use High-quality steel are thickness canopy -- 4MM to 6MM
6. Equipped with high density sound-absorbing material -- sound insulation, fireproofing
7. Generator equipped with 12V/ 24V DC battery with charger, battery connects wire.
8. Generator equipped with 10-12 hours fuel tank with fuel indicator, long time for working.
9. High protect class control box and power output box. IP55, Waterproof, Electric leakage protect, Breaker
10. New design of turn-back type for air inflow & air outlet which can reduce the noise and improve engine efficiency.
11. Beautiful & practicably design, Bottom hole for forklift, Water outlet & oil outlet for easy maintenance
12. Double open door on both sides of the Gensets. Spacious doors can check for every part of the engine and alternator.
13. All new design for diesel generator set of Silent, Supper silent, Soundproof, Trailer type, Container type.
14. Our generator set compliance with all main standards, such as : GB/T2820, ISO8528,IEC34, CE, EPA Tier4 standard
★ FAQ
1.
Q.:What is your warranty period?
A.:Our warranty is 1 year or 1200 running hours whichever comes first. But based on some special project, we can extended our warranty period.
2.
Q.:Does your generator have global warranty?
A.:Yes, We kanpor genset supply the warranty.Also most of our products like Deutz,Perkins,Cummins, Doosan,Yuchai,Weichai etc.power generator enjoy the global warranty service. And the alternator we use like Leroysomer, Stamford, marathon also enjoy the global warranty service, so you do not need to worry about the aftersales service.
3.
Q.:Can you accept OEM?
A.:Yes, we can accept OEM.
4.
Q.:What is your payment terms?
A.:We can accept T/T 30% in advance, and the balance 70% shall be paid before shipment or L/C at sight. But based on some special project and special order,we can do something on payment item.
5.
Q.:What is your delivery time?
A.:Our normal delivery time is 2 to 3 weeks. But if your order is using special engine and alternator, then the delivery time is longer.
6.
Q.:Where is your factory and how to contact?
KANPOR ELECTRICAL MACHINERY CO.,LTD
Factory Add.:No.88 Shimenyuan Industrial Area,Fu'an,Ningde,Fujian province China
Head Office:2802-03, Bld 1#, The Central Fifth Avenun, Taijiang Area, Fuzhou, Fujian, China
kanpor.en.made-in-china.com
http://kanpor.en.made-in-china.com
http://kanpor.en.made-in-china.com