Product Description
Main technical parameter for generator set
| | |
| --- | --- |
| brand | Green power |
| manufacturer | made in china |
| The unit type | FM24GF |
| power of the assembling unit | 24KW/30kva |
| power factor | 0.8 |
| starting mode | electrical starting |
| output voltage | 400/230V |
| current output | 43A |
| mode of connection | three-phase four-wire |
| rated frequency | 50HZ |
| The unit size | 1600*800*1400mm |
| The unit weight | 500kg |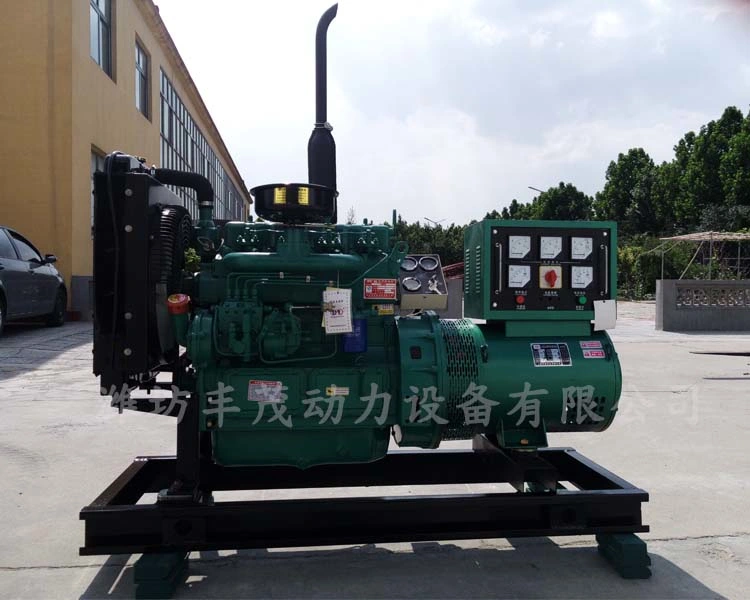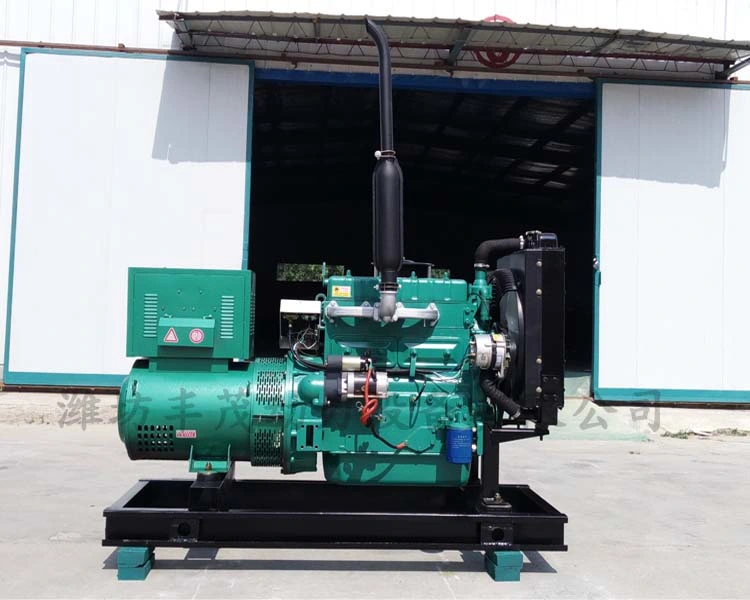 Introduction to diesel engine
Weifang series of small power generating sets adopt four-stroke direct-injection diesel engine, small size and large power. The generator USES STC series or brushless series of three times harmonic self-excited constant pressure, the starting motor ability is strong, the whole unit is beautiful, the performance is reliable, it is applicable to the users who demand cheap and fine quality
Generator parameter
The nonlinear load voltage waveform is less distorted
Strong short circuit endurance
The stator winding is impregnated by vacuum pressure and covered with dampproof epoxy insulating paint
The rotor and exciter are treated with high temperature resistant insulating resin paint, which is more suitable for use in bad environment
H grade
insulation
The rotor silicon steel plate is mechanically tightened
Advanced grease seal long life bearing
model

power




KW KVA

electricity




A

Diesel engine model

number

of

cylinders

Cylinder diameter




mm

lubricating

oil

capacity




L

oil

wear




g/kw.g

The unit size




L×W×H

The unit weight




kg

FM20GF

20

25

36

K4100D

4

100*115

10

238

1600*800*1200

550

FM24GF

24

30

43.2

K4100D

4

100*115

10

238

1600*800*1200

550

FM30GF

30

37.5

54

K4100D

4

100*115

10

238

1600*800*1200

550

FM40GF

40

50

72

K4100ZD

4

100*115

10

238

1700*800*1350

650

FM50GF

50

62.5

90

ZH4105ZD

4

105*115

12

238

1800*800*1400

800

FM75GF

75

93.75

135

R6105ZD

6

105*115

15

238

2100*850*1500

1000

FM100GF

100

125

180

R6105AZLD

6

105*115

15

238

2200*850*1650

1100

FM120GF

120

150

216

R6105IZLD

6

105*120

15

238

2200*850*1650

1200

FM150GF

150

187.5

270

6110IZLD

6

110*115

18

238

2400*850*1650

1300

FM200GF

200

250

360

6126ZLD

6

126*120

28

238

2600*900*1750

1800

FM250GF

250

312.5

450

6126ALD

6

126*125

28

238

2600*900*1750

2000

FM300GF

300

375

540

6126IZLD

6

126*130

28

238

2800*900*1800

2200
The above technical parameters have a speed of 1500RPM, a frequency of 50HZ, a rated voltage of 400/230v, a power factor of 0.8, and a three-phase four-wire connection.

According to customers' demand, the generator can choose famous brands such as Shanghai Stanford, Shanghai marathon, wuxi Stanford, etc.
3.60HZ generator sets can be customized according to the special needs of customers.
Standard equipment:
diesel engine
alternator
water cooled radiator
industrial silencer and flexible exhaust hose
maintenance-free lead-acid starting batteries and battery connect wires
output circuit breaker
digital control panel
steel base frame