1000kw 1mw natural gas cng lng png biogas engine driven generator gen set genset power station
The purification of wastewater produces leftovers: sewage sludge and sewage gas, valuable residues of wastewater treatment and also raw materials that can be used in energy generation/power generator.
Using sewage gas to reduce our own energy costs. Large quantities of energy-rich sewage gas are produced in the digester tanks of sewage treatment plants during the final step of wastewater treatment. This gas can be used as fuel for engine cogeneration units, which produce both electricity and heat simultaneously.
Sewage gas as an innovative raw material. After processing to produce gas of natural gas quality or hydrogen, sewage gas can be used for many purposes, such as fuelling vehicles, heating buildings and supplying them with power.
Sewage sludge as an energy source and raw material. Besides sewage gas, sewage sludge is also an important raw material. It can either be incinerated to generate electricity or be used in agriculture and landscaping. Because it contains valuable trace elements, such as phosphorus, sludge is suitable for use as a fertilizer. Some sewage sludge is used on agricultural land, subject to strict legal conditions, and small quantities are used in landscaping.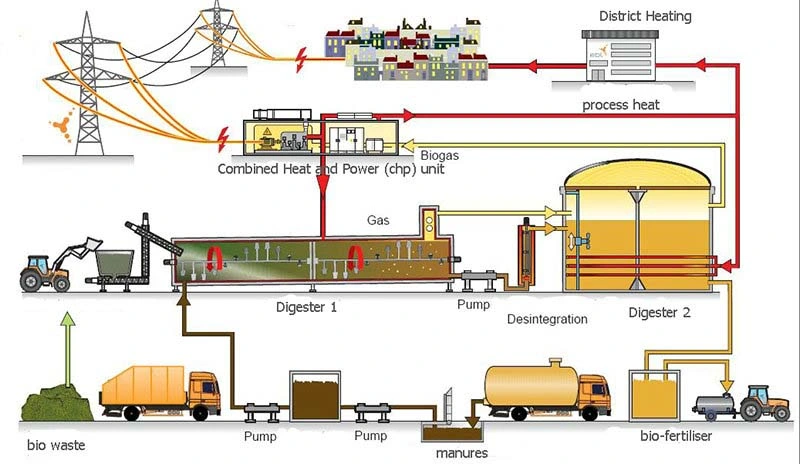 Zichai is one of biggest manufactures and suppliers for gas engine generation/Power plant in China. Our generators enjoy hot markets more than 70 countries all over the world. Biogas engine Generation can be driven by world famous gas engines, coupled with Stamford, Leroy Somer, Siemens or Marathon alternators, power ranging from 20kva upto 4000kva.
Power gas power generators enjoy hot ready markets in domestic markets and overseas markets including South Africa, South America, Europe, Middle East and Southeast Asia countries etc. By adopting gas generators concerning technologies of Mixer, Ignitions System, Governor System from WOODWARD, HEINZMANN, ALTRONIC, IMPCO and equivalents, our gas generator set can run at highly steady & credible performance, easy for maintenance, much longer life-span and very economic in price based on wonderful quality.
Main Machine Configuraiton and Key Parts of Sewage Biogas Engine Genset
Gas Engine
CNPC 190, MAN, MWM-DEUTZ, Low Speed 300 Series

Alternator

Siemens, Leroy Somer, Stamford, Marathon

Governor/Actuator

USA Woodward, Germany Motortech, Germany Heinzmann

Ignition Controller

Altronic, Motortech, AFS

Spark Plugs

Bosh, NGK, Motortech, STITT

Mixer

USA Impco, Woodward or Heinzmann

Turbocharger

ABB or Equal
Intercooler
Germany GEC
Control Module:
Deepea DSE7320/8610/8620, ComAp AMF25/IG-NT or Smartgen 6120/9510

Optional Device:



CHP/Cogeneration/CCHPTrigeneration
Steel Soundproof Container (sound attenuated canopy)
ATS and Synchronization Parallelling Panel
Remote Control
Power Station Central Management System
PMG Alternator
Cooling Tower, Remote Table Radiator
Oil and Water Heater
Muffler and Pipes
High Voltage Alternator 6.3kv and 10.5kv, High Voltage Electrical Control Cells (PT Cabinet, CT Cabinet, High Voltage outgoing cabinet, DC Panel, Groud Resistance Cabinet and low voltage distribution cabinet etc)

Biogas Quality Requirements
•
The content of CH4 ≥40%
•
changing rate
≤
2%/min
•
Gas Temperature
≤
40
ºC
•
Pressure of biogas: 7-20kpa, rate of pressure change
≤
1kpa/min
•
H2S
≤
200mg/Nm3
•
NH3
≤
20mg/Nm3
•
Moisture Content
≤
40g/Nm3
•
Impurity particular
≤
5um, Impurity content
≤
30mg/Nm3
Specification
Item

Technical specification

Model

50GF

100GF

150GF

200GF

250GF

300GF

300GF

400GF

Cylinder/type

4.L

6.L

6.L

6.L

6.L

6.L

8.L

6.L

Cylinder diameter*stroke (mm)

105*130

114*135

126*130

126*155

127*165

152*180

170*200

200*210

Displacement

(

L

)

4.5

8.3

9.7

11.6

12.5

19.6

36.3

39.6

Rated speed(r/min)

1500

1500

1500

1500

1500

1500

1000

1500

Rated power (kW)

50

100

150

200

250

300

300

400

Rated thermal consumption(MJ/kW

·

h)

11

11

11

11

11

11

11

11

Oil consumption(g/kW·h)

1.5

1.5

1.5

1.5

1.5

1.5

1.0

1.5

Voltage

(

V

)

400V

400V

400V

400V

400V

400V

400V

400V

Current

(

A

)

90

180

271

361

451

541

541

722

Frequency

(

HZ

)

50

Power factor

(

COSΦ

)

0.8 (Lagging)

Phase and connecting

3phases 4wires

Start mode

24V Electric motor

Dimension

(

mm

)

(L×W×H)

2100*820*1500

2300*850*1550

2900*1000*1500

3200*1200*1600

3400*1200*1600

3500*1500*1970

4500*1400*2200

4000*1300*2000

Weight

(

kg

)

1000

1500

1900

2200

2500

3900

7600

4500
400kw-1500kw specification
Item
Technical specification
Engine
Model
6300D/Z
6300D/Z-1
8300D/Z-1
8300D/Z-2
8300ZLD/Z-1
9300ZLD/Z
9300ZLD/Z-1
Type
Inline, water cooled, four stroke, spark plug ignition
Non-turbocharged
Turbocharged, inter-cooled
Cylinder number
6
8
9
Cylinder diameter (mm)
300
Rated speed(r/min)
500
600
500
600
600
600
600
Rated power (kW)
450
550
660
770
1100
1320
1650
Rated thermal consumption(MJ/kW·h)
≤10.5
Rotate direction (From flywheel)
Clockwise
Start mode
Compressed air /motor start
Compressed air start
Exhaust temperature (ºC)
≤600
≤650
Oil consumption(g/kW·h)
≤0.8
≤1.0
Generator set
Type
400GFZ
500GFZ
600GFZ
700GFZ
1000GFZ
1200GFZ
1500GFZ
Rated power(kW)
400
500
600
700
1000
1200
1500
Frequency(HZ)
50
Voltage(V)
400/6300/10500
Current(A)
722/46/28
902/57/34
1083/69/41
1263/80/48
1804/115/69
2165/137/82
2710/172/103
Power factor (COSΦ)
0.8 (Lagging)
Phase and connecting
3phases 4wires/3phases 3wires
Dimension (L×W×H)(mm)
5800×1600×2900
6400×1600×2900
6400×1600×3100
8500×1900×3700
8500×1900×3700
Weight(kg)
18000
22000
25000
42000
42000
Gas Generator Technical Features
•
Low voltage of 380V/400V/415V/440V/480V/690V, High Voltage of 6.3KV/10.5KV and other special voltages are available.
•
Special requirements for Soundproof Canopy/Container, ATS, Synchronizing Parallel panels and CHP are available for your options.
•
Above power ratings are based on natural gas (PNG, LNG, CNG). For other gas types such as biogas, oilfield associated Gas and Coalmine Gas etc., the engine power rating will be adjusted according to the exact gas quality.
•
The data herein can vary depending on individual production requirements or due to improved technology.
Why Zichai Generator Set?
1. Development and manufacturing internal combustion engine since 1970
2. Factory area over 330000m2 & over 2200 employees
3. Highly versatile power generator with ability to handle more than 20 different gases
4. More than 200 employees dedicated to developing and improving power generator for various gas.
5. More than 1000 systems installed in over 20 countries using a variety of gases.
6. More than 50 people in the Customer Service Department making the Organization very Customer Responsive.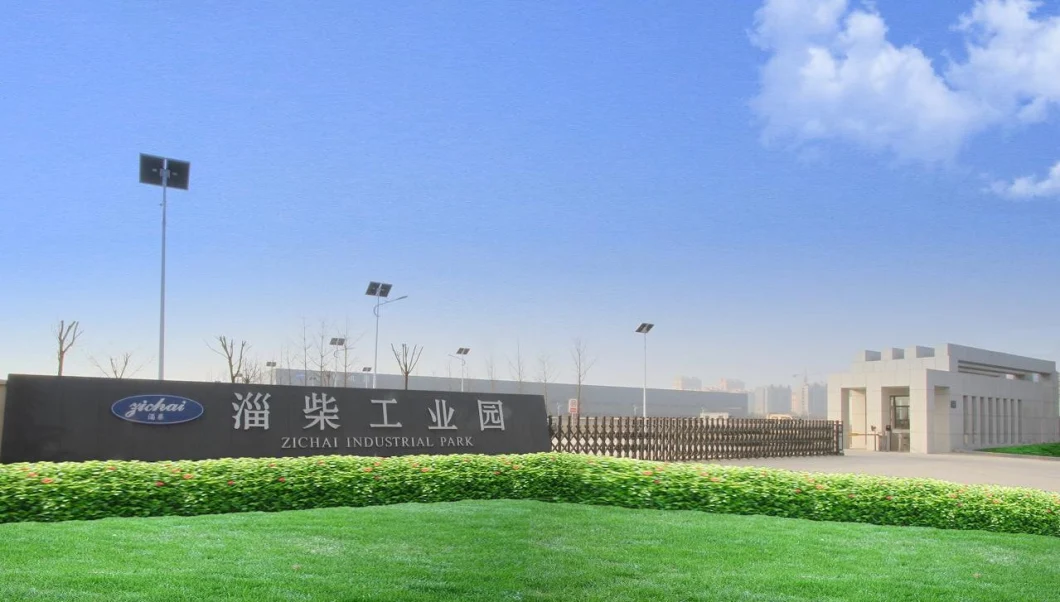 Typical Projects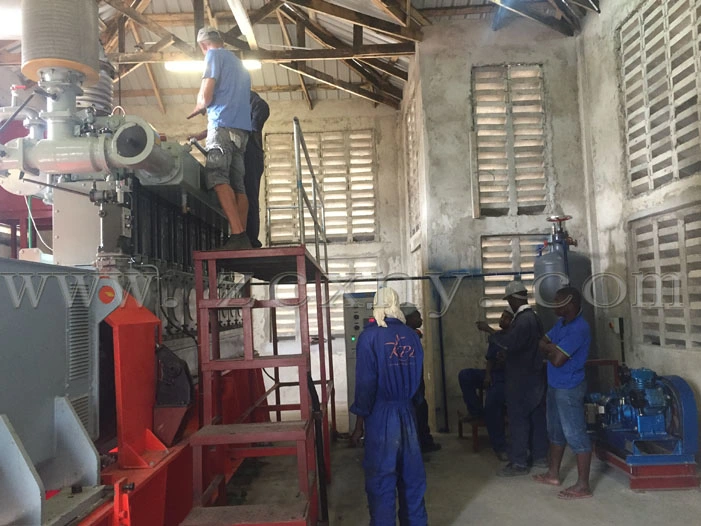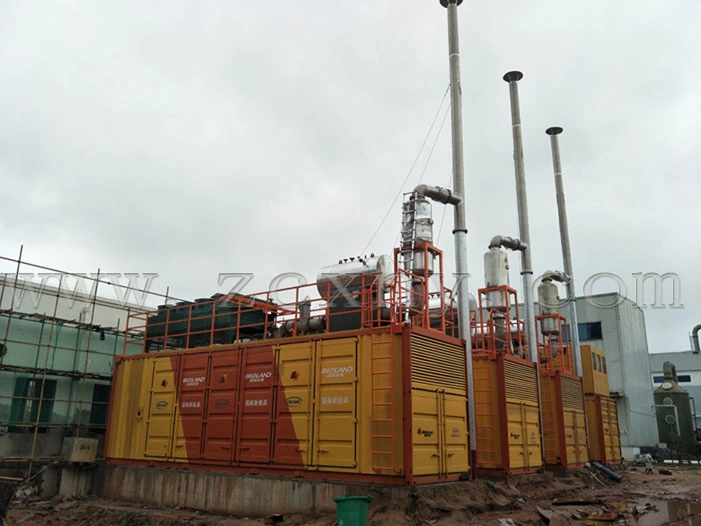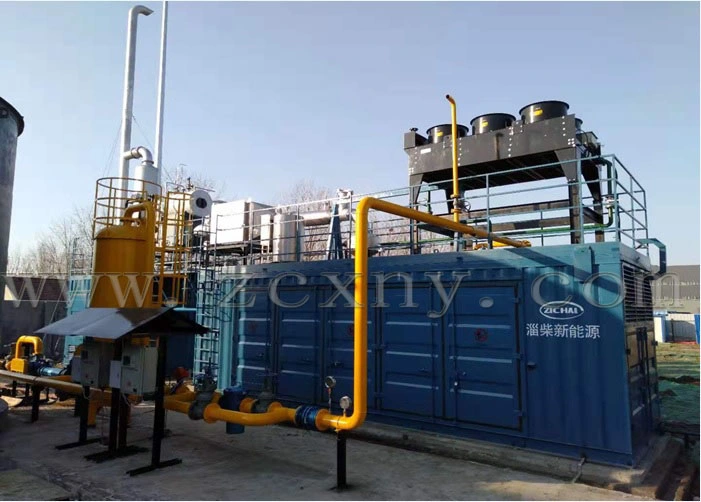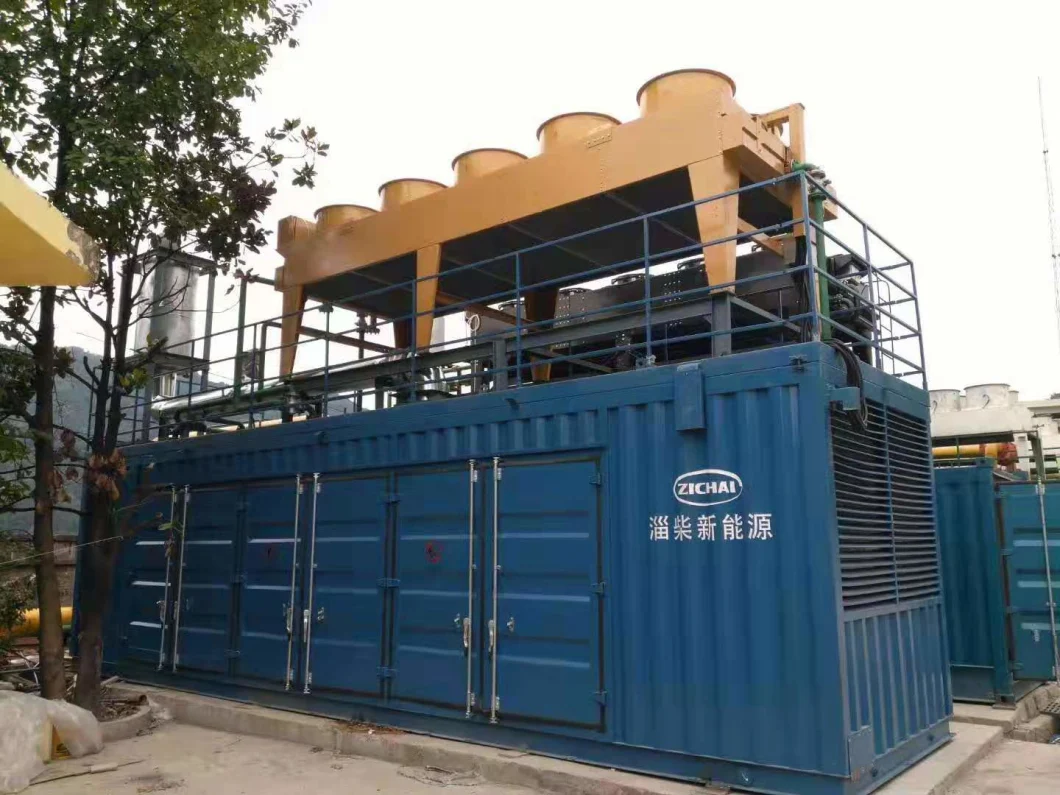 FAQ
1.Are you a trading company or manufacture

?
Manufacture with factory.
2.What kinds of gas generator set do you produce?
It covers for all kinds of gas produced in agriculture and industry, including biomass gas, biogas, natural gas, coal mine gas, coke oven gas, semi-coke gas and syngas, as well as related gas produce equipment.
3.What is your delivery time?
Normally within 60days, it depends on the configuration and quantity, please confirm with us before order.
4.What is your payment terms?
T/T or
L/C.
5.How do you pack products?
Standard export packaging. Equipment packing with plastic bag, and with new solid wooden box, suitable for long-distance sea transportation, moisture-proof, earthquake, rust-proof and anti-brutal handling.
6.What is your available port of shipment?
Normally Qingdao port, other ports available according to customers' requirement.