Rated power

Engine

Alternator

Control panel

20kw~1300kw

Cummins

Stamford

Leroy somer

Marathon

Mecc alte

ABB

Chinese alternators

Deepsea

ComAp

Harsen

Smartgen

8kw~1600kw

Perkins

68kw~504kw

Volvo

20kw~500kw

Deutz

220kw-2400kw

MTU

280kw-800kw

MAN

600kw-1800kw

Mitsubishi

50kw-650kw

Doosan Daewoo

2kw~2500kw

Chinese engines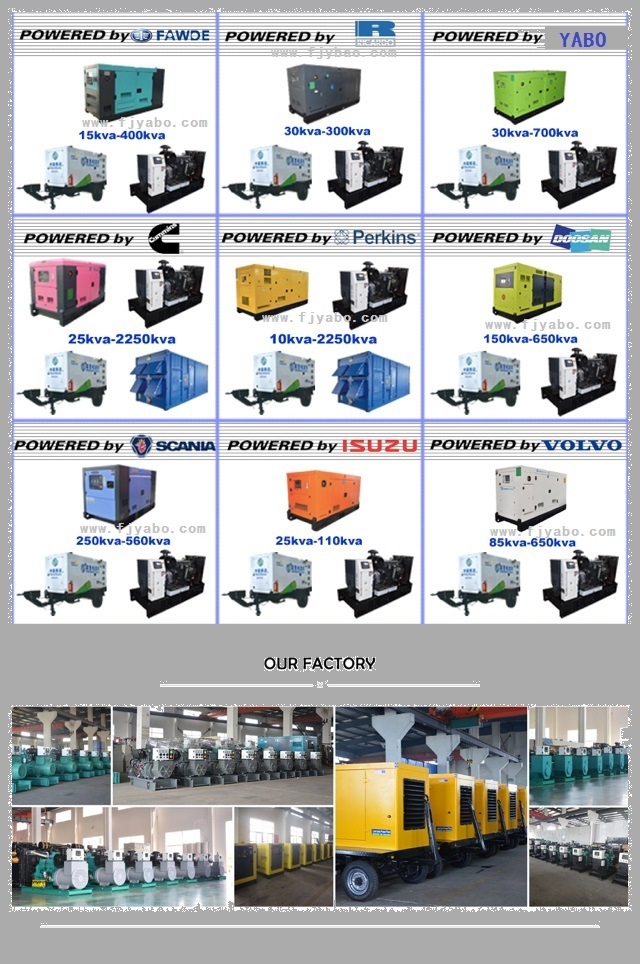 PRP: Prime power is available for an unlimited number of annual operating hours in variable
Load applications, in accordance with ISO8528-1.A 10% overload capability is available for a period of 1 hour within 12-hours period of operation

ESP: The Standby power rating is applicable for supplying emergency power in variable load applications for up to 200 hours per year in accordance with ISO8528-1. Overload is not allowed

Δ TESTING ITEMS
GENLITEC POWER provides a full line of brand new and high quality products. Each and every unit is strictly factory tested before shipment.
Parts faults testing; Fuel tank pressure testing; Bolt tightening torque testing; Painting thickness testing; Voltage bearing and insulation testing; Noise testing; Loading Testing(25%, 50%, 75%, 100%, 110% load to check verify that all control systems, alarm and shut-down protection.



ΔPRODUCT PHOTO



Δ TECHNICAL DATA


Technical parameters of diesel generator set GFC-75

Rated power

RPM & Frequency

Standby power

Power factor

Rated Voltage

Phase

Fuel tank capacity

Noise value

Dimension

Weight
Diesel engine technical parameters

Engine brand

Air intake mode

Engine Model

Cylinders

Configuration

4 cycle ,4 cylinders in "L"

Bore*Stroke

Displacement (Liter)

Start the system

Compression ratio

Cooling system

Maximum engine power

Lubricating oil system

Lubricating oil capacity

Lubricating oil brand

Fuel consumption

Oil consumption
Alternator Data

Brand

Control system

Model

Insulation class

Capacity

Protection Grade

The stator winding

Temperature level

Effectiveness

Voltage regulation rate
Yuchai 100kw three phase open type generator

Diesel Generator Specifications

Model:

GFC-125

Prime Power:

100KW /125KVA

Frequency:

50HZ

Phase:

Three Phase

Voltage:

380V

Rated Current:

180A

P.F(COs):

0.8

Fuel:

Diesel

Start Method:

24V DC Start Battery

Accessory:

Battery, exhaust pipe, muffler, breaker

Engine Specifications

Brand:

Yuchai

Model:

6B155L-D21

Rated Power:

113KW

Rated RPM:

1500rpm

Cylinder Amounte:

6 piece

Bore and Stroke:

108*125mm

Compression Ratio:

18:1

Displacement /L :

6.9

Air Intake System:

Turbocharged

Fuel System:

fuel pump

Alternator Specifications

Brand:

YABO BRUSHLESS ALTERNATOR

Model:

TFW-100

Rated Capacity:

100KW/125KVA

Frequency:

50HZ

Speed:

1500 RPM

Connecting Type:

3 Phase and 4 Wires, "Y" type connecting

Protection Grade:

IP22

Exciter Type:

Brushless, self-exciting

Winding:

100% Copper Wire

Insulation Class, Temperature Rise:

H/H

Voltage Regulation:

≥±5%

Dimention

Dimention(LxWxH)(mm)

2500*980*1400

Net Weight(kgs)

1350


Δ GFC SERIES DIESEL GENERATOR SET POWER RANGE (POWERED BY YUCHAI)
50Hz
3 phase, 4 wires, 0.8PF, 1500rpm, 415-230V/240-115V
Gen-set Performance

Engine Performance

Dia.(L*W*H)

Model

Power

Model

Power

Fuel Consumption

Open type

kW

kVA

kW (Rated/Max.)

g/kW.h

(mm)

GFC30

24

30

YC2115ZD

33/36.3

215

1650x680x1300

GFC50

40

50

YC4D60-D21

40/44

205

1800x600x1300

GFC62

50

62

YC4D85Z-D20

55/60.5

200

1850x650x1350

GFC75

60

75

YC4D90Z-D20

60/66

205

1850x650x1350

GFC88

70

88

YC4A100Z-D20

70/77

200

1850x650x1350

GFC100

80

100

YC6B135Z-D20

90/99

202

2300x700x1450

GFC125

100

125

YC6B155L-D21

103/113

200

2400x750x1450

GFC150

120

150

YC6B180L-D20

120/132

200

2400x850x1500

GFC162

130

162

YC6A200L-D20

132/145

192

2400x900x1500

GFC187

150

187

YC6A230L-D20

155/170.5

192

2400x900x1500

GFC200

160

200

YC6G245L-D20

165/181.5

195

2600x900x1500

GFC225

180

225

YC6M285L-D20

192/211

197

2800x1100x1700

GFC287

230

287

YC6M350L-D20

235/259

197

2900x1000x1700

GFC337

270

337

YC6MK420L-D20

281/309

194

3000x1100x1800

GFC375

300

375

YC6MJ480L-D20

321/353

194

3000x1100x1800

GFC437

350

437

YC6T550L-D21

368/405

195

3200x1240x1960

GFC500

400

500

YC6T600L-D22

401/441

195

3475x1240x1960

GFC550

440

550

YC6T660L-D20

441/485

195

3500x1250x2800

GFC562

450

562

YC6T700L-D20

468/515

195

3500x1250x2800

GFC625

500

625

YC6TD780L-D20

520/572

195

3500x1300x2100

GFC687

550

687

YC6TD840L-D20

560/616

195

3500x1300x2100

GFC750

600

750

YC6C1020L-D20

680/748

195

5200x1500x2200

GFC875

700

875

YC6C1070L-D20

715/787

195

5200x1500x2200

GFC1000

800

1000

YC6C1220L-D20

815/897

195

5200x1500x2200

GFC1125

900

1125

YC6C1320L-D20

880/968

195

5200x1500x2200

Product Description
Δ GENSET FEATURES
1. Genuine YUCHAI industrial diesel engine
2. Radiator 40°C max, fans are driven by belt, with safety guard
3. Genuine stamford. Leroy somer, marathonm, engga alternator
4. Choice of manual/auto and AMF control panels and protection systems
5. Digital auto-start panel
6. Anti Vibration Suspension Absorber
7. Dry type air filter, fuel filter, oil filter
8. 10-hour operation base tank
9. Mould case circuit breaker
10. 24V DC start motor and storage battery
11. 24V charge alternator
12. 24V batteries, rack and cable
13. Rippl;e flex echaust pipe, exhaust siphon, flange, and muffler
14. Comply with ISO and CE standards
15. All generator sets are gone through rigorous testing before beging released to the market place, including 50% load, 75% load, 100% load and all protection function(over speed stop, high water temperature, low oil pressure, battery charging fail, emergency stop)
Δ ENGINE FEATURES
1. Genuine YUCHAI industrial diesel engine
2. Multi-cylinder in-line or veer engine, 4-stroke, direct injection
3. Naturally aspirated, turbocharged, water cooled or turbocharged with air intercooler
4. Machinery or electronic governing
5. Fuel injection pump
6. Electric motor starting system
7. Forged steel crankshaft, cast iron cylinder and replaceable wet type cylinder liner
8. Low discharge, and low fuel consumption
9. Installed conveniently and maintain easily


Δ ALTERNATOR FEATURES
1. World famous brand AC alternator: Leroy Somer, Stamford, Marathon, Yabo
2. Brushless, 4 poles, rotation magnet
3. IP21-23(NEMA1) enclose is standard for all industrial alternators
4. H class insulation system
5. AVR self-regulated, voltage regulation rate: ≤±1%
6. Simple installation and maintenance with easy access to terminals, rotating diodes and coupling bolts
7. Wide range of flange adaptors and single bearing disc coupling
8. Radio interference restraining accords with the stipulation of VDE0875-N and ISO8528
9. Moisture proof, sand-proof, dustproof, salt-proof and vibration-proof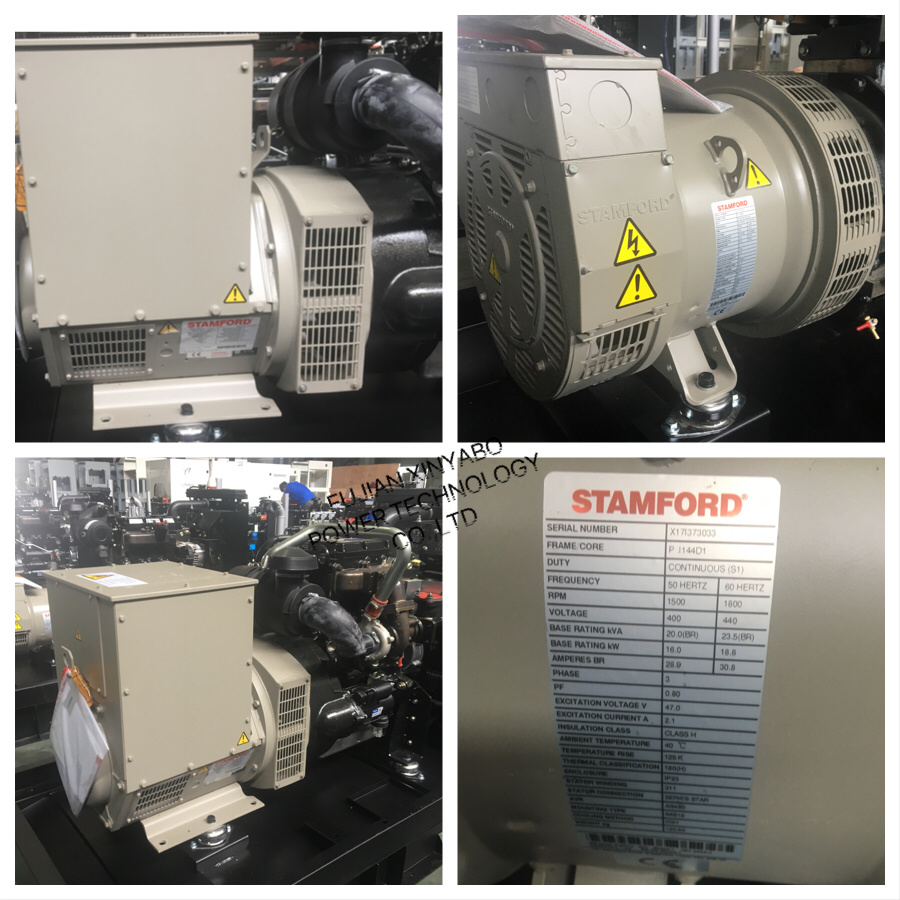 Δ DIGITAL CONTROL PANEL
Controller Brand: Smartgen, Deepsea,ComAp
Control Panel: English interface,LED screen and touch buttons.
Main Functions:
1- Display loading power, voltage, currenct, frequency, speed, temperature, oil pressure, running time etc.
2- Warning when low or high voltage, low or high frequency, over current, over or low speed, low or over battery voltage etc.
3- Over load protection, over/under frequency protection, over/under/imbalance voltage protection, and low oil shutdown
Δ STANDARD SUPPLY SCOPE
| | | | | |
| --- | --- | --- | --- | --- |
| Exhaust silencer | Flexible pipes | Flange | Base frame | Main circuit breaker |
| Starting battery | Battery wires | Battery charger | Float battery charger | AVR |
| Cooling radiator | Wires diagram | Manual books | Auto control panel | Silent canopy |
Δ OPTIONAL PARTS
| | | | | |
| --- | --- | --- | --- | --- |
| Engine & Radiator | Alternator part | Electric part | Fuel tank part | Others |
| Water preheater | PMG | ATS | External daily fuel tank | Weatherproof canopy |
| Lub oil pre-heater | Anti-condensation heater | Synchronization panel | Automatic fuel pump | Mobile trailer |
| Spare parts | Parallel droop | ABB breaker | Oil drain pump | Containerized |

Quality control oF XINYABO Power Genset
1.The genset canopy can be designed by customers demand free of charge.
2.Noise level can be designed by customer demand, standard noise level is 70-73DB at 7m. Super silent is60-65DB at 7m.
3. Canopy color can be painted free of charge by customer demand. It is high quality paint.
4.All connection components and door lock are stainless steel.
5. We added oil filling inlet with lock
6. The oil box is separate made and then welded to the base frame, not by simple welding on the base frame. It is to make sure there is no oil leakage
7. The base frame is with forklift mouth which is easy to load and discharge
8. For Logo, we can paint customer's logo when the order is more than 5sets.
9. For technical specification or question, we can support you by our strong technical team


Δ FAQ (FREQUENCY ASKED QUESTION)
Question: What's your warranty period?
Answer: Our payment terms is 1 year or 1000 running hours whichever comes first.
But based on some special project, we can extended our warranty period.
Question: Does your generators has global warranty?
Answer: Yes, most of our products like Cummins, Perkins, Doosan power generator enjoy the global warranty service.
And the alternator we use like Leroysomer, Stamford, marathon also enjoy the global warranty service, so you do not need to worry about the aftersales service.
Question: Do you accept OEM/ODM service?
Answer: Yes, we can accept OEM & ODM service.

Question: What's your payment terms?
Answer: We can accept T/T 30% in advance, and the balance 70% shall be paid before shipment.
Or 100% irrevocable confirmed L/C at sight.Question: What's your delivery time?
Answer: Our normal delivery time is 15 - 25 working days.
But if your order is some special engine and alternator, then the delivery time is longer.

Question: What's the MOQ?
Answer: 1 Set


Contact information: