Rated power

Engine

Alternator

Control panel

20kw~1300kw

Cummins

Stamford

Leroy somer

Marathon

Mecc alte

ABB

Chinese alternators

Deepsea

ComAp

Harsen

Smartgen

8kw~1600kw

Perkins

68kw~504kw

Volvo

20kw~500kw

Deutz

220kw-2400kw

MTU

280kw-800kw

MAN

600kw-1800kw

Mitsubishi

50kw-650kw

Doosan Daewoo

2kw~2500kw

Chinese engines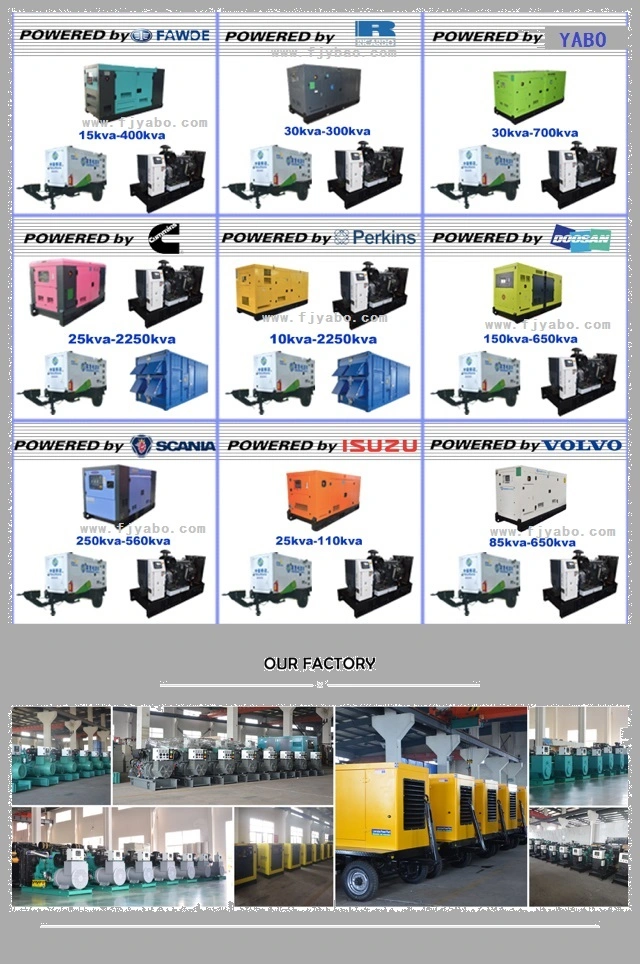 With Cummins Engine Diesel Power electricity generator
Our company can provide genuine genset with very competitive price and comprehensive technical support Super Silent Diesel Generator With Ats.

ΔPRODUCT PHOTO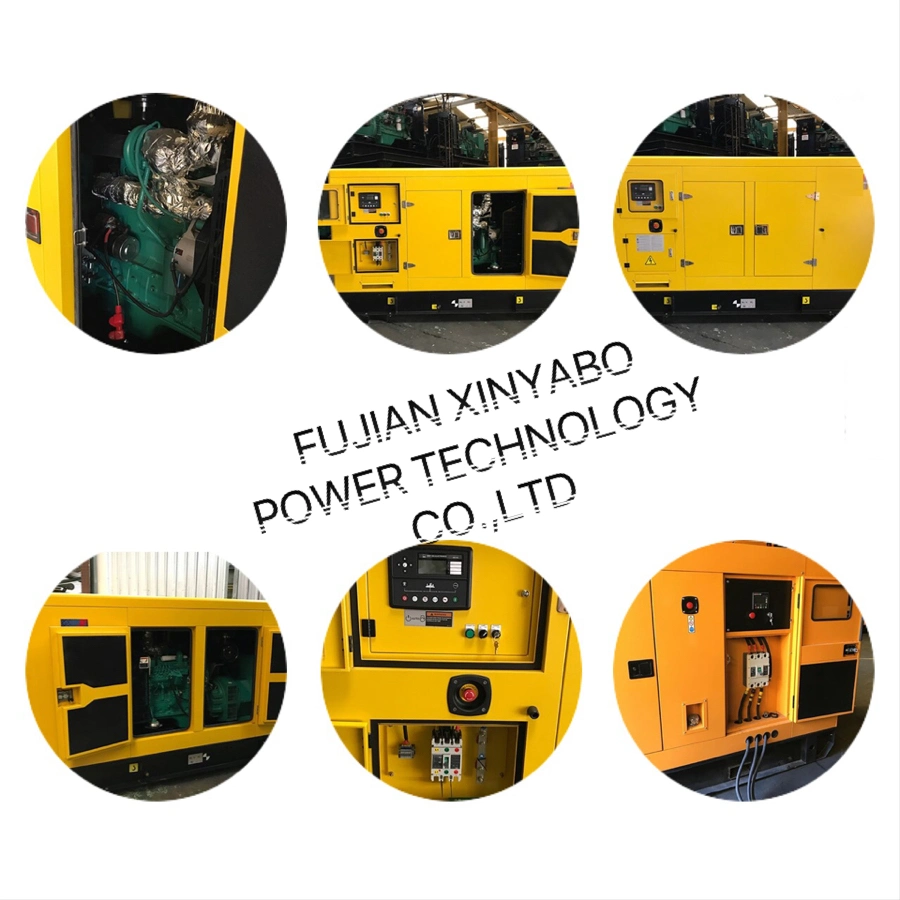 Δ TECHNICAL DATA
Model

GFC-38(S)

Standby power

30kw/37.5kva@1500RPM

Voltage

120/208v 220/380v 230/400v 254/440v

Phase

3

Fuel tank Capacity

140L

Open type Dimension

1700*720*1200mm

Open type Weigh

700kg

Silent type Dimension

2200*1000*1460mm

Silent type Weight

1120kg

Packing

Polywood Case

Diesel engine data

Engine Brand&model

Cummins 4BT3.9-G1/G2

Prime Power

36kw@1500rpm

Standby Power

40kw@1500rpm

Cylinders and arrangement

4 cylinders In line

Mode of operation

Four stroke diesel engine with direct fuel injection

Turbocharging

Turbocharged

Engine cooling

Forced water cooling cycle

Bore*Stroke

102*120mm

Displacement(Liter)

3.9

Total lubrication system capacity (L)

11

Fuel Consumption at 100% Load (g/kw.h)

208

Governor Speed

Mechanical / Electric

Starting Method

DC24V electrical starting

Alternator data

Standard Alternator

Stamford / Leroy Somer / Marathon / Meccalte / Yabo

Power

30KW

Exciter type

Single bearing, Brushless, Self-excited

Frequency

50HZ

Power factor

0.8

Voltage adjust range

≥5%

Insulation Grade

H

Pole No.

4

Protection Grade

IP22

Phase / wires

3 phase 4 wires

Optional Brands

Stamford/Leroy Somer/Marathon
Δ STANDARD SUPPLY SCOPE
| | | | | |
| --- | --- | --- | --- | --- |
| Exhaust silencer | Flexible pipes | Flange | Base frame | Main circuit breaker |
| Starting battery | Battery wires | Battery charger | Float battery charger | AVR |
| Cooling radiator | Wires diagram | Manual books | Auto control panel | Silent canopy |
Δ OPTIONAL PARTS
| | | | | |
| --- | --- | --- | --- | --- |
| Engine & Radiator | Alternator part | Electric part | Fuel tank part | Others |
| Water preheater | PMG | ATS | External daily fuel tank | Weatherproof canopy |
| Lub oil pre-heater | Anti-condensation heater | Synchronization panel | Automatic fuel pump | Mobile trailer |
| Spare parts | Parallel droop | ABB breaker | Oil drain pump | Containerized |
Genset Model

Prime Power

Standby Power

Engine

Fuel Consumption

Cylinder No.

Displacement

Bore X Stroke

KW

KVA

KW

KVA

(g/kwh)

(L )

(mm)

GFC30

20

25

24

30

4B3.9-G

≤229

4

3.9

102*120

GFC35

24

30

28

35

4BT3.9-G

≤214

4

3.9

102*120

GFC56

40

50

45

56

4BTA3.9-G

≤215

4

3.92

102*120

GFC63

45

56

50

63

4BTA3.9-G

≤215

4

3.92

102*120

GFC70

50

63

56

70

6BT5.9G1

≤215

6

5.88

102*120

GFC106

78

98

85

106

6BT5.9G

≤215

6

5.88

102*120

GFC125

90

113

100

125

6BT5.9G2

≤215

6

5.88

102*120

GFC150

104

130

120

150

6BT5.9G2

≤215

6

5.88

102*120

GFC165

120

150

132

165

6CTA8.3-G2

≤210

6

8.3

114*135

GFC200

140

175

160

200

6CTA8.3-G2

≤210

6

8.3

114*135

GFC225

160

200

180

225

6CTAA8.3-G2

≤210

6

8.3

114*135

GFC275

200

250

220

275

6LTAA8.9-G2

≤210

6

8.3

114*135

GFC313

220

275

250

313

NTA855-G1A

≤206

6

14

140*152

GFC350

250

313

275

350

NTA855-G2

≤207

6

14

140*152

GFC400

280

350

310

400

NTA855-G4

≤208

6

14

140*152

GFC413

300

375

330

413

NTAA855-G7

≤206

6

14

140*152

GFC450

320

400

360

450

NTAA855-G7A

≤206

6

14

140*152

GFC500

360

450

400

500

KTA19-G3

≤203

6

18.9

159*159

GFC550

400

500

440

550

KTA19-G4

≤203

6

18.9

159*159

GFC605

440

550

484

605

KTAA19-G6

≤204

6

18.9

159*159

GFC625

450

563

500

625

KTAA19-G7

≤204

6

18.9

159*159

GFC700

500

625

560

700

KTA38-G

≤206

12

37.8

159*159

GFC712

520

650

570

712

QSK19-G3

≤206

6

19

159*159

GFC800

580

720

640

800

KTA38-GA

≤209

12

37.8

159*159

GFC825

600

750

660

825

KTA38-G2

≤210

12

37.8

159*159

GFC888

640

800

710

888

KTA38-G2B

≤210

12

37.8

159*159

GFC975

720

900

780

975

KTA38-G2A

≤210

12

37.8

159*159

GFC1075

800

1000

860

1075

KTA38-G5

≤202

12

37.8

159*159

GFC1375

1000

1250

1100

1375

KTA50-G3

≤215

16

50.3

159*159

GFC1375

1100

1375

1310

1650

KTA50-G8

≤215

16

50.3

159*159

GFC1650

1200

1500

1340

1675

KTA50-GS8

≤215

16

50.3

159*159

GFC1675

1350

1688

1500

1875

QSK60-G3

≤215

16

60

159*159

GFC1875

1500

1875

1650

2063

QSK60-G3

≤215

16

60

159*190

GFC2063

1600

2000

1800

2250

QSK60-G4

≤215

16

60

159*190
Product Description
Δ GENSET FEATURES
1. Genuine Cummins industrial diesel engine
2. Radiator 40°C max, fans are driven by belt, with safety guard
3. Genuine stamford. Leroy somer, marathonm, YABO alternator
4. Choice of manual/auto and AMF control panels and protection systems
5. Digital auto-start panel
6. Anti Vibration Suspension Absorber
7. Dry type air filter, fuel filter, oil filter
8. 10-hour operation base tank
9. Mould case circuit breaker
10. 24V DC start motor and storage battery
11. 24V charge alternator
12. 24V batteries, rack and cable
13. Rippl;e flex echaust pipe, exhaust siphon, flange, and muffler
14. Comply with ISO and CE standards
15. All generator sets are gone through rigorous testing before beging released to the market place, including 50% load, 75% load, 100% load and all protection function(over speed stop, high water temperature, low oil pressure, battery charging fail, emergency stop)
Δ ENGINE FEATURES
1. Genuine Cummins industrial diesel engine
2. Multi-cylinder in-line or veer engine, 4-stroke, direct injection
3. Naturally aspirated, turbocharged, water cooled or turbocharged with air intercooler
4. Machinery or electronic governing
5. Fuel injection pump
6. Electric motor starting system
7. Forged steel crankshaft, cast iron cylinder and replaceable wet type cylinder liner
8. Low discharge, and low fuel consumption
9. Installed conveniently and maintain easily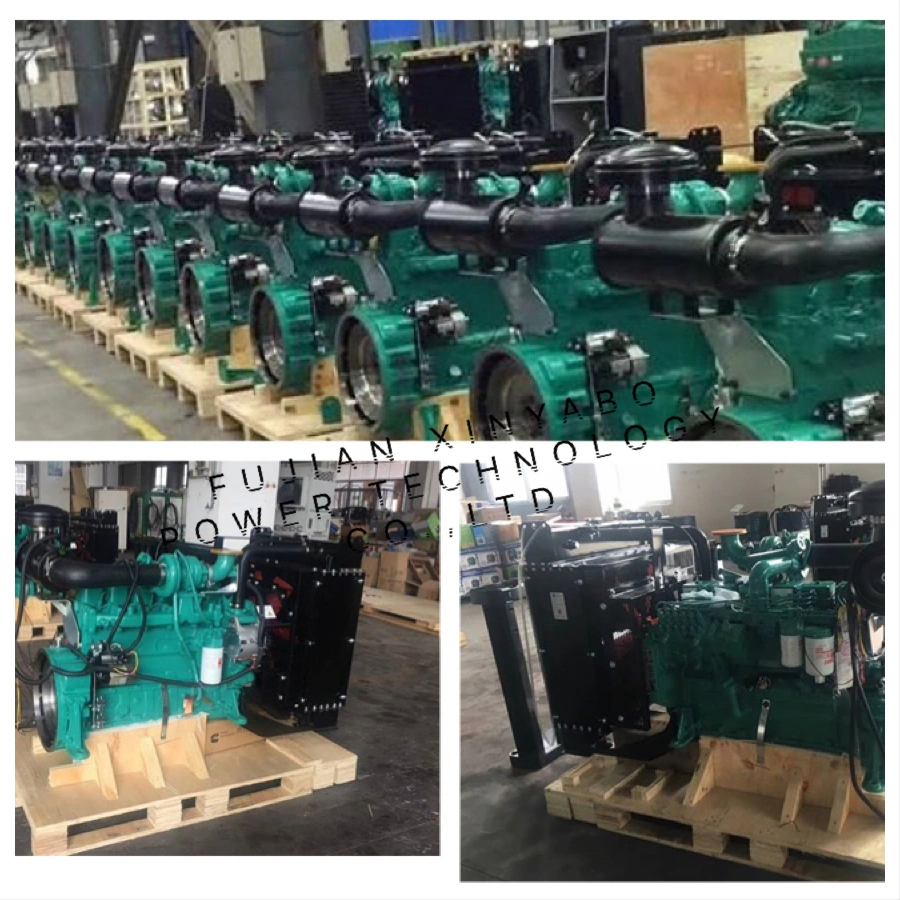 Δ ALTERNATOR FEATURES
1. World famous brand AC alternator: Leroy Somer, Stamford, Marathon, Yabo
2. Brushless, 4 poles, rotation magnet
3. IP21-23(NEMA1) enclose is standard for all industrial alternators
4. H class insulation system
5. AVR self-regulated, voltage regulation rate: ≤±1%
6. Simple installation and maintenance with easy access to terminals, rotating diodes and coupling bolts
7. Wide range of flange adaptors and single bearing disc coupling
8. Radio interference restraining accords with the stipulation of VDE0875-N and ISO8528
9. Moisture proof, sand-proof, dustproof, salt-proof and vibration-proof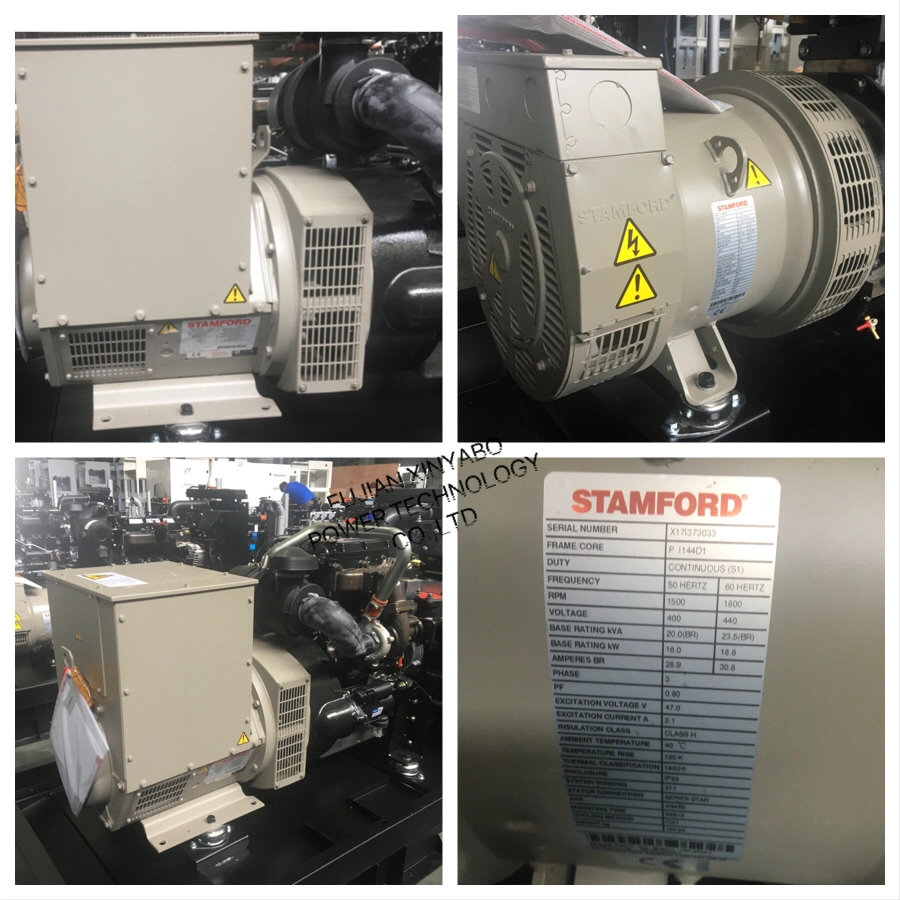 Δ DIGITAL CONTROL PANEL
Controller Brand: Smartgen, Deepsea,ComAp
Control Panel: English interface,LED screen and touch buttons.
Main Functions:
1- Display loading power, voltage, currenct, frequency, speed, temperature, oil pressure, running time etc.
2- Warning when low or high voltage, low or high frequency, over current, over or low speed, low or over battery voltage etc.
3- Over load protection, over/under frequency protection, over/under/imbalance voltage protection, and low oil shutdown




Δ FAQ (FREQUENCY ASKED QUESTION)
Question: What's your warranty period?
Answer: Our payment terms is 1 year or 1000 running hours whichever comes first.
But based on some special project, we can extended our warranty period.
Question: Does your generators has global warranty?
Answer: Yes, most of our products like Cummins, Perkins, Doosan power generator enjoy the global warranty service.
And the alternator we use like Leroysomer, Stamford, marathon also enjoy the global warranty service, so you do not need to worry about the aftersales service.
Question: Do you accept OEM/ODM service?
Answer: Yes, we can accept OEM & ODM service.

Question: What's your payment terms?
Answer: We can accept T/T 30% in advance, and the balance 70% shall be paid before shipment.
Or 100% irrevocable confirmed L/C at sight.Question: What's your delivery time?
Answer: Our normal delivery time is 15 - 25 working days.
But if your order is some special engine and alternator, then the delivery time is longer.

Question: What's the MOQ?
Answer: 1 Set


Contact information: