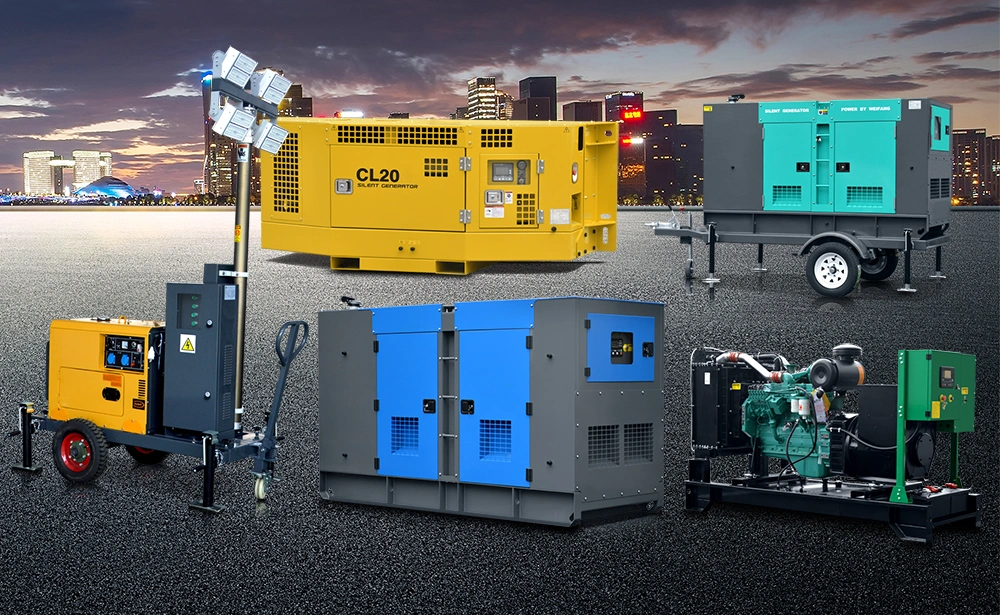 SDEC T2+Genlent brushless alternator(50HZ;400V,3 phase,P.F=0.8)

Genset

Engine

Alternator

Controller cabinet

Model

Prime power

Standby power

Silent type

Model

Power(

KW

)

Genlent

Max

Output

KW

KVA

KW

KVA

dimension mm

Prime/Standby

Model

Current

(A)

Breaker

S63D5

50

62.5

56

70

2500*1050*1500

SC4H95D2

62/68

SG224E

90

100A

S85D5

68

85

75

94

2500*1050*1500

SC4H115D2

78/86

SG224G

123

160A

S100D5

80

100

88

110

2700*1100*1650

SC4H160D2

105/116

SG274C

144

160A

S113D5

90

113

100

125

2700*1100*1650

SC4H160D2

105/116

SC274DS

162

225A

S125D5

100

125

110

138

2700*1100*1650

SC4H180D2

120/132

SG274D

180

225A

S150D5

120

150

132

165

2900*1130*1700

SC7H220D2

150/165

SG274EL

216

225A

S175D5

140

175

150

188

3250*1130*1700

SC7H230D2

154/170

SG274GS

253

315A

S188D5

150

188

165

206

3250*1130*1700

SC7H250D2

168/185

SG274G

271

315A

S200D5

160

200

176

220

3600*1350*1750

SC8D280D2

185/204

SG274H

289

315A

S225D5

180

225

200

250

3600*1350*1750

SC9D310D2

208/228

SG274J

325

400A

S250D5

200

250

220

275

3600*1350*1750

SC9D340D2

228/255

SG274K

361

400A

S275D5

220

275

250

313

3800*1400*2000

SC10E380D2

255/280

SG314CL

397

400A

S313D5

250

313

280

350

4150*1500*2250

SC13G420D2

280/308

SG314DL

451

500A

S313D5A

250

313

280

350

4150*1500*2250

SC12E420D2

280/308

SG314DL

451

500A

S350D5

280

350

300

375

4150*1500*2250

SC12E460D2

307/338

SG314E

505

630A

S375D5

300

375

330

413

4350*1500*2300

SC15G500D2

339/373

SG314FS

541

630A

S450D5

360

450

400

500

4900*1800*2500

SC25G610D2

405/445

SG314FL

649

800A

S500D5

400

500

440

550

4900*1800*2500

SC25G690D2

459/505

SG354C

722

800A

S563D5

450

563

500

625

4900*1800*2500

SC27G755D2

505/560

SG354D

812

1000A

S625D5

500

625

550

688

4900*1800*2500

SC27G830D2

561/610

SG354EL

902

1000A

S688D5

550

688

600

750

4900*1800*2500

SC27G900D2

602/662

SG354GS

992

1000A

S750D5

600

750

660

825

5850*2200*2800

SC33W990D2

660/726

SG354G

1082

1250A

S900D5

720

900

800

1000

5850*2200*2800

SC33W1150D2

782/860

SG404D

1299

1600A

SDEC T2+ MARATHON alternator(50HZ;400V,3 phase,P.F=0.8)

Genset

Engine

Alternator

Controller cabinet

Model

Prime power

Standby power

Silent type

Model

Power(

KW

)

MARATHON

Max

Output

KW

KVA

KW

KVA

dimension mm

Prime/Standby

Model

Current

(A)

Breaker

S63D5

50

62.5

56

70

2500*1050*1500

SC4H95D2

62/68

MP-50-4

90

100A

S85D5

68

85

75

94

2500*1050*1500

SC4H115D2

78/86

MP-70-4

123

160A

S100D5

80

100

88

110

2700*1100*1650

SC4H160D2

105/116

MP-80-4

144

160A

S113D5

90

113

100

125

2700*1100*1650

SC4H160D2

105/116

MP-90-4

162

225A

S125D5

100

125

110

138

2700*1100*1650

SC4H180D2

120/132

MP-104-4

180

225A

S150D5

120

150

132

165

2900*1130*1700

SC7H220D2

150/165

MP-120-4

216

225A

S175D5

140

175

150

188

3250*1130*1700

SC7H230D2

154/170

MP-140-4

253

315A

S188D5

150

188

165

206

3250*1130*1700

SC7H250D2

168/185

MP-160-4A

271

315A

S200D5

160

200

176

220

3600*1350*1750

SC8D280D2

185/204

MP-160-4A

289

315A

S225D5

180

225

200

250

3600*1350*1750

SC9D310D2

208/228

MP-180-4A

325

400A

S250D5

200

250

220

275

3600*1350*1750

SC9D340D2

228/255

MP-200-4A

361

400A

S275D5

220

275

250

313

3800*1400*2000

SC10E380D2

255/280

MP-220-4A

397

400A

S313D5

250

313

280

350

4150*1500*2250

SC13G420D2

280/308

MP-250-4A

451

500A

S313D5A

250

313

280

350

4150*1500*2250

SC12E420D2

280/308

MP-250-4A

451

500A

S350D5

280

350

300

375

4150*1500*2250

SC12E460D2

307/338

MP-280-4A

505

630A

S375D5

300

375

330

413

4350*1500*2300

SC15G500D2

339/373

MP-300-4A

541

630A

S450D5

360

450

400

500

4900*1800*2500

SC25G610D2

405/445

MP-360-4

649

800A

S500D5

400

500

440

550

4900*1800*2500

SC25G690D2

459/505

MP-400-4

722

800A

S563D5

450

563

500

625

4900*1800*2500

SC27G755D2

505/560

MP-480-4

812

1000A

S625D5

500

625

550

688

4900*1800*2500

SC27G830D2

561/610

MP-500-4

902

1000A

S688D5

550

688

600

750

4900*1800*2500

SC27G900D2

602/662

MX-560-4

992

1000A

S750D5

600

750

660

825

5850*2200*2800

SC33W990D2

660/726

MX-600-4

1082

1250A

S900D5

720

900

800

1000

5850*2200*2800

SC33W1150D2

782/860

MX-750-4

1299

1600A

SDEC T3+ Genlent brushless alternator(50HZ;400V,3 phase,P.F=0.8)

Genset

Engine

Alternator

Controller cabinet

Model

Prime power

Standby power

Silent type

Model

Power(

KW

)

Genlent

Max

Output

KW

KVA

KW

KVA

dimension mm

Prime/Standby

Model

Current

(A)

Breaker

S50E5-T3

40

50

44

55

2500*1050*1400

4HTAA4.3-G31

51/56

SG224D

72.2

80A

S63E5-T3

50

62.5

55

68.8

2500*1050*1400

4HTAA4.3-G32

62/68

SG224E

90.2

100A

S85E5-T3

68

85

75

93.8

2500*1050*1400

4HTAA4.3-G33

78/86

SG224G

122.7

125A

S100E5-T3

80

100

88

110

2700*1100*1650

4HTAA4.3-G34

95/105

SG274C

144.3

160A

S113E5-T3

90

113

100

125

2700*1100*1650

4HTAA4.3-G35

106/117

SG274DS

162.4

225A

S125E5-T3

100

125

110

137.5

2700*1100*1650

4HTAA4.3-G36

125/140

SG274D

180.4

225A

S135E5-T3

108

135

120

150

2900*1130*1700

6HTAA6.5-G31

128/141

SG274E

194.8

225A

S150E5-T3

120

150

132

165

2900*1130*1700

6HTAA6.5-G32

140/155

SG274EL

216.5

225A

S175E5-T3

140

175

156

195

3250*1130*1750

6HTAA6.5-G35

155/170

SG274GS

252.6

250A

S188E5-T3

150

188

165

206.25

3250*1130*1750

6HTAA6.5-G33

168/185

SG274G

270.6

315A

S200E5-T3

160

200

176

220

3250*1130*1750

6HTAA6.5-G34

186/205

SG274H

288.6

315A

S200E5A-T3

160

200

176

220

3600*1350*1850

6DTAA8.9-G31

185/204

SG274H

288.6

315A

S225E5-T3

180

225

200

250

3600*1350*1850

6DTAA8.9-G32

208/228

SG274J

324.7

400A

S250E5-T3

200

250

220

275

3600*1350*1850

6DTAA8.9-G33

230/253

SG274K

360.8

400A

S275E5-T3

220

275

240

300

3600*1350*1850

6DTAA8.9-G34

255/280

SG314CL

396.9

400A

S313E5-T3

250

313

275

343.8

4150*1500*2250

6ETAA11.8-G32

280/308

SG314DL

451.0

500A

S350E5-T3

280

350

308

385

4150*1500*2250

6ETAA11.8-G33

307/338

SG314E

505.1

630A

S375E5-T3

300

375

330

412.5

4150*1500*2250

6ETAA11.8-G31

340/380

SG314FS

541.2

630A

S400E5-T3

320

400

360

450

4350*1500*2300

6ETAA12.8-G32

360/400

SG314F

577.3

630A

S450E5-T3

360

450

400

500

4350*1500*2300

6ETAA12.8-G31

401/441

SG314FL

649.4

700A

S500E5-T3

400

500

440

550

4900*1800*2500

12GTAA27-G34

459/505

SG354C

721.6

800A

S500S5-T3

400

500

440

550

4900*1800*2500

6KTAA25-G311

460/506

SG354C

721.6

800A

S500E5A-T3

400

500

440

550

4900*1800*2500

6KTAA25-G36

460/506

SG354C

721.6

800A

S5633E5-T3

450

563

500

625

4900*1800*2500

12GTAA27-G33

505/555

SG354D

811.8

1000A

S563S5-T3

450

563

500

625

4900*1800*2500

6KTAA25-G310

520/572

SG354D

811.8

1000A

S563E5A-T3

450

563

500

625

4900*1800*2500

6KTAA25-G35

520/572

SG354D

811.8

1000A

S625E5-T3

500

625

550

687.5

4900*1800*2500

12GTAA27-G32

565/610

SG354EL

902.0

1000A

S625S5-T3

500

625

550

687.5

4900*1800*2500

6KTAA25-G39

572/629

SG354EL

902.0

1000A

S625E5-T3

500

625

550

687.5

4900*1800*2500

6KTAA25-G34

572/629

SG354EL

902.0

1000A

S688E5-T3

550

688

600

750

4900*1800*2500

12GTAA27-G31

622/684

SG354GS

992.2

1000A

S688S5-T3

550

688

600

750

4900*1800*2500

6KTAA25-G38

622/684

SG354GS

992.2

1000A

S688E5-T3

550

688

600

750

4900*1800*2500

6KTAA25-G33

622/684

SG354GS

992.2

1000A

S750E5-T3

600

750

660

825

5200*1900*2500

6KTAA25-G32

685/754

SG354G

1082.4

1250A

S800E5-T3

640

800

704

880

5200*1900*2500

6KTAA25-G31

728/800

SG404C

1154.6

1250A

S910E5-T3

728

910

800

1000

5850*2200*2800

6WTAA35-G32

818/900

SG404D

1313.3

1600A

S10000E5-T3

800

1000

880

1100

5850*2200*2800

6WTAA35-G31

882/970

SG404E

1443.2

1600A

SDEC T3+ MARATHON alternator(50HZ;400V,3 phase,P.F=0.8)

Genset

Engine

Alternator

Controller cabinet

Model

Prime power

Standby power

Silent type

Model

Power(

KW

)

MARATHON

Max

Output

KW

KVA

KW

KVA

dimension mm

Prime/Standby

Model

Current

(A)

Breaker

S50E5-T3

40

50

44

55

2500*1050*1400

4HTAA4.3-G31

51/56

MP-40-4

72.2

80A

S63E5-T3

50

62.5

55

68.8

2500*1050*1400

4HTAA4.3-G32

62/68

MP-50-4

90.2

100A

S85E5-T3

68

85

75

93.8

2500*1050*1400

4HTAA4.3-G33

78/86

MP-70-4

122.7

125A

S100E5-T3

80

100

88

110

2700*1100*1650

4HTAA4.3-G34

95/105

MP-80-4

144.3

160A

S113E5-T3

90

113

100

125

2700*1100*1650

4HTAA4.3-G35

106/117

MP-90-4

162.4

225A

S125E5-T3

100

125

110

137.5

2700*1100*1650

4HTAA4.3-G36

125/140

MP-104-4

180.4

225A

S135E5-T3

108

135

120

150

2900*1130*1700

6HTAA6.5-G31

128/141

MP-120-4

194.8

225A

S150E5-T3

120

150

132

165

2900*1130*1700

6HTAA6.5-G32

140/155

MP-120-4

216.5

225A

S175E5-T3

140

175

156

195

3250*1130*1750

6HTAA6.5-G35

155/170

MP-140-4A

252.6

250A

S188E5-T3

150

188

165

206.25

3250*1130*1750

6HTAA6.5-G33

168/185

MP-160-4A

270.6

315A

S200E5-T3

160

200

176

220

3250*1130*1750

6HTAA6.5-G34

186/205

MP-160-4A

288.6

315A

S200E5A-T3

160

200

176

220

3600*1350*1850

6DTAA8.9-G31

185/204

MP-160-4A

288.6

315A

S225E5-T3

180

225

200

250

3600*1350*1850

6DTAA8.9-G32

208/228

MP-180-4A

324.7

400A

S250E5-T3

200

250

220

275

3600*1350*1850

6DTAA8.9-G33

230/253

MP-200-4A

360.8

400A

S275E5-T3

220

275

240

300

3600*1350*1850

6DTAA8.9-G34

255/280

MP-220-4A

396.9

400A

S313E5-T3

250

313

275

343.8

4150*1500*2250

6ETAA11.8-G32

280/308

MP-250-4A

451.0

500A

S350E5-T3

280

350

308

385

4150*1500*2250

6ETAA11.8-G33

307/338

MP-280-4A

505.1

630A

S375E5-T3

300

375

330

412.5

4150*1500*2250

6ETAA11.8-G31

340/380

MP-300-4A

541.2

630A

S400E5-T3

320

400

360

450

4350*1500*2300

6ETAA12.8-G32

360/400

MP-320-4A

577.3

630A

S450E5-T3

360

450

400

500

4350*1500*2300

6ETAA12.8-G31

401/441

MP-360-4

649.4

700A

S500E5-T3

400

500

440

550

4900*1800*2500

12GTAA27-G34

459/505

MP-400-4

721.6

800A

S500S5-T3

400

500

440

550

4900*1800*2500

6KTAA25-G311

460/506

MP-400-4

721.6

800A

S500E5A-T3

400

500

440

550

4900*1800*2500

6KTAA25-G36

460/506

MP-400-4

721.6

800A

S5633E5-T3

450

563

500

625

4900*1800*2500

12GTAA27-G33

505/555

MP-480-4

811.8

1000A

S563S5-T3

450

563

500

625

4900*1800*2500

6KTAA25-G310

520/572

MP-480-4

811.8

1000A

S563E5A-T3

450

563

500

625

4900*1800*2500

6KTAA25-G35

520/572

MP-480-4

811.8

1000A

S625E5-T3

500

625

550

687.5

4900*1800*2500

12GTAA27-G32

565/610

MP-500-4

902.0

1000A

S625S5-T3

500

625

550

687.5

4900*1800*2500

6KTAA25-G39

572/629

MP-500-4

902.0

1000A

S625E5-T3

500

625

550

687.5

4900*1800*2500

6KTAA25-G34

572/629

MP-500-4

902.0

1000A

S688E5-T3

550

688

600

750

4900*1800*2500

12GTAA27-G31

622/684

MX-560-4

992.2

1000A

S688S5-T3

550

688

600

750

4900*1800*2500

6KTAA25-G38

622/684

MX-560-4

992.2

1000A

S688E5-T3

550

688

600

750

4900*1800*2500

6KTAA25-G33

622/684

MX-560-4

992.2

1000A

S750E5-T3

600

750

660

825

5200*1900*2500

6KTAA25-G32

685/754

MX-600-4

1082.4

1250A

S800E5-T3

640

800

704

880

5200*1900*2500

6KTAA25-G31

728/800

MX-640-4

1154.6

1250A

S910E5-T3

728

910

800

1000

5850*2200*2800

6WTAA35-G32

818/900

MX-750-4

1313.3

1600A

S10000E5-T3

800

1000

880

1100

5850*2200*2800

6WTAA35-G31

882/970

MX-850-4

1443.2

1600A

SDEC + Genlent Brushless alternator(60HZ;220V,3 phase,P.F=0.8)

Genset

Engine

Alternator

Controller cabinet

Model

Prime power

Standby power

Silent type

Model

Power(

KW

)

Genlent

Max

Output

KW

KVA

KW

KVA

dimension mm

Prime/Standby

Model

Current

(A)

Breaker

S75D6

52

65

60

75

2500*1050*1500

4HT4.3-G21

62/68

SG224DL

198

225A

S85D6

60

75

68

85

2500*1050*1500

4HT4.3-G22

67/74

SG224E

224.4

250A

S100D6

72

90

80

100

2500*1050*1500

4HT4.3-G23

86/95

SG224GS

264

315A

S130D6

96

120

104

130

2700*1100*1650

4HTAA4.3-G21

105/116

SG274C

343.2

400A

S150D6

108

135

120

150

2700*1100*1650

4HTAA4.3-G23

120/132

SG274DS

396

400A

S165D6

120

150

132

165

2900*1130*1700

6HTAA6.5-G21

136/150

SG274D

435.6

500A

S180D6

132

165

144

180

2900*1130*1700

6HTAA6.5-G22

150/165

SG274E

475.2

500A

S220D6

160

200

176

220

3250*1130*1750

6HTAA6.5-G23

180/198

SG274GS

580.8

630A

S250D6

180

225

200

250

3600*1350*1850

6DTAA8.9-G21

205/226

SG274G

660

700A

S275D6

200

250

220

275

3600*1350*1850

6DTAA8.9-G24

228/250

SG274J

726

800A

S300D6

220

275

240

300

3600*1350*1850

6DTAA8.9-G22

235/259

SG274K

792

800A

S330D6

240

300

264

330

3600*1350*1850

6DTAA8.9-G23

255/282

SG274K

871.2

1000A

S385D6

280

350

308

385

4150*1500*2250

6ETAA11.8-G21

307/338

SG314D

1016.4

1250A

S415E6

300

375

332

415

4150*1500*2250

6ETAA11.8-G31

340/380

SG314DL

1095.6

1250A

S450E6

320

400

360

450

4150*1500*2250

6ETAA12.8-G32.1

360/400

SG314E

1188

1250A

S500E6

360

450

400

500

4150*1500*2250

6ETAA12.8-G31.1

401/440

SG314FS

1320

1600A

S580E6

420

525

464

580

4900*1800*2500

6KTAA25-36.1

460/506

SG314FL

1531.2

1600A

S650E6

480

600

520

650

4900*1800*2500

6KTAA25-35.1

520/572

SG354C

1716

2000A

S725E6

520

650

580

725

4900*1800*2500

6KTAA25-34.1

572/629

SG354D

1914

2000A

S775E6

560

700

620

775

4900*1800*2500

6KTAA25-33.1

622/684

SG354E

2046

2500A

S850E6

620

775

680

850

5200*1900*2500

6KTAA25-32.1

685/754

SG354FS

2244

2500A

S900E6

640

800

720

900

5200*1900*2500

6KTAA25-31.1

728/800

SG354F

2376

2500A

SDEC + Stamford alternator(60HZ;220V,3 phase,P.F=0.8)

Genset

Engine

Alternator

Controller cabinet

Model

Prime power

Standby power

Silent type

Model

Power(

KW

)

Stamford

Max

Output

KW

KVA

KW

KVA

dimension mm

Prime/Standby

Model

Current

(A)

Breaker

S75D6

52

65

60

75

2500*1050*1500

4HT4.3-G21

62/68

S1L2-Y

198

225A

S85D6

60

75

68

85

2500*1050*1500

4HT4.3-G22

67/74

UCI224F

224

250A

S100D6

72

90

80

100

2500*1050*1500

4HT4.3-G23

86/95

UCI224G

264

315A

S130D6

96

120

104

130

2700*1100*1650

4HTAA4.3-G21

105/116

UCI274D

343

400A

S150D6

108

135

120

150

2700*1100*1650

4HTAA4.3-G23

120/132

UCI274D

396

400A

S165D6

120

150

132

165

2900*1130*1700

6HTAA6.5-G21

136/150

UCI274E

436

500A

S180D6

132

165

144

180

2900*1130*1700

6HTAA6.5-G22

150/165

UCI274E

475

500A

S220D6

160

200

176

220

3250*1130*1750

6HTAA6.5-G23

180/198

UCI274G

581

630A

S250D6

180

225

200

250

3600*1350*1850

6DTAA8.9-G21

205/226

UCI274H

660

700A

S275D6

200

250

220

275

3600*1350*1850

6DTAA8.9-G24

228/250

UCDI274J

726

800A

S300D6

220

275

240

300

3600*1350*1850

6DTAA8.9-G22

235/259

UCDI274J

792

800A

S330D6

240

300

264

330

3600*1350*1850

6DTAA8.9-G23

255/282

S4L1D-C

871

1000A

S385D6

280

350

308

385

4150*1500*2250

6ETAA11.8-G21

307/338

S4L1D-D

1016

1250A

S415E6

300

375

332

415

4150*1500*2250

6ETAA11.8-G31

340/380

S4L1D-E

1096

1250A

S450E6

320

400

360

450

4150*1500*2250

6ETAA12.8-G32.1

360/400

S4L1D-E

1188

1250A

S500E6

360

450

400

500

4150*1500*2250

6ETAA12.8-G31.1

401/440

S4L1D-F

1320

1600A

S580E6

420

525

464

580

4900*1800*2500

6KTAA25-36.1

460/506

S4L1D-G

1531

1600A

S650E6

480

600

520

650

4900*1800*2500

6KTAA25-35.1

520/572

S5L1D-E

1716

2000A

S725E6

520

650

580

725

4900*1800*2500

6KTAA25-34.1

572/629

S5L1D-E

1914

2000A

S775E6

560

700

620

775

4900*1800*2500

6KTAA25-33.1

622/684

S5L1D-E

2046

2500A

S850E6

620

775

680

850

5200*1900*2500

6KTAA25-32.1

685/754

S5L1D-F

2244

2500A

S900E6

640

800

720

900

5200*1900*2500

6KTAA25-31.1

728/800

S5L1D-H

2376

2500A
diesel generator price with Smartgent, Deepsea, Comap controller
The control module gives digital readouts of:
Generator voltage;
Output frequency;
Engine speed;
Battery voltage;
Engine hours run.
The control module has indicators for failure
information:
Overspeed/underspeed,
Emergency stop
Low oil pressure;
High water temperature
Failure to start
Battery charger failure
Automatic shutdown occurs under:
Low engine oil pressure;
High engine water temperature;
Overspeed/underspeed;
Failure to start after three attempts.

60hz 20kw EPA diesel engine powered generator

20kw open type generator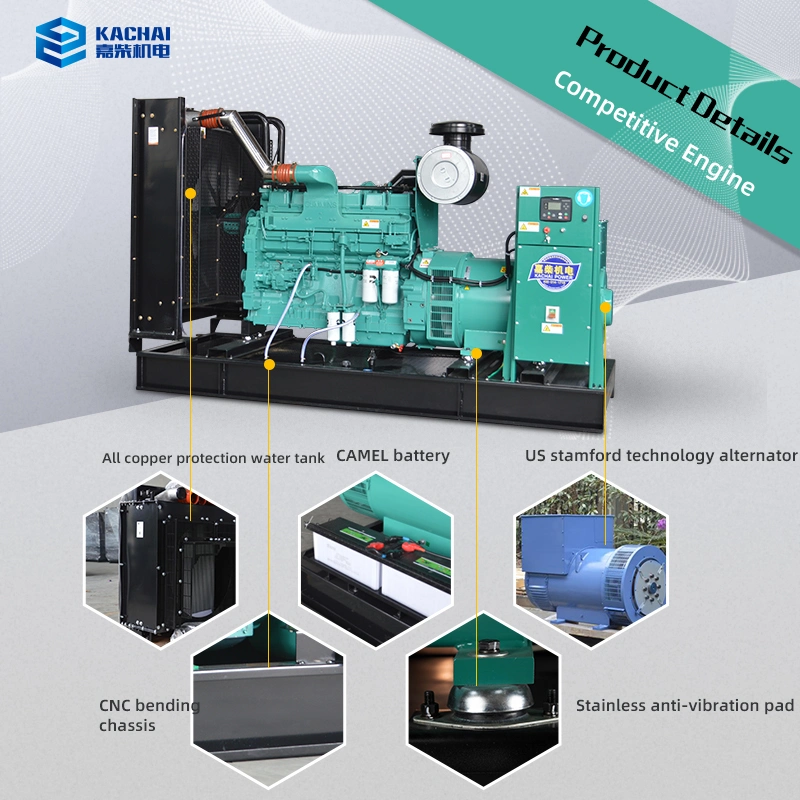 EPA engine silent diesel generator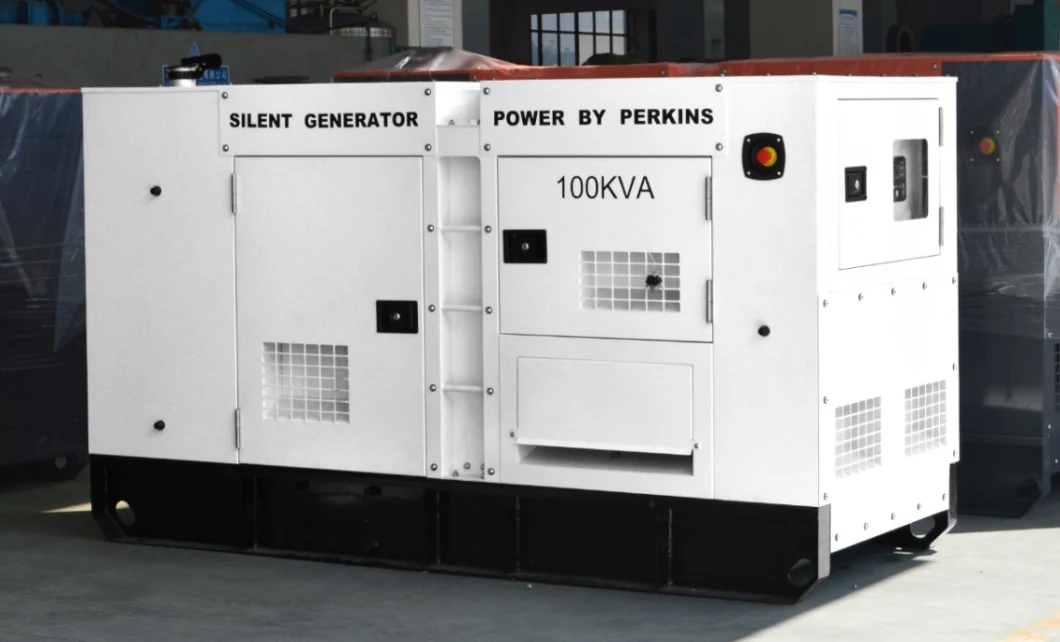 Silent diesel generator engine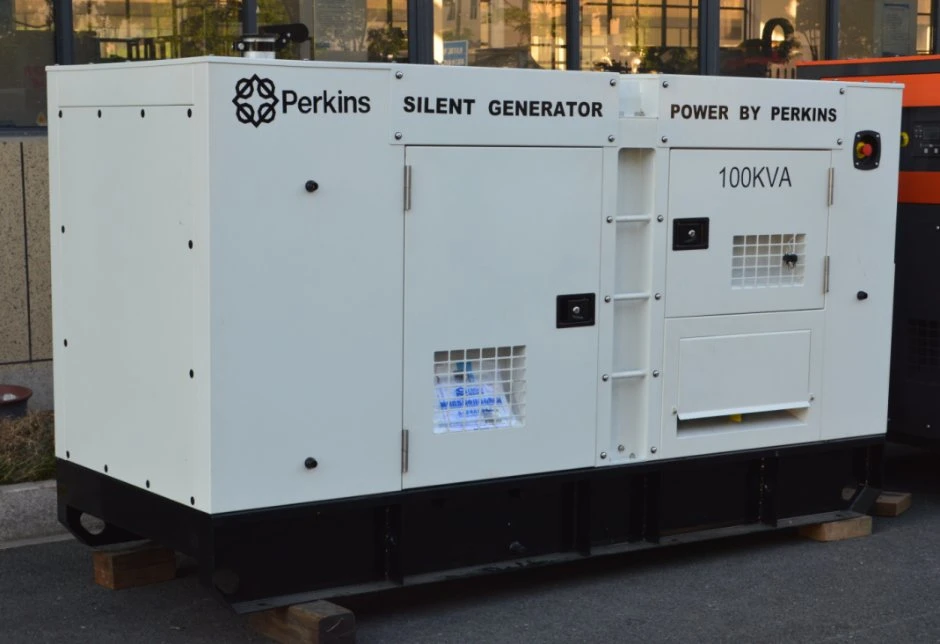 EPA diesel generator price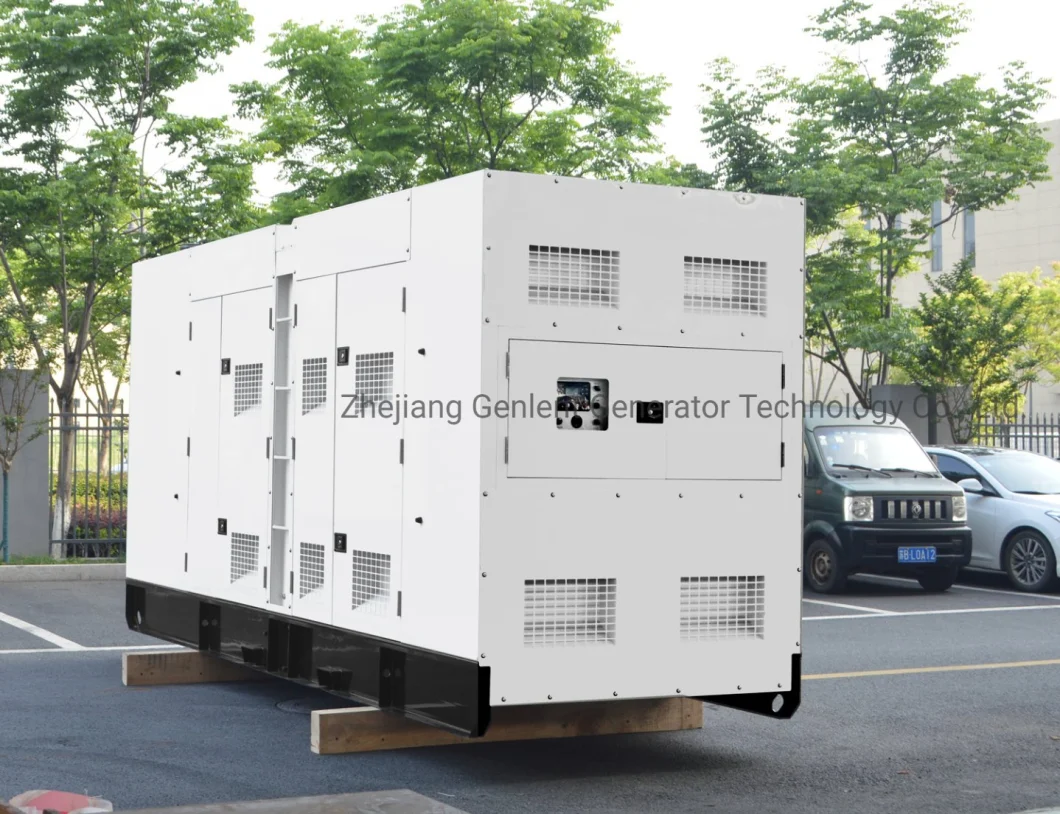 Soundproof canopy powerder coating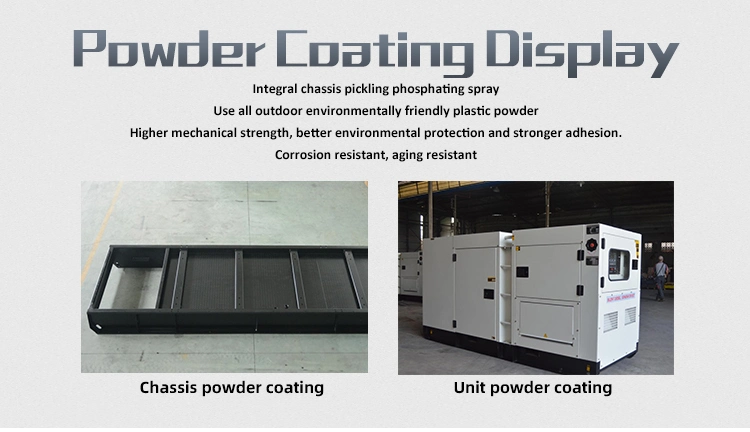 EPA tier 4 engine diesel generator manufacturing details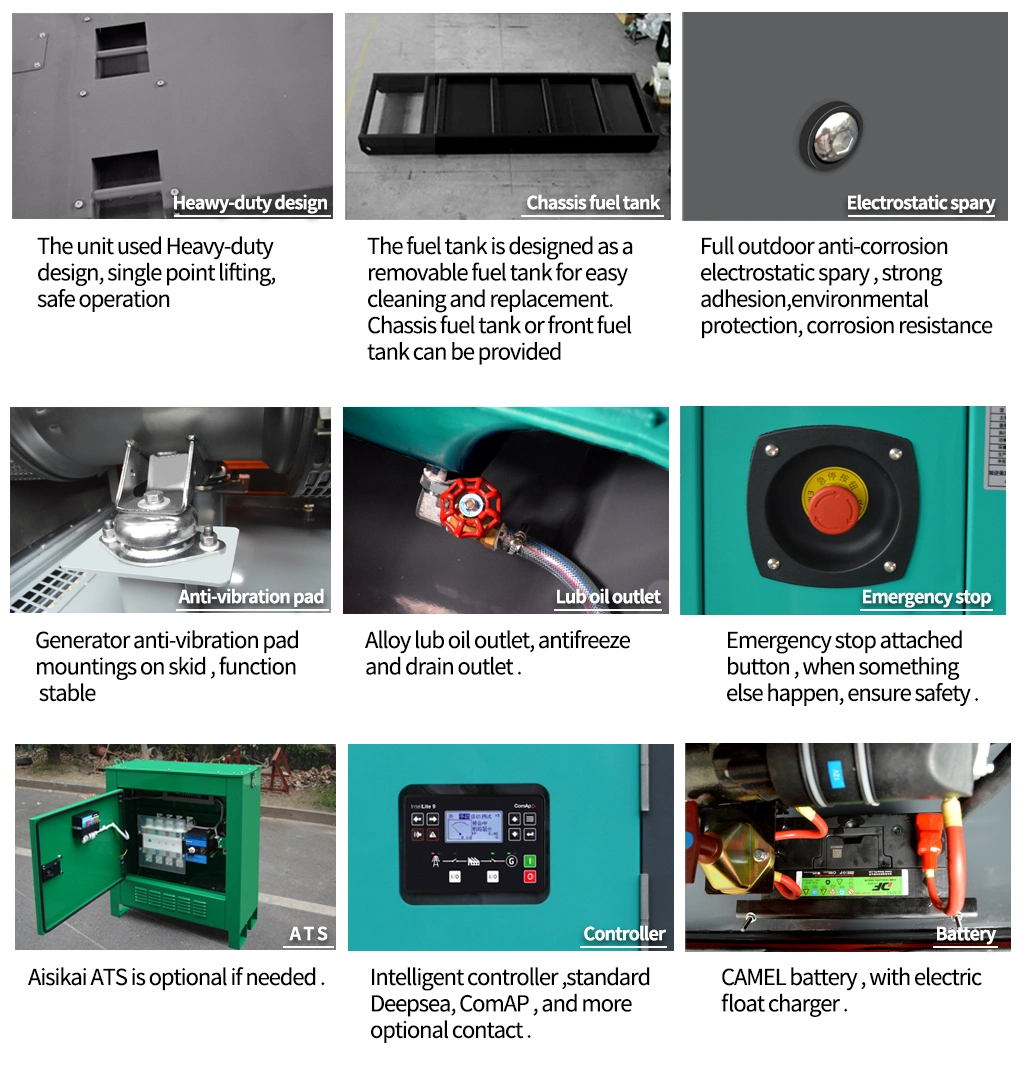 EPA diesel engine generator soundproof canopy making process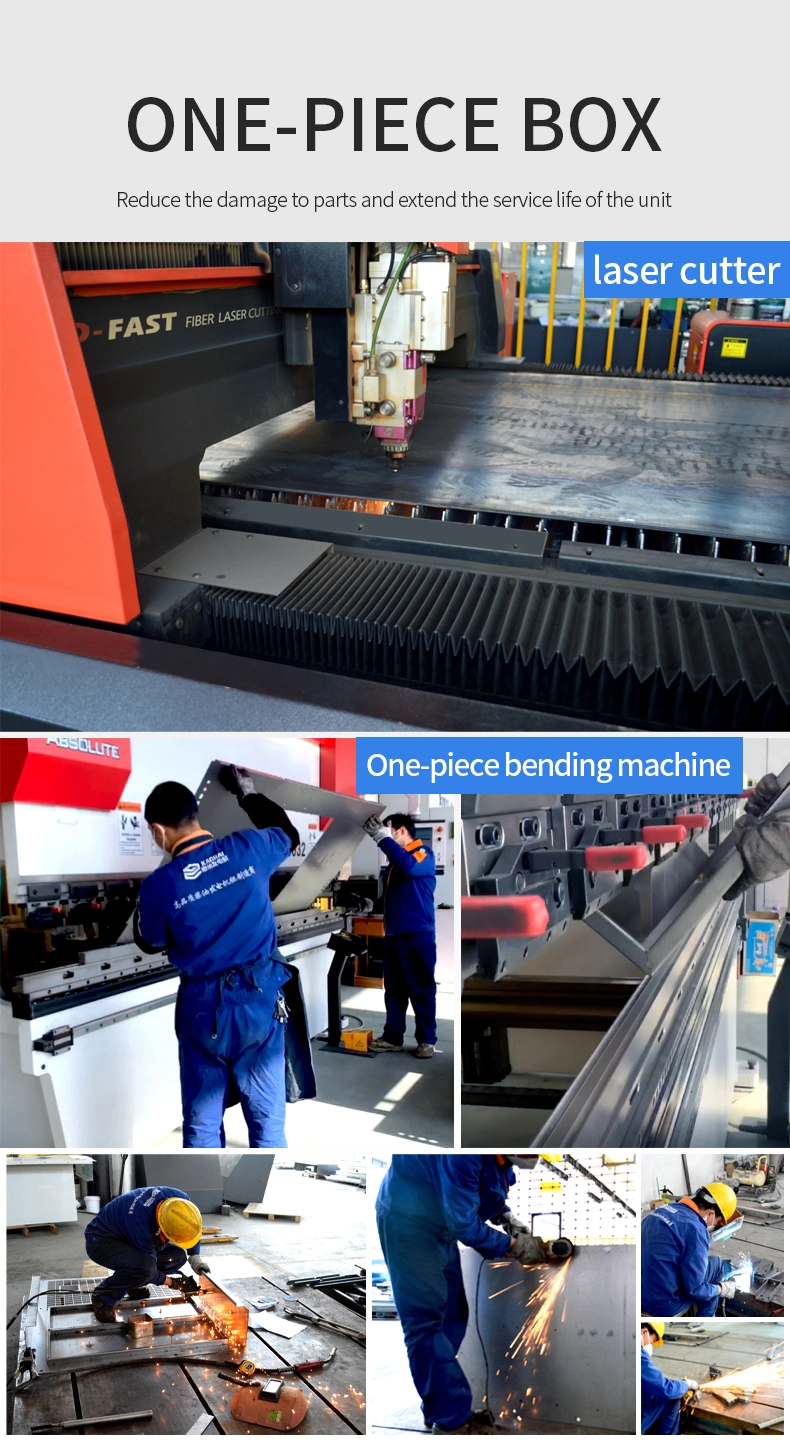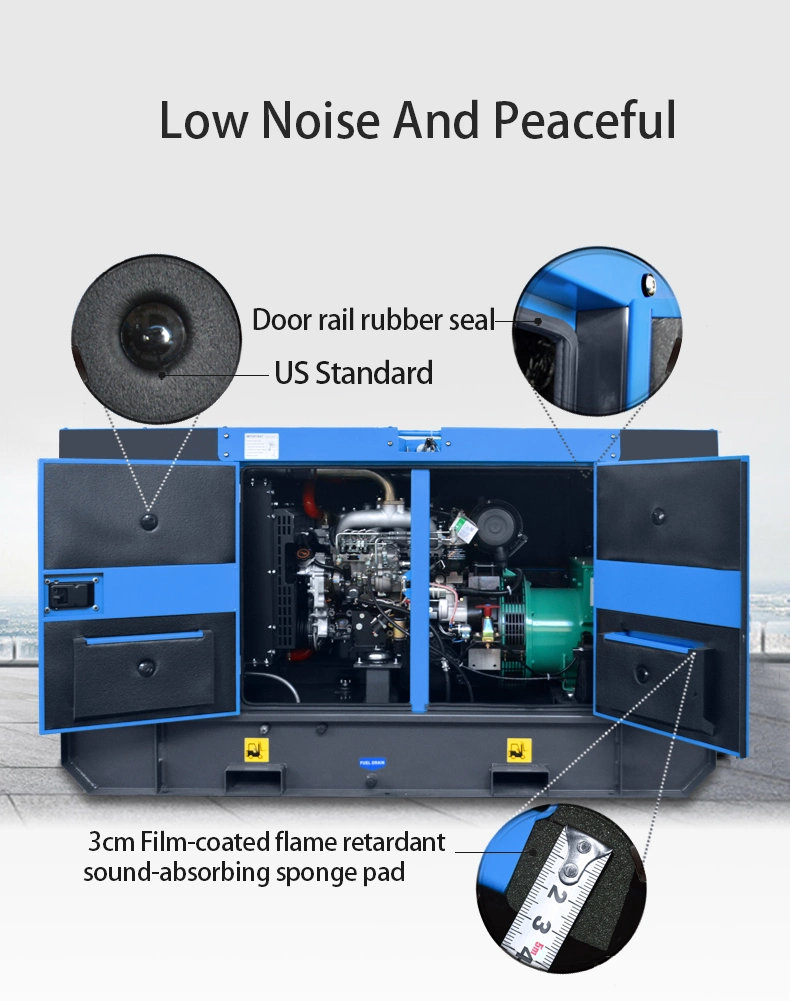 Zhejiang Genelent Generator Techonology Co., Ltd located in Hangzhou Yuhang Economic-technological Develpment Area, Hangzhou, Zhejiang Province. It is a science and technology production enterprise integrating research, development, manufacture and sales of diesel generators and light tower. We have nearly 20 years of the industry experience of the diesel generators complete set of solutions, we have always been the leader in the power solutions industry, and the products are exported to more than 20 countries and regions around the world.

We have entered into strategic partnerships or OEMs with world-renowned engine and alternators manufacturers, such as US Cummins, Germany Deutz, Korea Doosan, UK Stanford, China Yuchai, SDEC and FAWDE. The company's products have passed CE, BV, SGS and other international authority certification.Our diesel generators cover power from 6-2200 kW (7.5-2750 KVA).In order to meet the different types of applications, we can provide open generators, silent generators, container generators, mobile trailer generators, and according to different customer requirements can provide different frequency, voltage, structure and so on.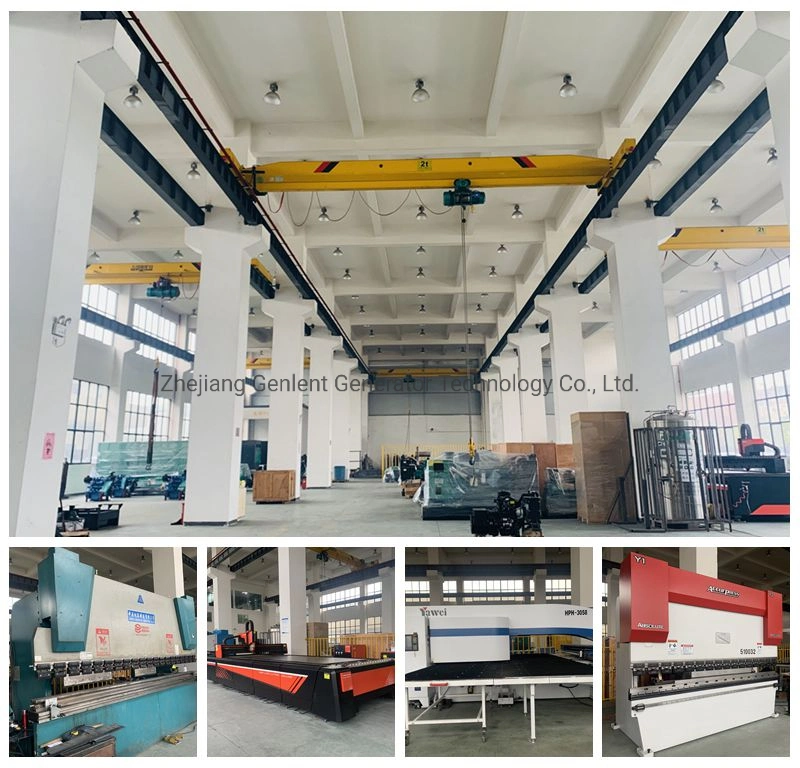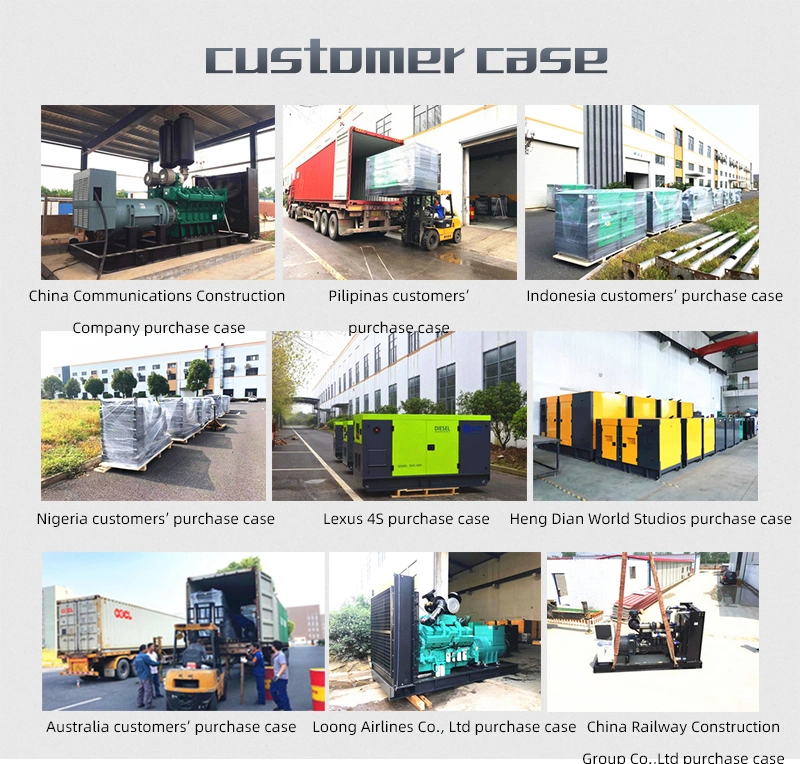 1. What's the nearest export seaport to you?
We will choose Ningbo seaport or Shanghai seaport.

2. What are your terms of payment?
We will accept T/T, LC and DP.

3.How long is your delivery time?
Depending on the customers purchase diesel generators' configuration, customer demand for delivery, and our parts inventory, etc.
Generally,it takes 7-20 workday for open type diesel generators and 10-25 workdays for silent diesel generators.

4.What's your MOQ?
1 unit, if the quantity is big, we will give the better price.

5.How much is the ocean freight?
It depends on the destination seaport.

6. How to pack the SDEC generator?
For better protection of products, customers are advised to use FCL transport, try not to ship by LCL.
We will wrap the film around our diesel generators or use fumigation-free wooden boxes.
The cost of the wooden cases must be accounted for separately