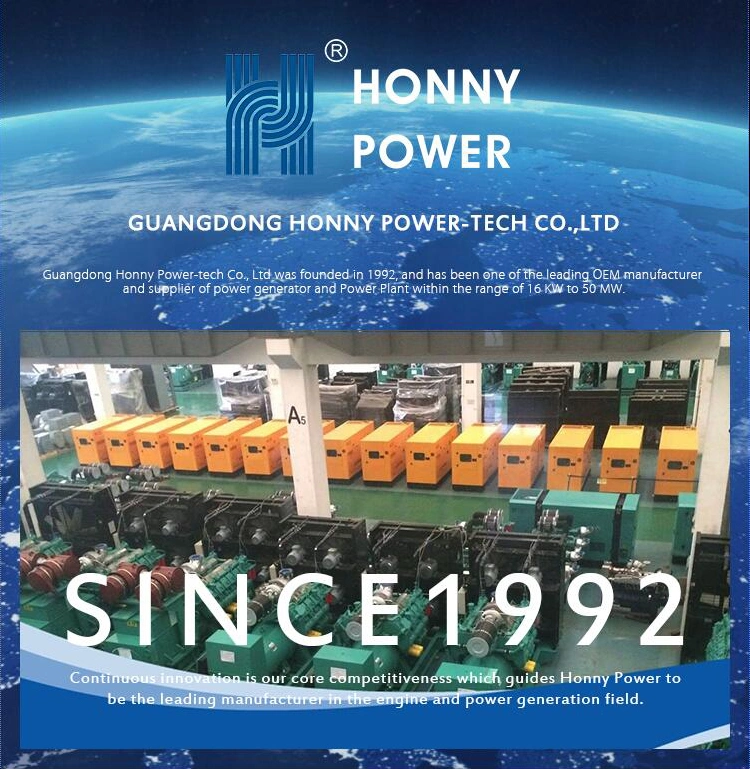 200kVA-3000kVA Guangdong Diesel Power Generators Manufacturers
Performance Feature
Engine and alternator shall be mounted on a same frame steel skid.
Built-in damper for anti-vibration.
Small size, low weight, easy for operation, installation and maintenance.
World most famous brand diesel engine.
CUMMINS, PERKINS, Volvo PENTA, DOOSAN, DEUTZ, LOVOL, WUXI POWER, GOOGOL, CSR.
World famous brand AC alternator: Stamford, Marathon, Leroy Somer, MVC.
Advanced and reliable controller: Key start, Auto start, AMF & Remote control by PC with RS232 / 485.
Full range protect function and alarm shutdown feature.
Comply with GB/T2820-97, ISO8528 national standard and ISO9001 quality standard.
Alternator Feature
Brushless, 4 poles, rotation magnet.
IP21-23 enclosure is standard for all industrial alternators.
The insulation system is Class H.
Simple installation and maintenance, with easy access to terminals, rotating diodes and coupling bolts.
Wide range of flange adaptors and single bearing disc coupling.
Standard 2/3 pitch windings avoid excessive neutral currents.
Optional accessories available for easy paralleling with mains or other generators.
Optional permanent magnet generator ( PMG ) system provide constant excitation under all condition.
AVR auto voltage regulator, auto exciter, auto adjustment.
Standard: BS5000, VDE0530, NEMA MG1-32, IEC34, IEC60034, AS1359.
Control System
GCS6410 is an Automatic Mains Failure module which is designed to monitor the mains utility and on failure automatically starts the generator and transfers the load. On return of the mains utility the controller automatically returns the load to the mains and stops the generator after a cool down period.
The module also monitors and protects the engine, indicating operational status, fault conditions and metering on the front panel LCD or LED's.
Ture RMS measuring
Configuration of parameters by front panel push buttons or communication software
RS485, RS232, or USB port for remote communication.
Configurable fuel output energise to stop or energise to run.
6 configurable inputs.
3 configurable outputs.
2 analogue inputs configurable for different senders for oil pressure and engine temperature.
With ATS control.
Standard Accessory
Common steel base frame, Damper, Exhaust silencer, Flexible pipe, Battery connecting wires, Operation manual and document.
Optional Accessory
Circuit breaker, Starting battery, Engine coolant and oil heater, Alternator space heater, Cooling for heat exchanger, Control system with RS232/485 communication interface, Battery charger by main supply. Fuel-water separator, Daily fuel tank, ATS & parallelin system, Soundproof canopy and Moving trailer.
Quality Warranty Period
All equipment is guaranteed for a period of 1000 hours running or 12 months from the date when the generator set has been delivered from the factory.
Integrated Power Solutions
Emergency rescue system solutions for mobile power.
Uninterrupted backup power system solutions for villa.
Complex commercial real estate solutions for backup power systems.
Power and pneumatic Integration solutions for mining.
Precision manufacturing and industrial enterprise backup power systems solutions.
Pulp and paper plant backup power systems solutions.
Star hotel and high-level office backup power solutions.
Large data memory center and high-speed generator sets power systems solutions.
Automatic high-speed Integration parallel and the power grid system solutions.
Generator set
Genset Model
HGM343
Rating Power (kW/kVA)
250/312.5
Standby Power (kW/kVA)
275/343
System Voltage
400/230
Rating Ammeter (A)
451
Diesel engine
General data
Engine model
PTA780-G1
Prime Power (KW)
290
Standby Power (KW)
330
number of Cylinder & Configuration
6 cylinders in line
Bore X Stroke (mm)
128X166
Displacement (l)
12.8
Compression Ratio
15.5:1
Governor type
Electronic governor
Rated speed (rpm)
1500
Exhaust system
Exhaust gas flow (m³/min)
54
Exhaust gas temperature (ºC)
480
Max. exhaust back pressure (kPa)
10
Air intake system
Aspiration Type
Turbocharged & After cooled
Max. intake depression (mbar)
6
Combustion air Volume (m³/min)
21
Fuel system
Rating Fuel Consumption(l/h)
64
75% full Fuel Consumption (l/h)
48
Lubrication system
Total oil capacity (l)
40
Max permissible oil temp (ºC)
110
Oil pressure at rated rpm (KPA)
240-350
Cooling system
Total Coolant capacity (l)
65
Max. temperature of coolant (ºC)
100
Fan cooling air flow (m³/min)
490
Alternator
Alternator model
MGA315-250-4S
Rating Voltage(V)
400/230
Rating Capacity(KW/KVA)
250/312.5
Eff.%
93.2%
Power Factor
0.8
Exciting type
Brushless self-exciter AVR
Voltage regulation
±1%
No. of Phase
3 phase 4 wire
Enclosure Class
IP121
Class of Insulation
H
Battery
Rating Capacity(AH)
2X150AH 12V
Dimension
Generator set dimension (LXWXH)
2900x1120x1550
Weight
Generator set Net Weight (kg)
2380