Gensets model: GDC1000
Prime power: 1000kVA/800KW
Rated Voltage: 400/230V
Rated Current: 1440A
Rated frequency(Hz): 50
Rated Speed: 1500rpm
Model: KTA38-G5/881KW
Cylinder arrangement: 12 V-type
Cycle: Four stroke
Aspiration: Turbocharged
Speed Governor Electronic
Cooling System Forced Water Cooling Cycle
Starting Method DC24V electrical starting

Engine Features:
. Multi-cylinder in-line or veer engine, 4-stroke, direct injection
. Naturally aspirated, turbocharged, water cooled or turbocharged with air intercooler
. Machinery or electronic governing
. Fuel injection pump
. Electric motor starting system
. Forged steel crankshaft, cast iron cylinder and replaceable wet type cylinder liner
. Low discharge, and low fuel consumption
. Installed conveniently and maintain easily
Alternator brand: Stamford
Model: LVI634E/800KW
Number of Phase: 3P
Connecting Type: 3 Phase and 4 Wires
Number of Bearing 1
Protection Grade IP23
Exciter Type Brushless, Self-exciting, AVR automatic voltage regulating, 100% Copper winding wire
Insulation Class: H.

Alternator Features:
1. World famous brand AC alternator: Leroy Somer, Stamford, Marathon, Engga, Godlike
2. Brushless, 4 poles, rotation magnet
3. IP21-23(NEMA1) enclose is standard for all industrial alternators
4. H class insulation system
5. AVR self-regulated, voltage regulation rate: ≤ ± 1%
6. Simple installation and maintenance with easy access to terminals, rotating diodes and coupling bolts
7. Wide range of flange adaptors and single bearing disc coupling
8. Radio interference restraining accords with the stipulation of VDE0875-N and ISO8528
9. Moisture proof, sand-proof, dustproof, salt-proof and vibration-proof
Silent Type Diesel Gensets Specification:
1.Original Cummins Engine
2. Single Bearing Brushless Stamford Alternator
3. LCD control panel
4. ABB breaker
5. Batteries and Battery chargers equipped
6. 8 hours separated fuel tank
7. Industrial muffler,
8. Anti-vibration mountings
9. Original Cummins 50ºC Radiator c/w Piping Kit
10. Parts book and O&M Manual
11. Factory test certificate
Features of Gen-Set powered by Cummins:
1. International Warranty Service
2. Short delivery time, as we always have Cummins engine in stock
3. With ISO9001&ISO14001&OHSAS18001& CE certification
4. Spare parts are easy to get from worldwide market with much cheaper price
5. Coupled with GODLIKE alternator or Stamford alternator
6. Perfect after-service network
7. Rigorous test including 50% load, 75% load, 100% load and 110% load.
8.
Warranty: One year or 1000 Working Hours from the shipment date, whichever comes first.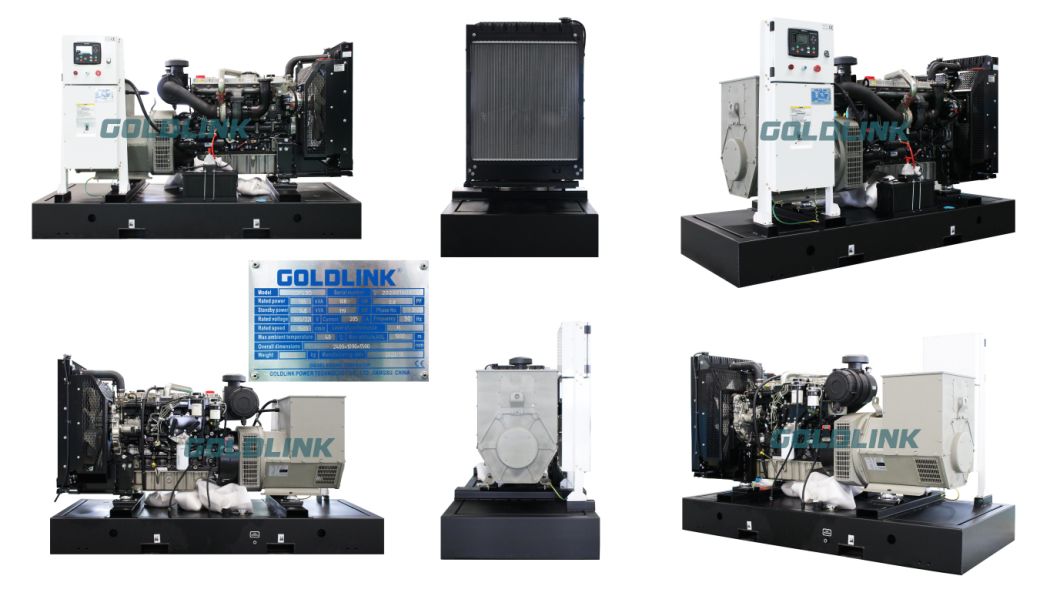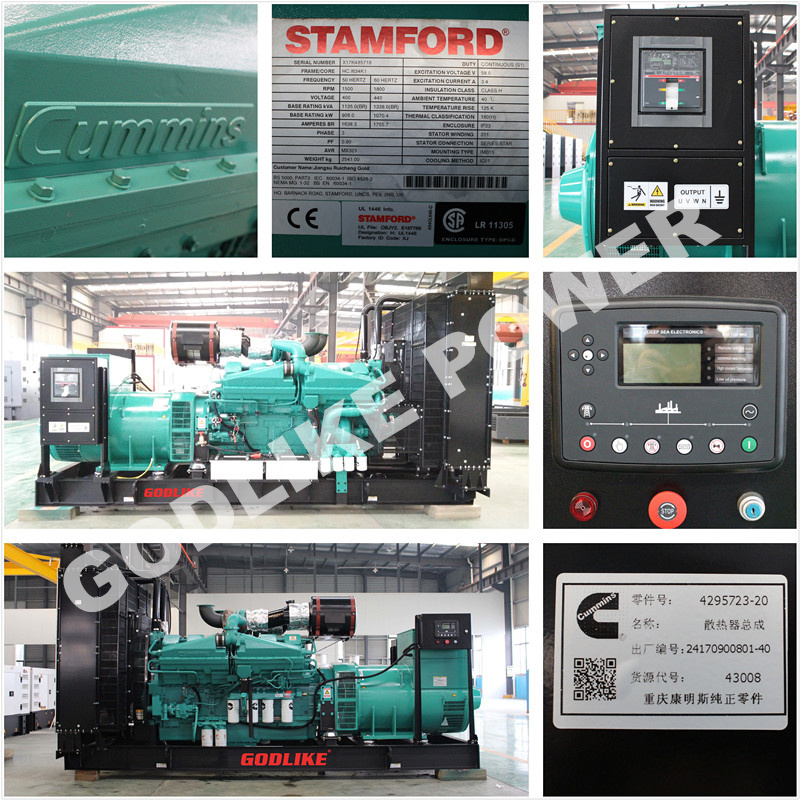 Specification of diesel generator sets powered by Cummins engines:
Open type
Silent type
Model
Engine
Alternator
Prime Power
Standby Power
Dimensions(mm)
Weight (kg)
Dimensions(mm)
Weight (kg)
Fuel Consumption (lir/hr)
Open type
Silent type
Cummins
GODLIKE
STAMFORD
KVA
KW
KVA
KW
L
W
H
L
W
H
GDC25
GDC25*S
4B3.9G1/24KW
JDG 184F/22KW
PI144E/20KW
25
20
28
22
1946
734
1272
764
2600
1130
1615
1307
6.44
GDC25
GDC25*S
4B3.9G2/24KW
JDG 184F/22KW
PI144E/20KW
25
20
28
22
1946
734
1272
801
2600
1130
1615
1307
6.44
GDC30
GDC30*S
4BT3.9G1/36KW
JDG 184G/25KW
PI144G/24KW
30
24
33
26
2081
750
1450
865
2600
1130
1615
1371
7.13
GDC30
GDC30*S
4BT3.9G2/36KW
JDG 184G25KW
PI144G/24KW
30
24
33
26
2081
750
1418
896
2600
1130
1615
1402
7.13
GDC38
GDC38*S
4BT3.9G1/36KW
JDG184H/30KW
PI144J/32KW
38
30
41
33
2081
750
1450
865
2600
1130
1615
1371
9.2
GDC38
GDC38*S
4BT3.9G2/36KW
JDG184H/30KW
PI144J/32KW
38
30
41
33
2081
750
1450
896
2600
1130
1615
1371
9.2
GDC50
GDC50*S
4BTA3.9G2/50KW
JDG 224D/40KW
UCI224D/40KW
50
40
55
44
2187
750
1450
979
2800
1130
1565
1485
11.5
GDC60
GDC60*S
4BTA3.9G2/58KW
JDG 224E/48KW
UCI224E/48KW
60
48
66
53
2187
750
1450
1005
2800
1130
1565
1538
12.9
GDC75
GDC75*S
4BTA3.9G11/70KW
JDG224GS/64KW
UCI224G/68KW
75
60
83
66
2187
750
1450
1005
2800
1130
1565
1538
12.9
GDC100
GDC100*S
6BT5.9G1/86KW
JDG 274C/80KW
UCI274C/80KW
100
80
110
88
2620
758
1464
1081
3200
1130
1714
1720
23
GDC100
GDC100*S
6BT5.9G2/86KW
JDG 274C/80KW
UCI274C/80KW
100
80
110
88
2620
758
1464
1081
3200
1130
1714
1720
23
GDC120
GDC120*S
6BTA5.9G2/106KW
JDG 274DS/96KW
UCI274D/96KW
120
96
132
106
2620
800
1470
1100
3200
1130
1715
1720
27.6
GDC138
GDC138*S
6BTAA5.9G2 /120KW
JDG 274ES/112KW
UCI274E/112KW
138
110
151
121
2620
800
1470
1120
3200
1130
1715
1781
31
GDC160
GDC160*S
6BTAA5.9G12 /140KW
JDG274F/128KW
UCI274F/128KW
160
128
176
141
2620
800
1550
1600
3200
1130
1715
1860
36.8
GDC188
GDC188*S
6CTA8.3G1/163KW
JDG274G/152KW
UCI274G/145.6KW
188
150
206
165
2787
850
1625
1694
3400
1130
1915
2120
41.4
GDC188
GDC188*S
6CTA8.3G2/163KW
JDG274G/152KW
UCI274G/145.6KW
188
150
206
165
2787
850
1625
1694
3400
1130
1915
2200
41.4
GDC200
GDC200*S
6CTAA8.3G2/183KW
JDG 274H/160KW
UCI274H/160KW
200
160
220
176
2787
1050
1639
1694
3600
1330
2065
2450
46
GDC225
GDC225*S
6LTAA8.9G2/220KW
JDG 274J/184KW
UCDI274J/184KW
225
180
248
198
2890
1050
1780
1870
3600
1330
2065
2490
51.8
GDC250
GDC250*S
6LTAA8.9G2/220KW
JDG 274K/200KW
UCDI274K/200KW
250
200
275
220
2890
1050
1780
1890
3600
1330
2065
2510
57.5
GDC250
GDC250*S
NT855-GA/231KW
JDG274K/200KW
UCDI274K/200KW
250
200
275
220
3425
1060
1810
3010
4300
1430
2175
3800
57.5
GDC263
GDC263*S
6LTAA8.9G3/230KW
JDG314DS/220KW
HCI444C/200KW
263
210
289
231
2917
1060
1810
2051
3600
1330
2065
2495
57.5
GDC275
GDC275*S
NTA855-G1A /264KW
JDG 314DS/220KW
HCI444D/240KW
275
220
303
242
3425
1060
1810
3276
4300
1430
2175
4226
63.3
GDC313
GDC313*S
NTA855-G1B/284KW
JDG 314ESS/250KW
HCI444ES/260KW
313
250
344
275
3425
1060
1810
3356
4300
1430
2175
4306
72
GDC313
GDC313*S
MTAA11-G3 /282KW
JDG 314ESS/250KW
HCI444ES/260KW
313
250
344
275
3425
1150
1747
3356
4300
1430
2175
4306
74.8
GDC344
GDC344*S
NTA855-G2A /312KW
JDG 314E/280KW
HCI444E/280KW
344
275
378
303
3425
1150
1917
3356
4300
1430
2175
4306
80.5
GDC350
GDC350*S
NTA855-G4/317KW
JDG 314E/280KW
HCI444E/280KW
350
280
385
308
3425
1150
1917
3572
4300
1430
2175
4306
80.5
GDC375
GDC375*S
NTAA855-G7/343KW
JDG 314FS/304KW
HCI444FS/304KW
375
300
413
330
3550
1200
1955
3898
4600
1622
2515
4680
86.3
GDC400
GDC400*S
NTAA855-G7A/407KW
JDG 314F/320KW
HCI444F/320KW
400
320
440
352
3550
1200
1995
3783
4600
1622
2515
5009
86.3
GDC450
GDC450*S
KTA19-G3 /403KW
JDG 354C/360KW
HCI544C/400KW
450
360
495
396
3677
1250
2100
3512
4600
1622
2515
5009
92
GDC500
GDC500*S
KTA19-G3A/448KW
JDG 354D/400KW
HCI544C/400KW
500
400
550
440
3677
1250
2100
3929
4600
1622
2515
5557
103.5
GDC500
GDC500*S
KTA19-G4 /448KW
JDG 354D/400KW
HCI544C/400KW
500
400
550
440
3677
1250
2100
3929
4600
1622
2515
5760
115
GDC525
GDC525*S
KTAA19-G5 /470KW
JDG 354ES/450KW
HCI544D/440KW
525
420
578
462
4050
1330
2062
3929
4800
1822
2515
5824
115
GDC575
GDC575*S
KTAA19-G6/520KW
JDG 354E/480KW
HCI544E/488KW
575
460
633
506
4050
1245
2100
4302
4800
1822
2515
5926
126.5
GDC600
GDC600*S
KTA19-G8/575KW
JDG 354E/480KW
HCI544E/488KW
600
480
660
528
4055
1350
2235
4550
4800
1822
2515
6090
132.3
GDC625
GDC625*S
KTAA19-G6A/610KW
JDG 354FS/500KW
HCI544FS/500KW
625
500
688
550
4050
1330
2096
4550
4800
1822
2515
6090
138
GDC625
GDC625*S
KT38-G/560KW
JDG 354FS/500KW
HCI544FS/500KW
625
500
688
550
4053
1770
2234
6750
20GP
144
GDC700
GDC700*S
KT38-GA/711KW
JDG 354G/560KW
HCI544F/536KW
700
560
770
616
4053
1770
2234
6851
144
GDC713
GDC713*S
KTA38-G1/634KW
JDG 354G/560KW
LVI634B/600KW
713
570
784
627
4200
1770
2420
6600
167
GDC750
GDC750*S
KTA38-G2/664KW
JDG 404B/600KW
LVI634B/600KW
750
600
825
660
4200
1770
2420
6600
172.5
GDC800
GDC800*S
KTA38-G2B/711KW
JDG 404C/640KW
LVI634C/640KW
800
640
880
704
4200
1770
2420
6750
184
GDC910
GDC910*S
KTA38-G2A/813KW
JDG 404D/728KW
LVI634D/728KW
910
728
1001
801
4200
1770
2420
7006
230
GDC1000
GDC1000*S
KTA38-G4/880KW
JDG 404E/800KW
LVI634E/800KW
1000
800
1100
880
4400
1980
2255
7065
259
GDC1000
GDC1000*S
KTA38-G5/800KW
JDG 404E/800KW
LVI634E/800KW
1000
800
1100
880
4545
2028
2417
7315
287.5
GDC1125
GDC1125*S
KTA38-G9/1089KW
JDG 404F/900KW
LVI634F/904KW
1125
900
1238
990
4545
2028
2379
7409
316.3
GDC1250
GDC1250*S
KTA50-G3/1097KW
JDG 404G/1000KW
LVI634G/1000KW
1250
1000
1375
1100
5070
2107
2440
8670
40HP
345
GDC1375
GDC1375*S
KTA50-G8/1200KW
/
PI734A/1008KW
1375
1100
1513
1210
5070
2150
2454
8817
/
GDC1475
GDC1475*S
KTA50-GS8/1287KW
/
PI734B/1120KW
1475
1180
1623
1298
5070
2251
2454
9405
/